I've been on somewhat of a cabbage kick this week, and the recipe I'm sharing has been on my plate every day for lunch in various forms.
I remember when I was younger, every time my Mom would make corned beef and cabbage I'd always be the kid piling a giant serving of juicy cabbage on my plate while skipping everything else. I guess you could say it's another one of my favorite comfort foods, but I rarely ever eat it cold and crunchy.
A medley of wilted veggies has a LOT of potential in my kitchen, especially if there's at least two sauces in my fridge, or in this case a couple of perfectly ripe avocados. This may seem like very basic raw food recipe, but wilting the veggies takes them to whole new elevated form; the edge and bite is taken off of the onions while the bell peppers natural sweetness wakes up the bland cabbage. I have plans on making another big batch of this over the weekend, so you can expect to see variations of this medley in the coming days.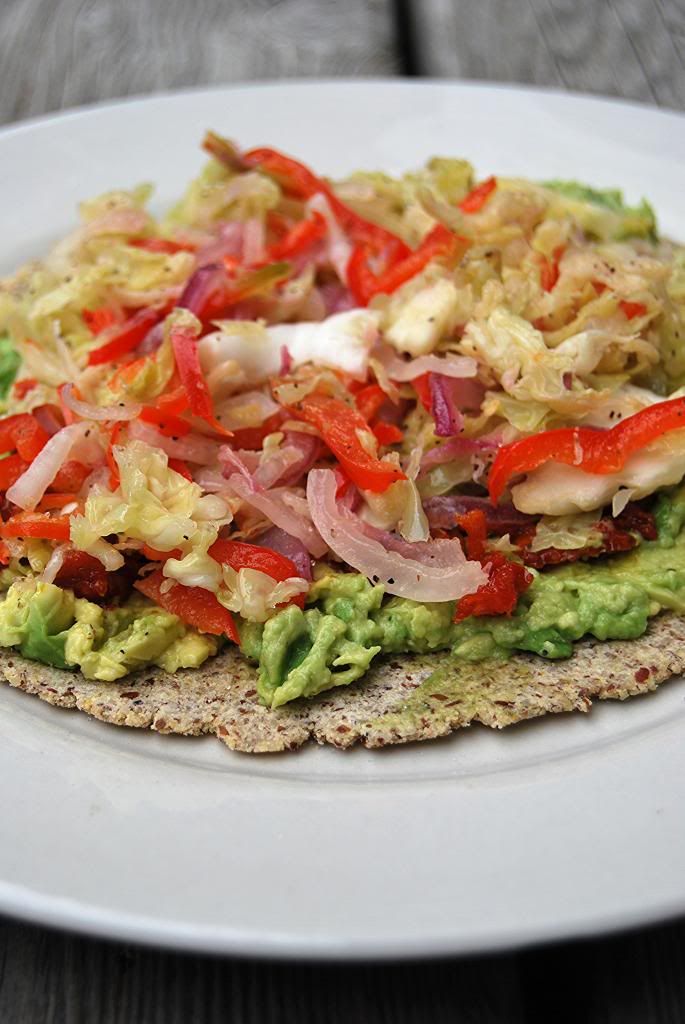 Wilted Cabbage, Onion & Bell Pepper Medley
Yields roughly 5-6 cups packed
Ingredients
5 cups shredded Nappa Cabbage (or other yellow/green cabbage of choice)
1 c thinly sliced Red Bell Pepper
1 c thinly sliced Yellow Onion
1 c thinly sliced Red Onion
4 Tbsp Grapeseed Oil
3 Tbsp Lemon Juice //or// Apple Cider Vinegar
1 tsp Salt
Directions
In a large bowl mix together all of your ingredients until the Oil and Lemon Juice/Vinegar has evenly coated all of the veggies
Cover your veggies and let them sit out for 30 to 60 minutes, they will begin to tenderize at this point
Choose from one of the following Raw Food Warming Methods noted here(click)
In a thin layer, evenly spread your veggies out (I used two dehydrator trays for this)
Proceed to warm/dry your veggies for 2 hours -- this is the tenderizing/wilting process that makes them gorgeous!
When your veggies have finished wilting store them in an air tight container in the refrigerator. They should keep for at least a week.
Wanna make a simple and Veggie Medley flavor-packed Flatbread for lunch like I did?
Here's how it goes:
Ingredients
1 large ripe Avocado
3 to 4 Tbsp minced Sun-dried Tomato
Salt & Pepper To Taste
Directions
Mash your Avocado with salt and pepper
Mix your minced Sun-dried Tomato into the mashed Avo
Layer the Avo mixture onto your flatbread
Add your Wilted Veggie Medley
Smash it into your mouth...don't forget to savor every single bite!
Eat meee!
Happy Friday!
xoxo,