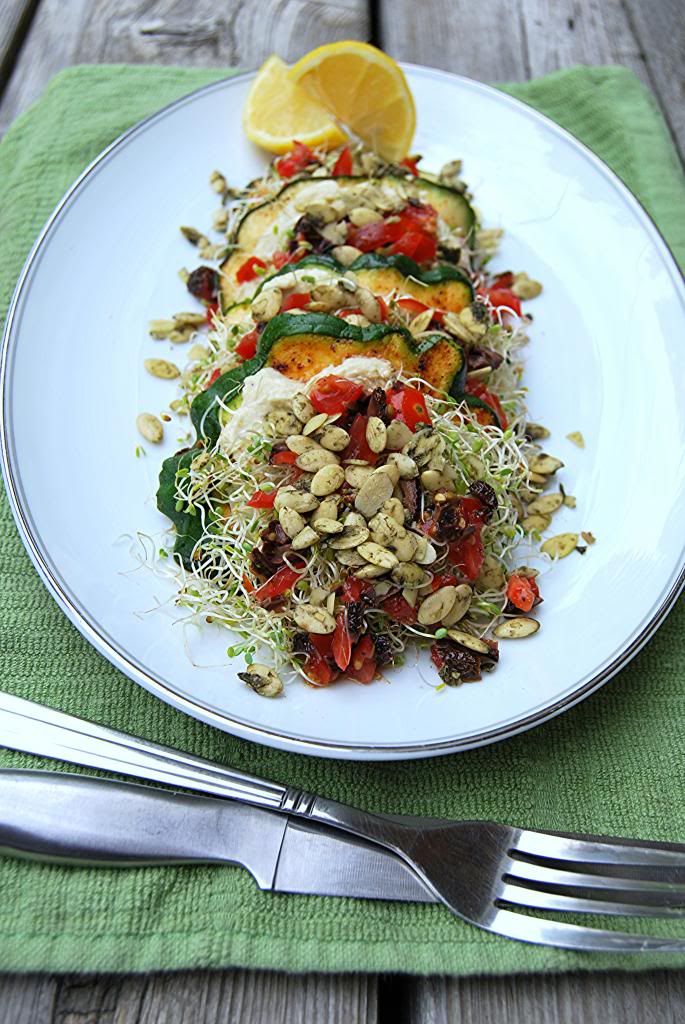 If there were ever an ode to my kinda raw Summertime food it would taste like grilled veggies and look something like today's recipe.
In the past few months I've fallen in love with grilled veggies; my favorites on the barbecue being carrots and zucchini. Now, I'm not gonna lie -- so far this year I've been eating way more cooked foods than usual, and because of this the health problems that plagued me long before finding raw food have returned with a vengeance. In a quest to redirect my eating habits and quell some pretty ferocious cravings, earlier this week I set off to find a raw food taste and texture-worthy substitute for grilled veggies. Guys, I did it!!
Today's recipe features one of many simple and easy "cooked food" fake-outs that I hope to share in the coming days. Sure, you're not going to find actual grill marks on the veggies, but the flavors and texture mimic grilled squash perfectly!! I hope you agree!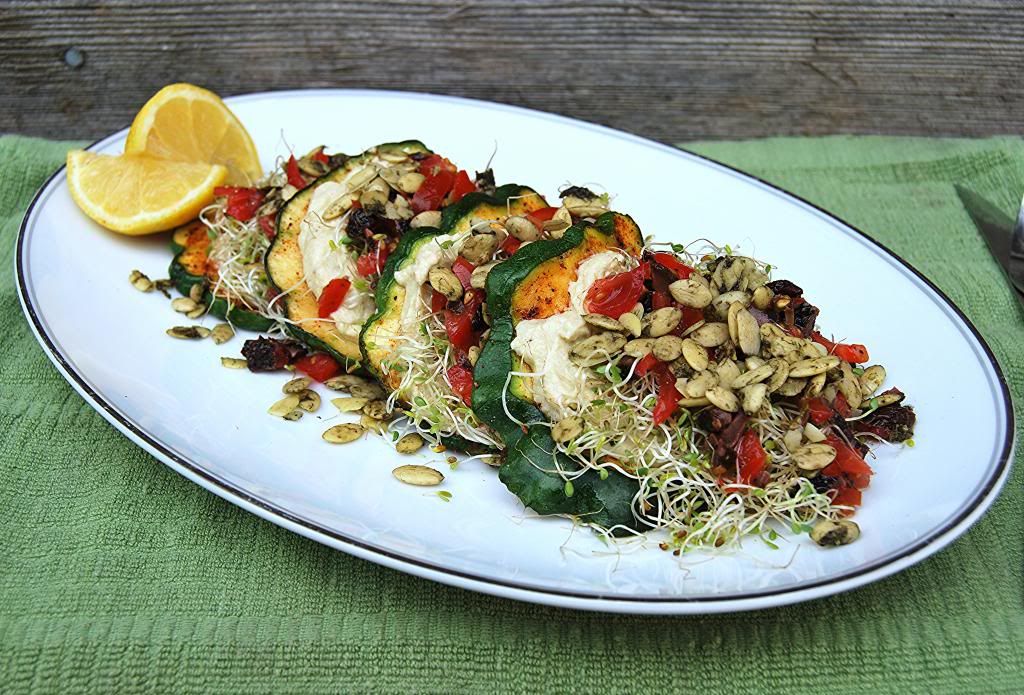 Easy Smokey "Grilled" Squash
Makes roughly 1 large serving
The patty pan squash that I've used can easily be substituted with zucchini or yellow crook neck.
Ingredients
1 large Patty Pan squash, sliced into 1/4'' rounds
2 tsp Grapeseed Oil
2 tsp Grade B Maple Syrup
1 tsp Lemon Juice
1/2 tsp Alder Smoked Sea Salt (I use Frontier brand)
1/2 tsp Smoked Paprika
1/2 tsp Black Pepper
Directions
Slice your Squash into 1/4'' rounds
In a small bowl whisk together the Oil, Lemon juice and Maple Syrup
Using a paper napkin or basting brush lightly brush both sides of the squash rounds with the wet mixture
Using a mortar and pestle mix/smash together the Smoked Sea Salt, Paprika and Pepper
Sprinkle the dry seasoning on both sides of the Squash and proceed to gently rub the seasoning onto the squash
Choose from one of the following Raw Food Warming Methods noted here (click)
Proceed to dry/warm your squash for 1 hour on both sides (2 hours total)
Your finished squash should be slightly wilted around the edges, mostly dry on top but still retaining some natural moisture and juices (but not slimy!)
Store your squash in the fridge for up to 4 days.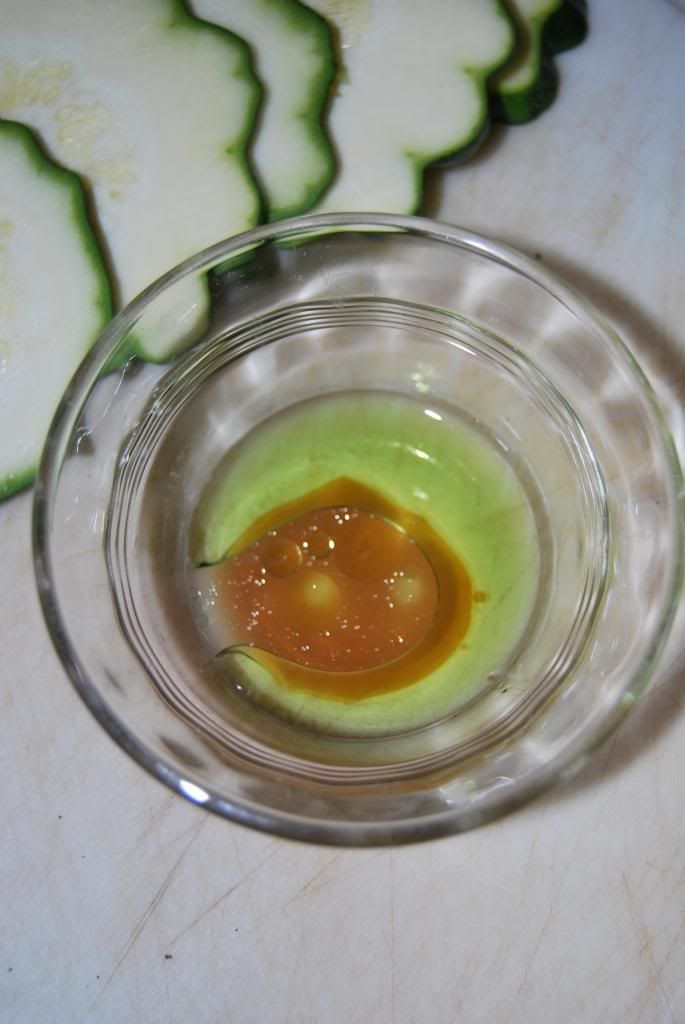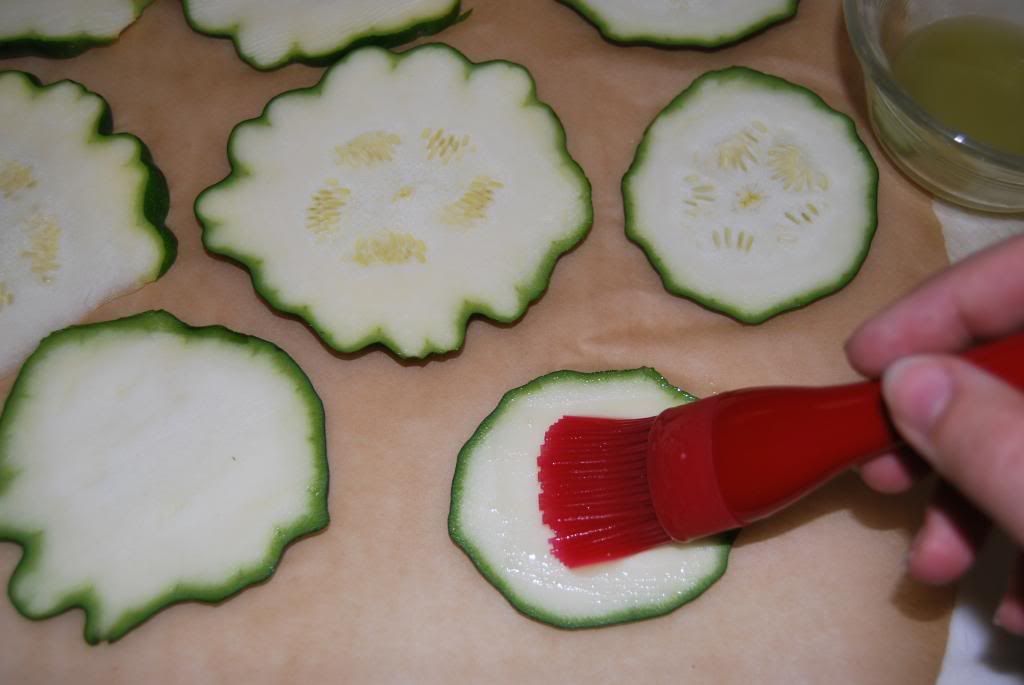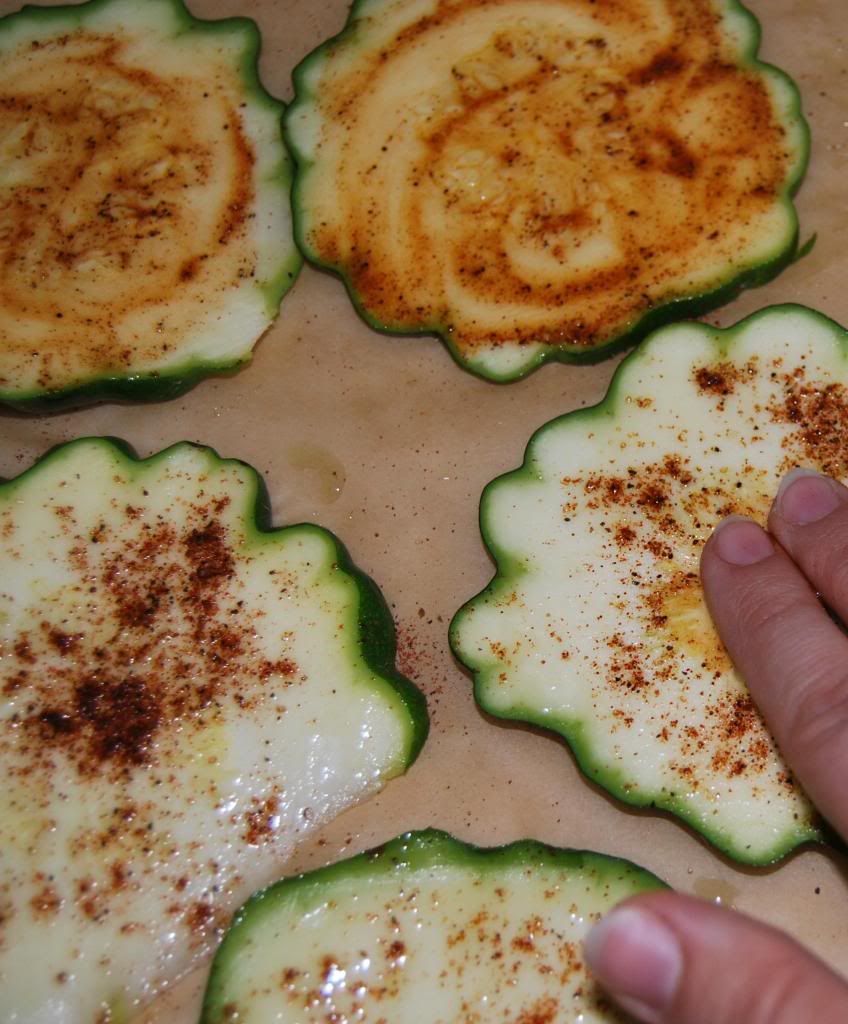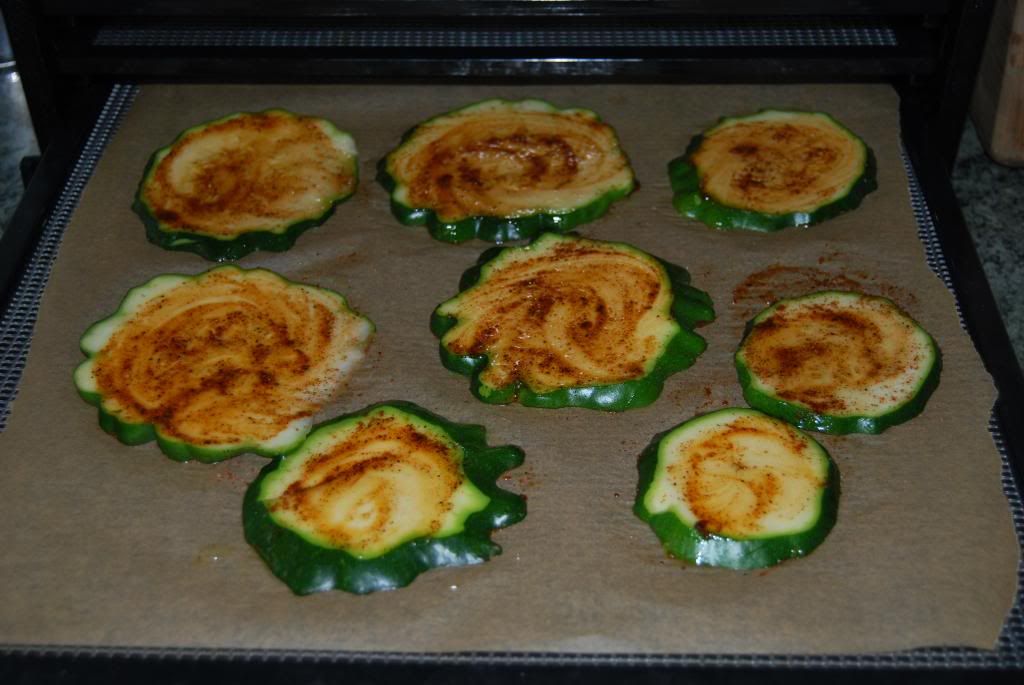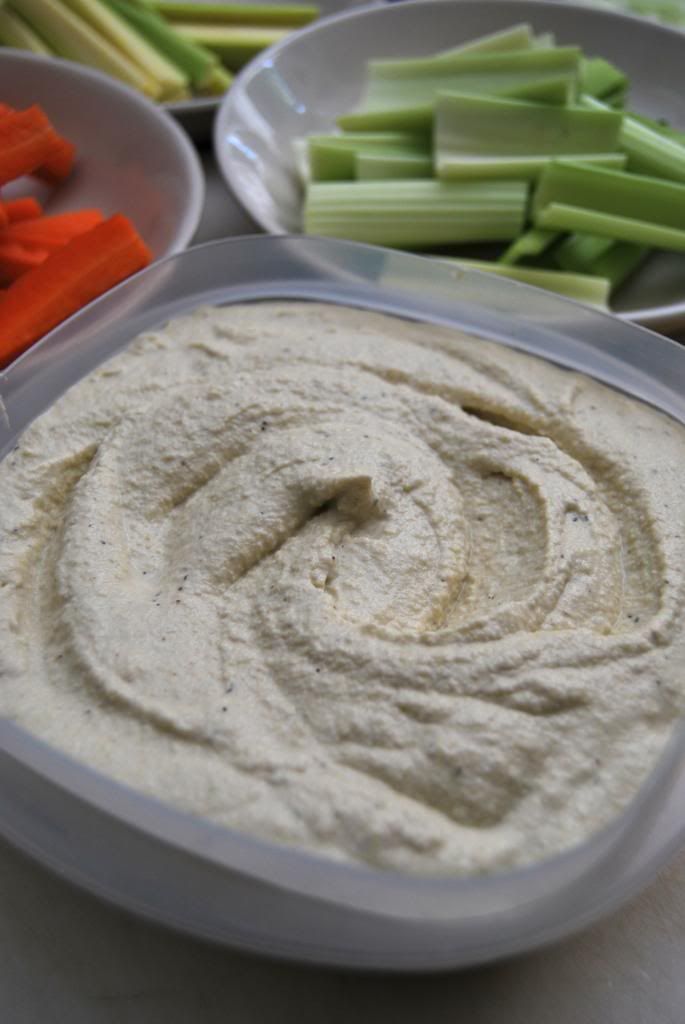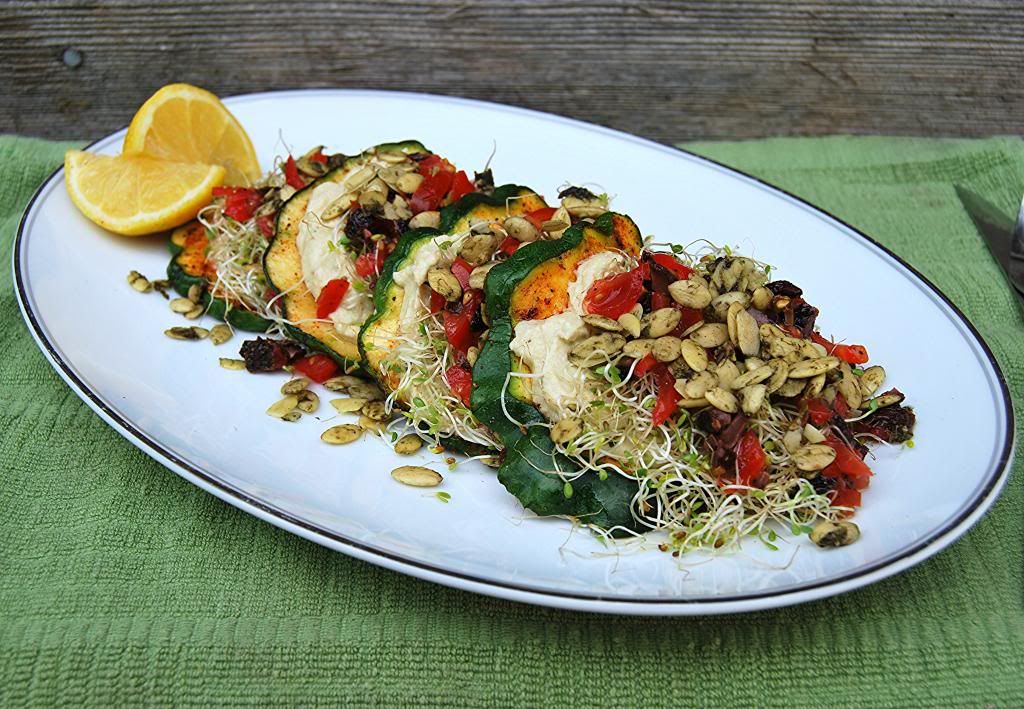 Easy "Grilled" Squash Napoleon
Makes 2 servings
Ingredients
The Squash from this Recipe post
1/4 c Chopped Grape Tomatoes
A handful of your favorite Olives
A handful of Pumpkin or Sunflower Seeds
1/2 c Green Sprouts of your choosing
Lemon Wedges or Balsamic Vinegar
Directions
Begin layering your Napoleon, starting with the Squash, then the Hummus, the Sprouts, Tomatoe/Olive Mixture, and Pumpkin Seeds
Squeeze with Lemon or Drizzle with Balsamic Vinegar
Savor every bite! It'll be gone before you know it...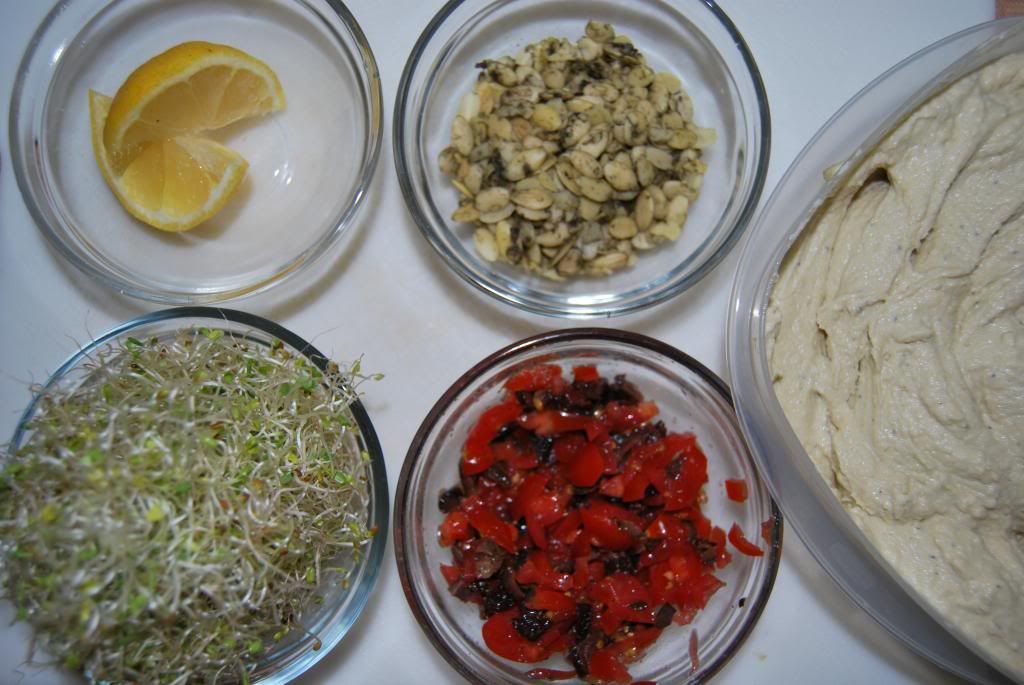 xoxo,