I've become obsessed with Carrot ribbon pasta.
Let me tell you why...
Carrots are one the most common veggies you'll find in the produce section and because of this they're very budget friendly.
Carrot pasta can be so versatile depending on what you're craving, and best of all it's super-duper fast and easy to make! No kidding - I made six cups of pasta by hand in less time then it takes to boil a pot of water and make real pasta.
When tenderized, carrot ribbon pasta is the closest thing I've found in texture to real al dente pasta, and the natural subtle sweetness of the carrot adds even more depth to anything you eat it with.
...so what are you waiting for?
If you haven't made carrot ribbon pasta yet then it's time to finally get that veggie peeler ready.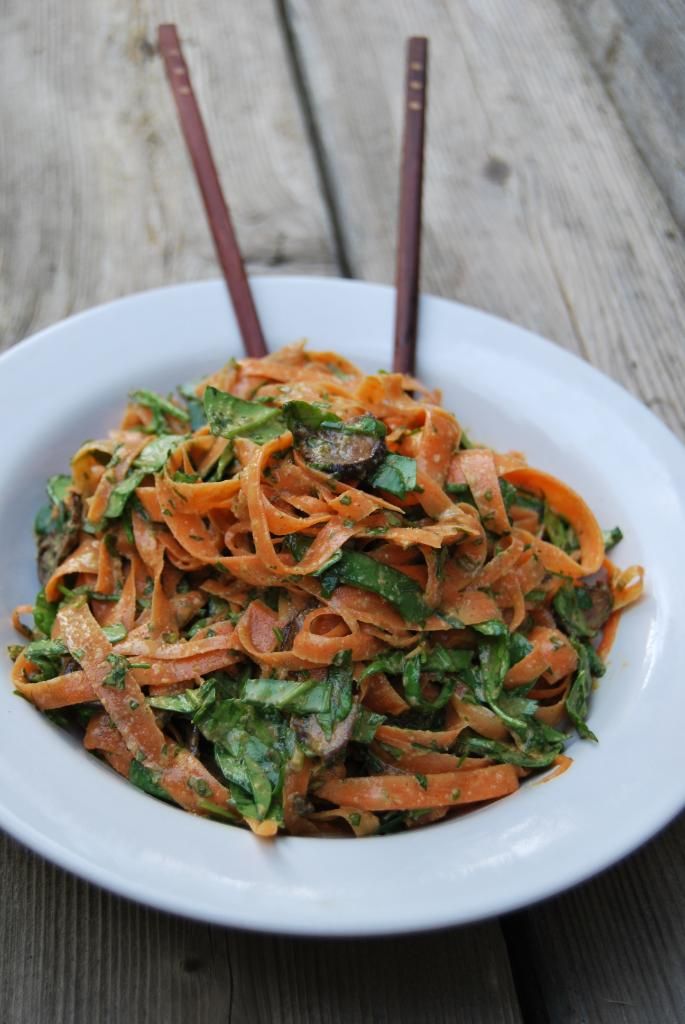 This afternoon I made a very simple and ridiculously delicious bowl of food, and here's how it went:
Carrot Ribbon Pasta Bowl with Coconut Almond Satay
Yields 2 generous servings
Step 1.
Carrot Ribbon Pasta
This Recipe calls for 5 to 6 cups (packed) Carrot Ribbon Pasta
Grabbing one end of the Carrot (preferably the end with a stem that you would otherwise cut off - this will act as a convenient "handle" while you rotate it)
Proceed to peel downwards on your veg, rotating it as you go
Continue peeling the veggie until you've reached the core or until you can no longer get ribbons
Step 2.
Coconut Almond Satay Sauce
AtV Coconut Almond Satay Sauce:
Yields roughly 1 and 1/4 cups total
(you will only need about half batch of this sauce for today's complete recipe)
1/2 cup PLUS 2 Tbsp Almond Butter (you can either purchase or make this yourself)

1 Tbsp

Date Paste

1 Tbsp Apple Cider Vinegar //or// Lime Juice

3 Tbsp minced Green Onion //or// minced Garlic to taste

1 tsp Curry powder

1/2 tsp pressed Ginger

1/4 tsp Cayenne powder

2 Tbsp Coconut Aminos (optional)

1/4 c Coconut Cream, melted (you can either make this or use store bought)

1/4 c Water

Salt to Taste
Whisk all of the above ingredients together evenly.

Transfer to an air tight container and place sauce in the fridge to chill for 20-30 minutes (or more) so the flavors can fully develop. Your sauce will thicken as it chills.
Step 3.
Assembling your Pasta Bowl
In a mixing bowl combine the following:
All of the Carrot Ribbon Pasta

1 c packed chopped Spinach

1/2 c dried Crimini Mushrooms

1/4 c minced Mint

1/4 c mined Cilantro

1/4 c minced Chive
Once you've tossed together all of the above veggies you can add the Satay sauce

Mix into your veggies roughly 1/2 to 3/4 cups of the Coconut Almond Satay Sauce

Tenderizing the Carrots: Let your veggies sit for about 5 minutes after they've been dressed with the sauce -- this is where the magic happens! Your carrots will naturally tenderize and become so gorgeously wonderful!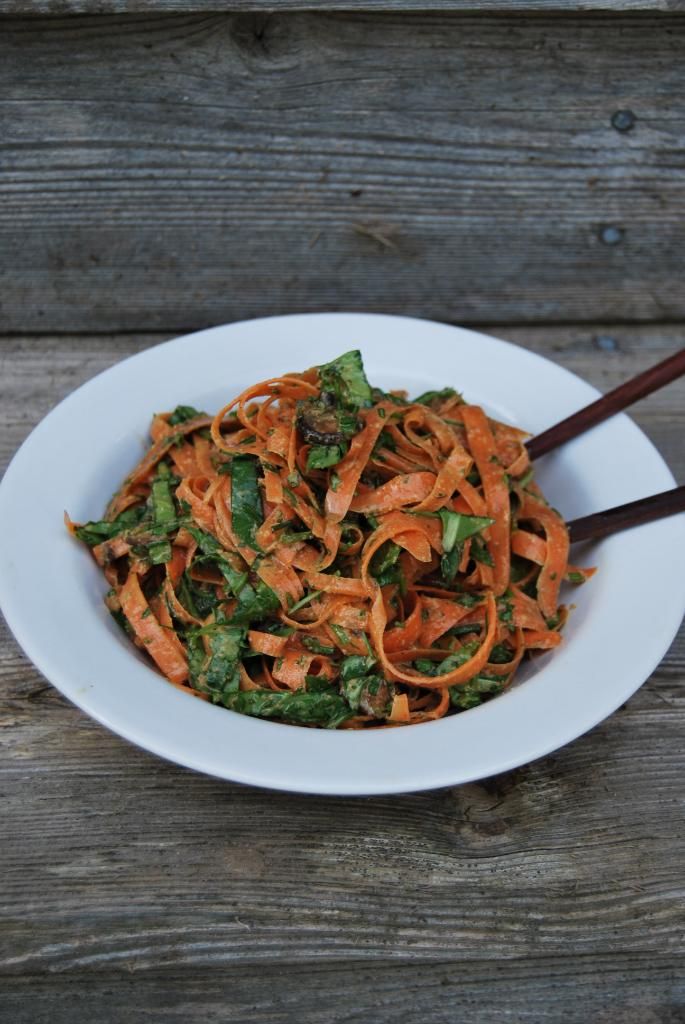 Yum!!
xoxo,