Mr AtV and I are slowly getting used to our new surroundings -- living just outside of city limits, where as before our house was located on a busy main street. The difference of just a few miles makes me almost feel as though I'm on vacation, with giant mossy redwood trees taking up most of the sky, and the only regular sounds are neighbor's geese or the occasional barking dog. We're also a bit further away from the grocery store, so I guess you could say I'm working on being more efficient with my refrigerator contents (something that probably should've happened sooner!).
The new view from my kitchen window
Today's recipe is made up of simple ingredients, but the end result is far from simple...
Important Notes About This Recipe
One of my favorite ways to transform veggies is by
hand ribbon peeling them
. I prefer to do this above using my spiral slicers because the result yields a thinner and more delicate pasta, where as the spiral slicers tend to cut them thicker. There's also something kind of meditative in taking a little extra time to make something by hand.
The only other thing you really need to know about the veggie ribbon pasta is how important the tenderizing process is. It not only transforms the veggies texture, it develops the vegetables' flavor. So even if you don't want a warm dish you mustn't skip this part of the recipe!
Tender Mixed Veggie Ribbon Pasta
Makes enough for two generous servings
Step 1.
Ingredients
2 c ribbon peeled Asparagus (roughly one bunch)
2 c ribbon peeled Carrot (roughly 2 large carrots)
2 c ribbon peeled Zucchini (roughly 2 large zucchini)
1 c thinly sliced Yellow Onion
1 c thinly sliced Crimini Mushroom
1 c thinly sliced Red Bell Pepper
Optional -- one or more of the following: minced fresh Chive, Parsley, Cilantro or fresh Basil
3 Tbsp Lemon Juice
2 Tbsp Grade B Maple Syrup //or// 3 Tbsp Date Paste
1 tsp Salt
1 tsp Cracked Black Pepper
Mix together all of the above ingredients evenly...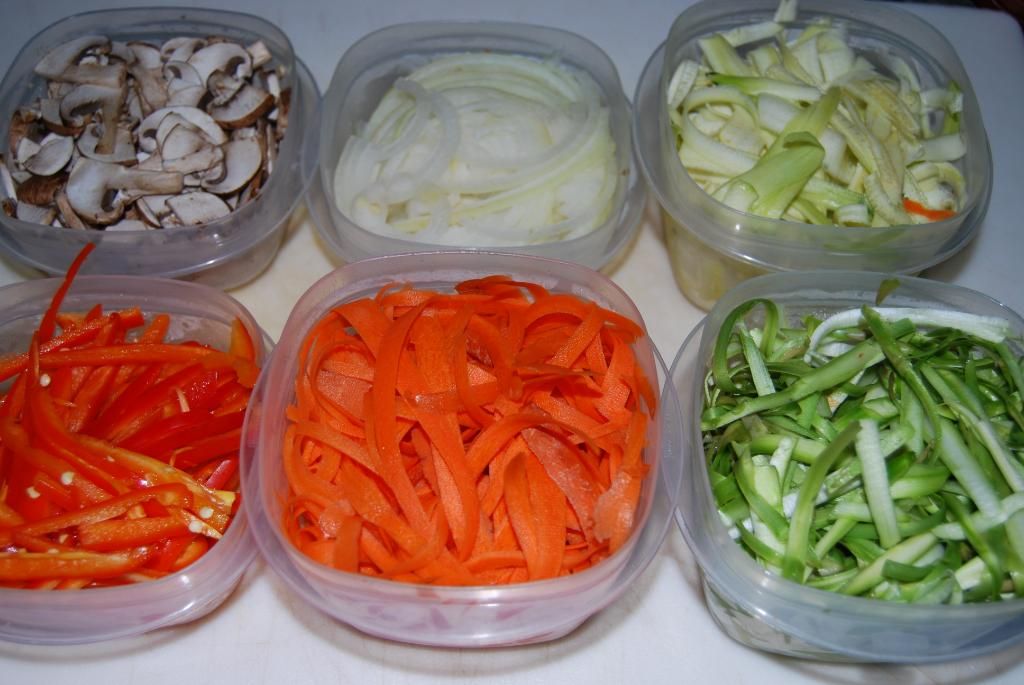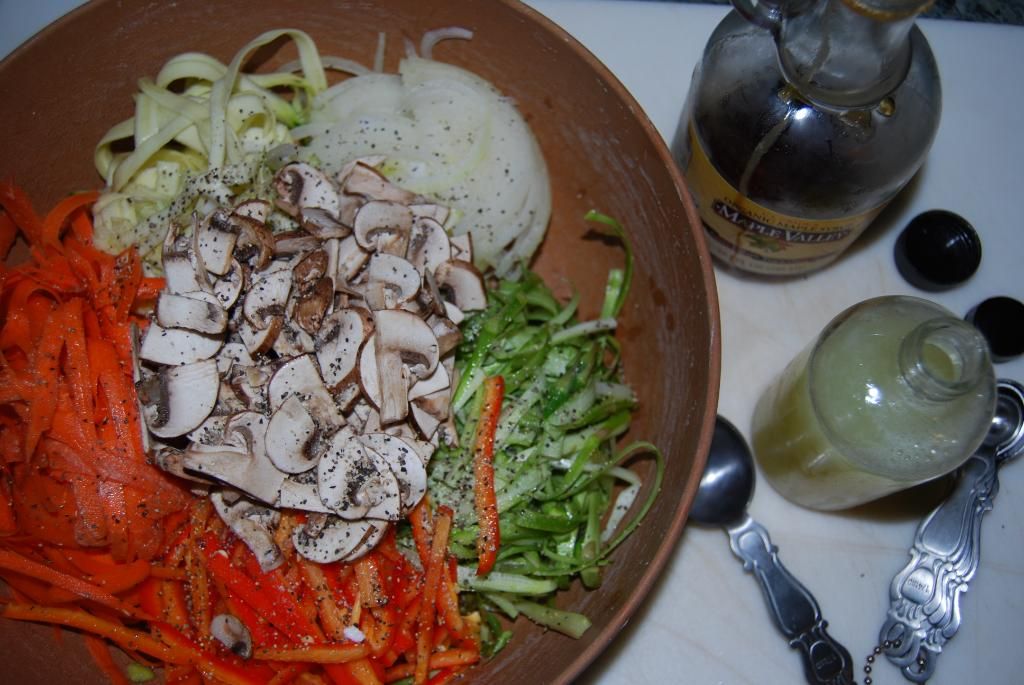 Step 2.
Tenderizing your Veggie Pasta
Choose from one of the following Raw Food Warming Methods noted here
Evenly spread out your veggies (this will require at least three dehydrator trays or one very large baking sheet)
Proceed to dry/warm veggies for 1.5 - 2 hours - until slightly wilted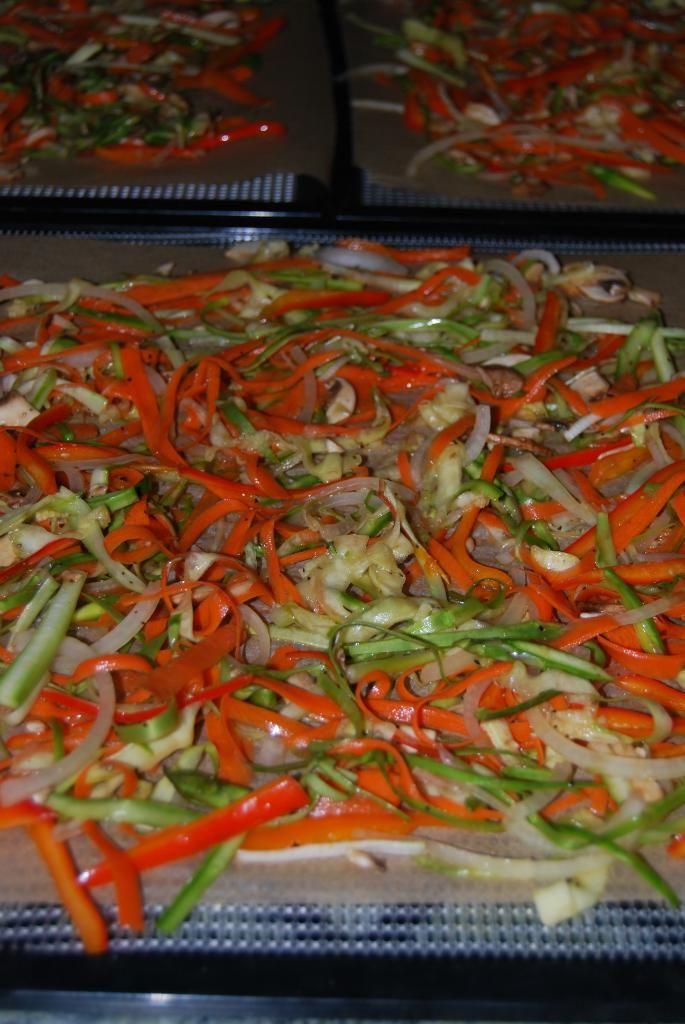 All done and ready to be eaten with your favorite sauce!
Step 3.
Two Sauces --
Almond Satay or Creamy Carrot-Top Pesto
The following sauces are only two of many options that you have to enjoy with your veggie ribbon pasta. I can't stress enough how versatile the veggie pasta is depending on what you pair it with. So many possibilities!
But lets start with two of my favorites...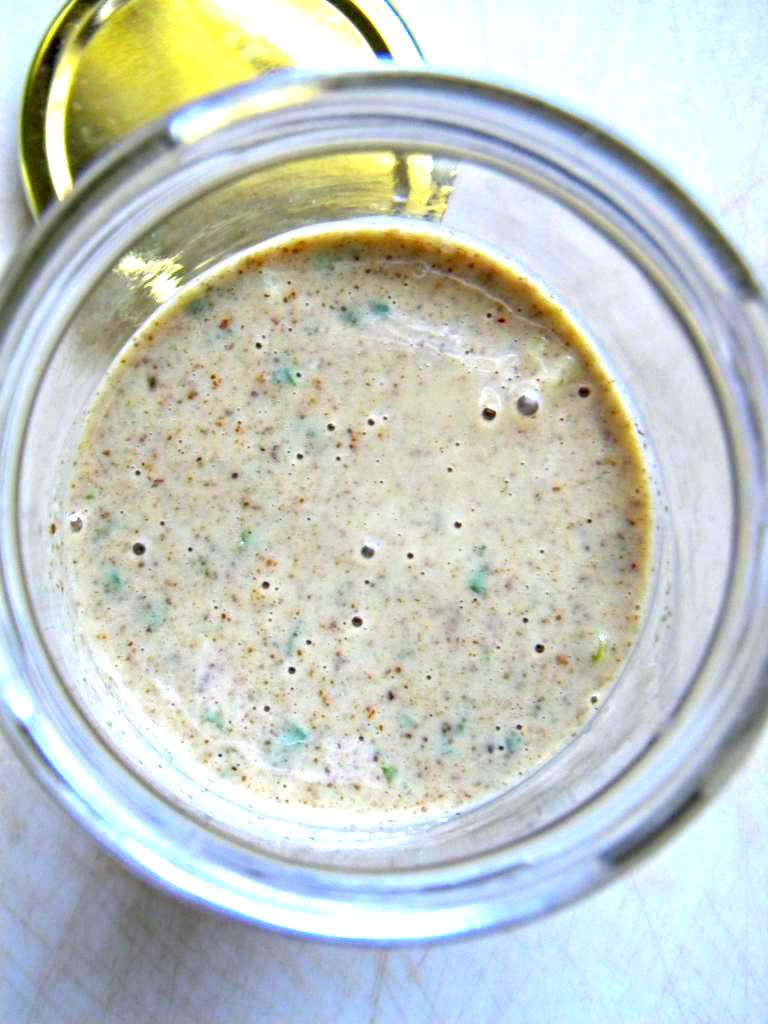 Easy Almond Satay Sauce (click for recipe)
For an extra flavor kick:
add some Yellow Curry Powder to your Satay sauce
---
Creamy Carrot Top Pesto (click for recipe)
Oil-free Variation of this recipe:
Omit the Oil and use Water, with a little extra Lemon and Garlic
Creamy Ranch-Pesto:
Mix equal parts Pesto with equal parts
Better Than Kraft Ranch Dressing
(so good!)
If you're planning on entertaining this dish would be fabulous served along side a bevy of different sauces and toppings. Get creative and don't forget to use the search tool on the upper right-hand side of this page. Type in "sauce", click enter and start planning your dinner party!
xoxo,