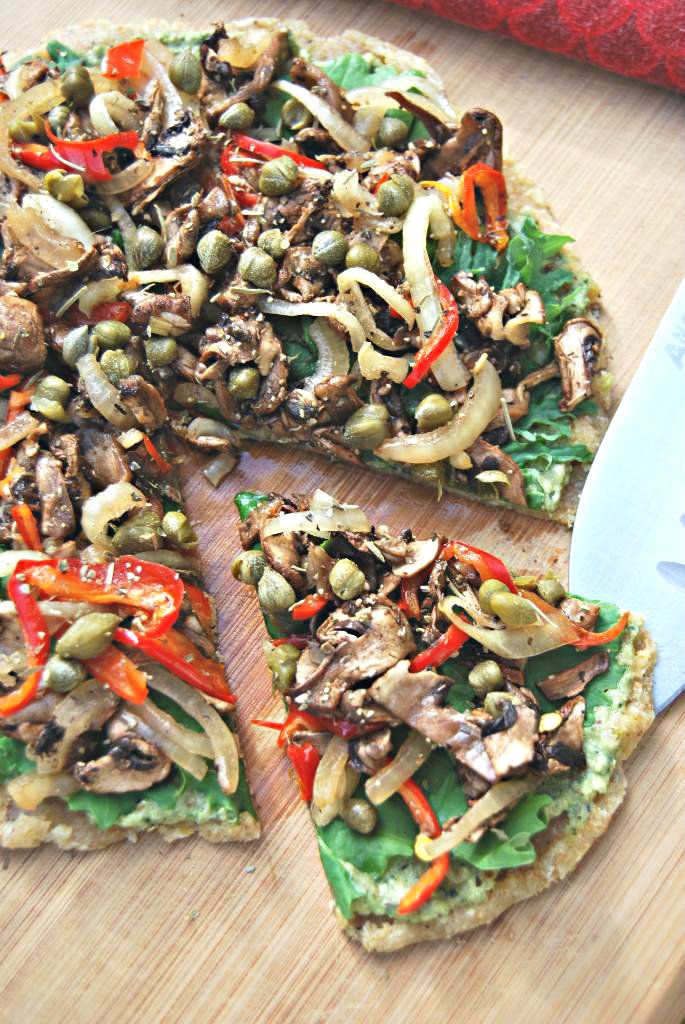 This is seriously the perfect quick and fancy meal if you've got all of the toppings ready beforehand. The only real task is making the crust and waiting for it to dry -- which is much less time than normal pizza dough.
My inspiration for this new pizza crust is based off of my tart crust recipe. The main difference being the lack of AtV Sour Cream and the addition of a bit more Flax meal (to make the crust more "crusty").
I'll be breaking this pizza recipe up into a few different parts, starting from the bottom and finishing with the toppings. You have a lot of options where the toppings are concerned, I just used what was available in my fridge which happened to be pretty awesome.
Get your appetite ready...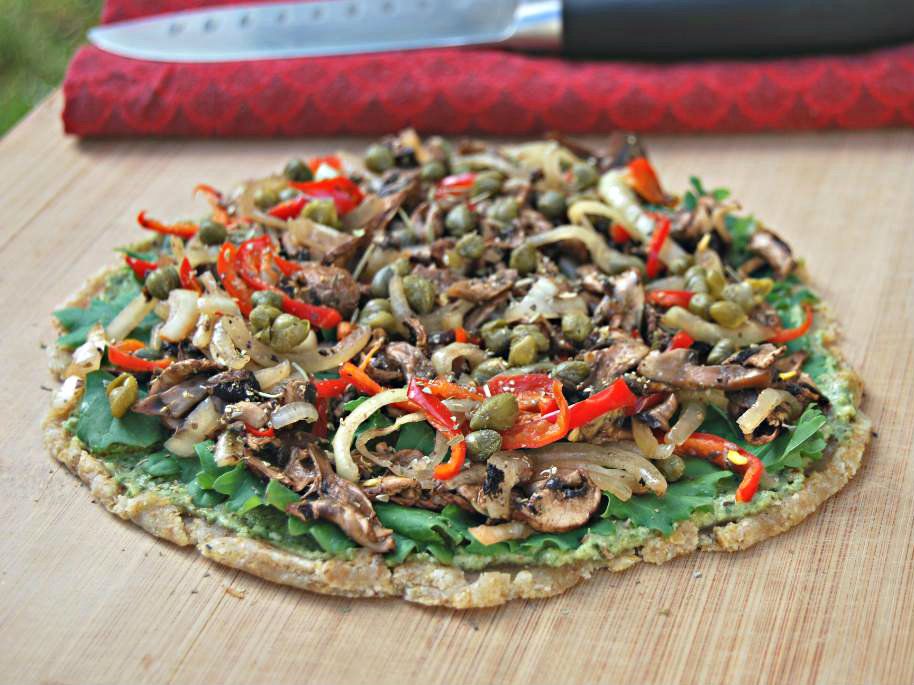 Easy Almond-Flax Pizza Crust
This recipe yields roughly Eight 4'' round Pizza Crusts
I know that seems like a lot but you can easily make half of the recipe. or make the entire recipe and freeze half of the dough for a later time.
Step 1.
Ingredients
Dry:
3 c Almond Flour
1 c Flaxseed Meal (Golden or Brown will work)
2 tsp Nutritional yeast
1 tsp Salt
1 tsp Black Pepper (optional)
Mix together all of your dry ingredients evenly, set aside.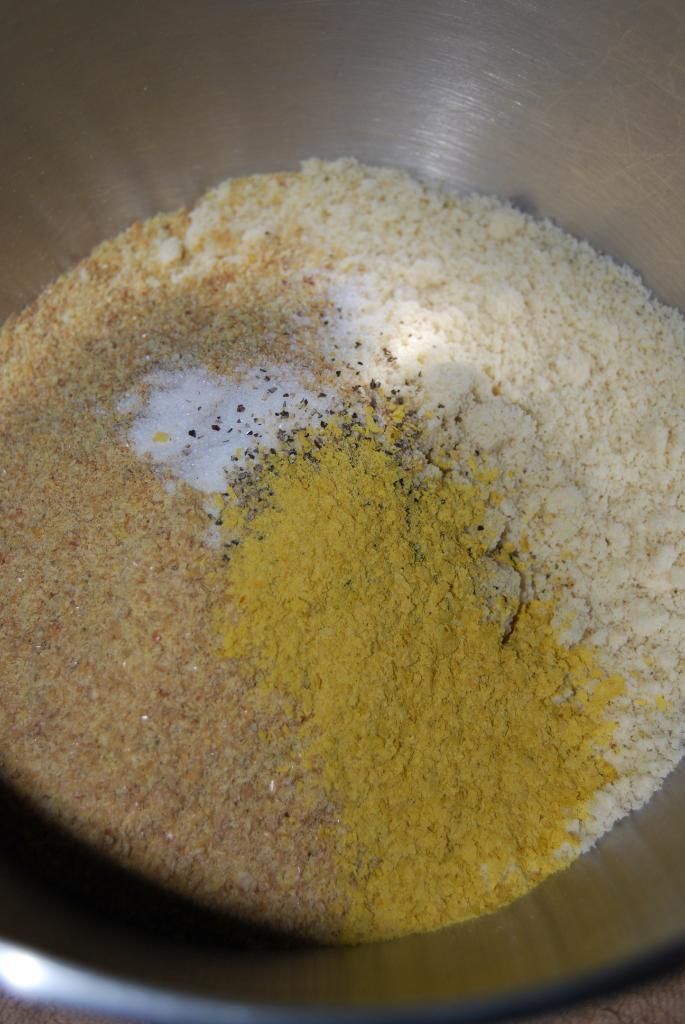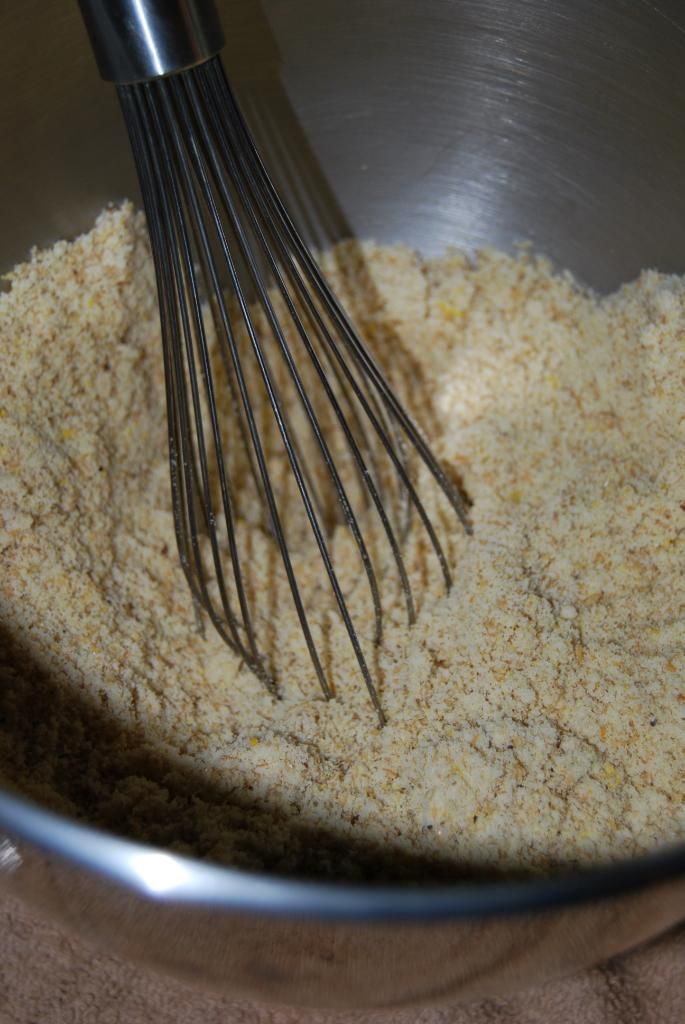 Wet:
1/4 c Flaxseed meal
1/2 c Water
Mix together your Flax and Water, let them sit for 10 minutes until the flaxseed thickens and becomes gelatinous (see photo below for example)...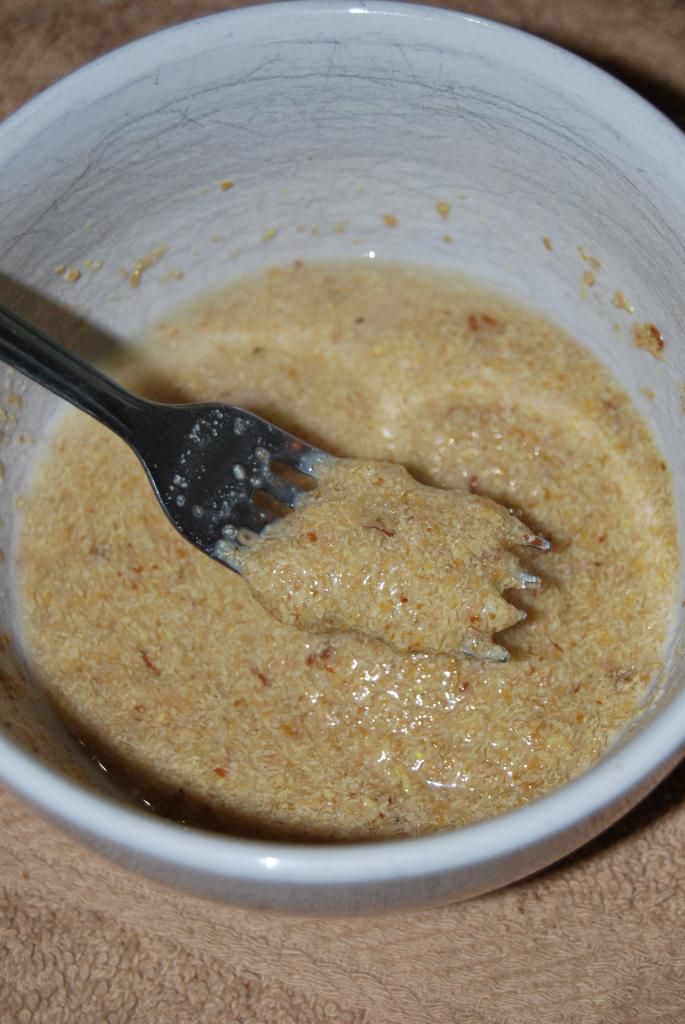 Optional: Add 1 tsp Maple Syrup //or// 2 tsp Date Paste to your thickened Flax/Water mixture (this adds a little more depth to your crust and is great if you're wanting to make dessert pizza!)
Step 2.
Assembly and Warming/Drying your Pizza Crusts
Combine together your Dry and Wet Ingredients:
Mix all of your ingredients together for roughly 30 seconds.
Important Note: At first your dough mixture will be crumbly, but as you continue to mix the natural oils in both the Flax meal and Almond flour will activate and bring the dough together.
Shape your dough into a round ball and proceed to divide it into four sections
Each section of dough will make Two 4'' round pizza crusts
After you've shaped your crusts (see photos below for shaping technique advice) choose from one of the following Raw Food Warming Methods noted here
Proceed to dry/warm your Pizza Crusts for 1.5 to 2 hours. For a really crispy crust dry it for an additional 1-2 hours or longer.
Store your finished/dried crusts in a ziplock baggy in the fridge. If you're planning on making pizza and your crust has been refrigerated, simply warm it up in the dehydrator or oven for a few minutes to remove any moisture that developed during refrigeration.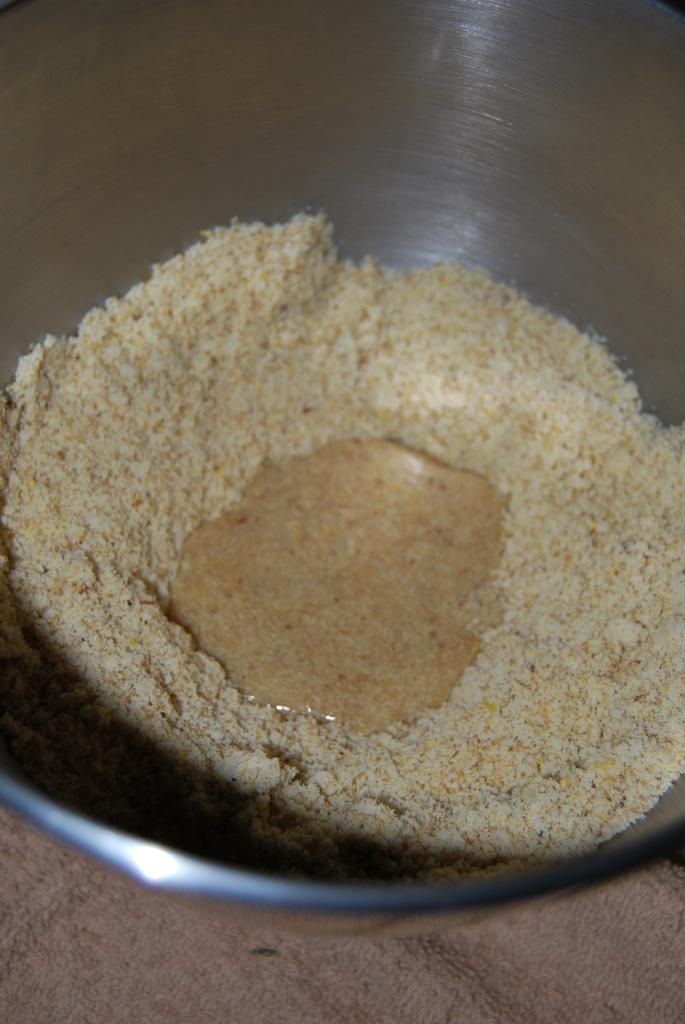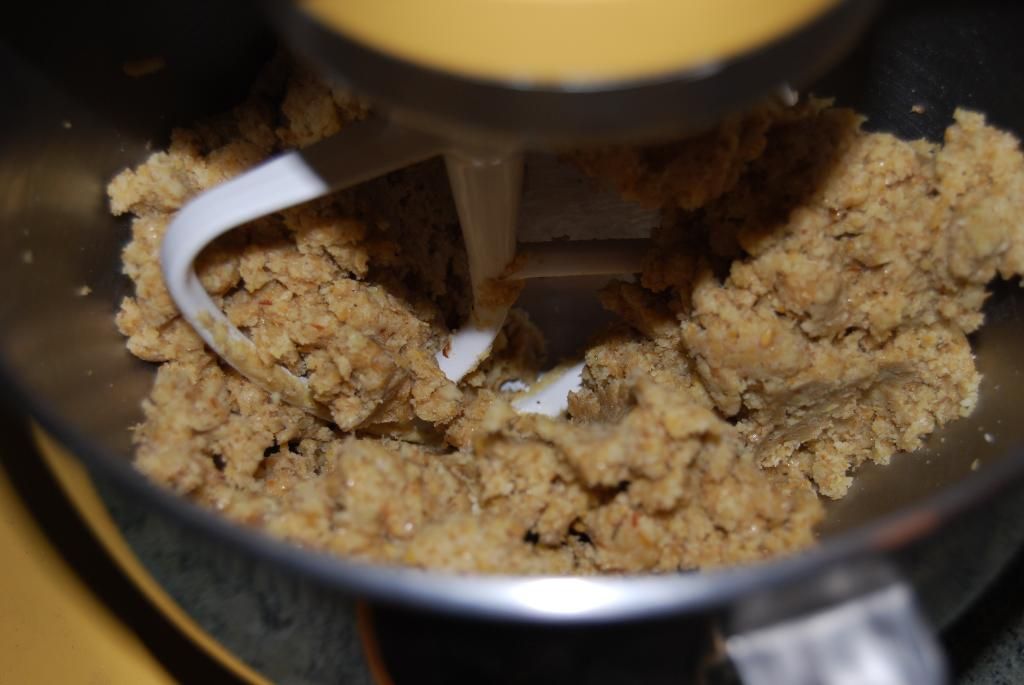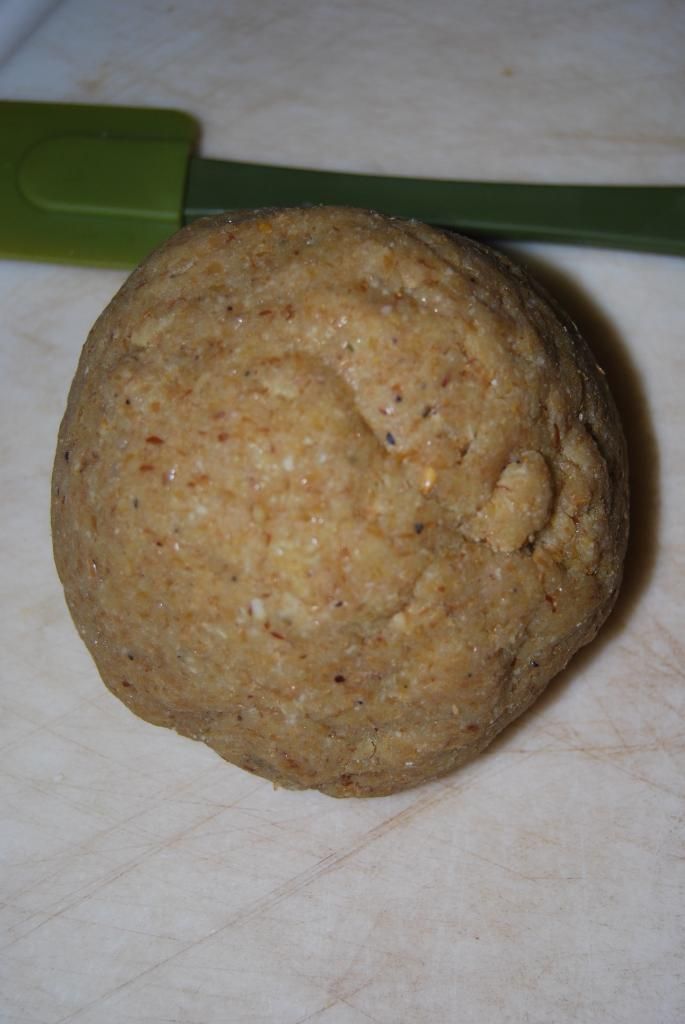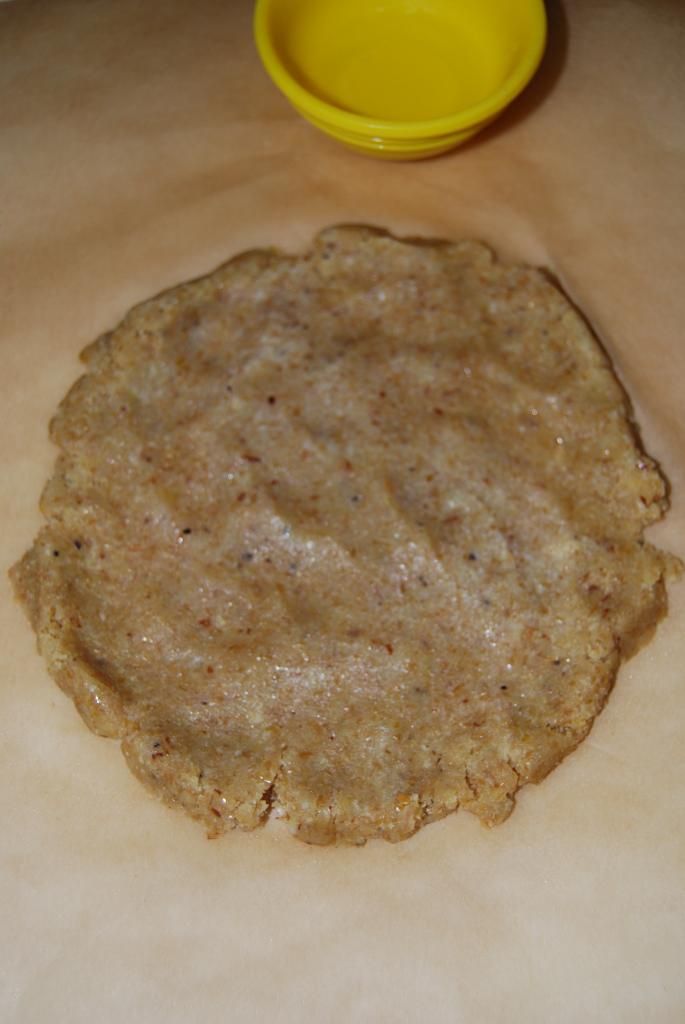 When shaping out your pizza crusts keep a small amount of water close by and use it to lightly dampen your fingers to smooth out and flatten each crust. This is a great little technique because the flax meal tends to make the dough pretty sticky -- just make sure to not get your fingers super wet (only a tiny amount of dampness is needed).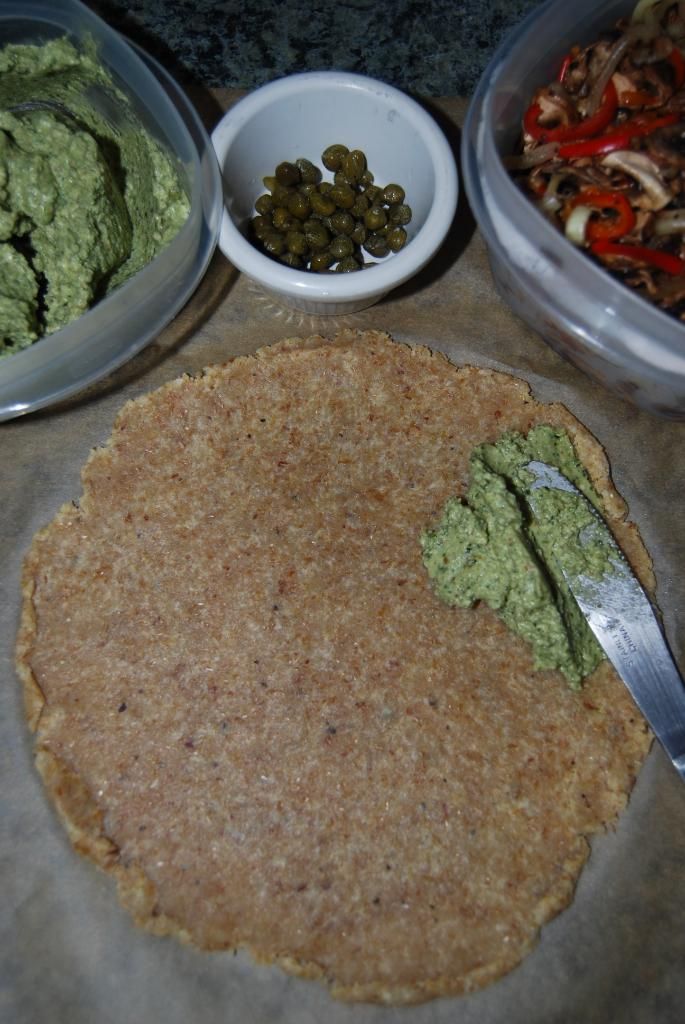 Creamy Pesto-Ranch Spread
This spread is so gorgeous and really easy to make using any kind of pesto. I opted to use an oil free version of my Creamy Carrot-top Pesto since I had a big batch of it in the fridge.
Oil-Free Pesto: To make the above Pesto recipe oil-free simple substitute Water in place of the oil. Add additional Lemon and Garlic to taste.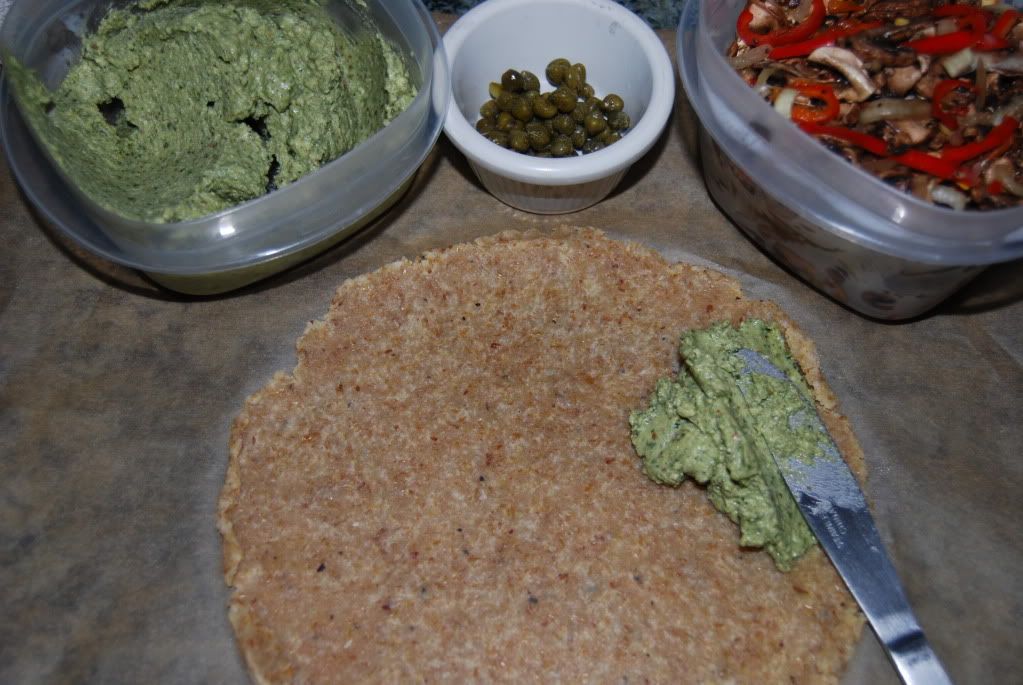 Pizza Toppings:
These toppings are some of my favorite veggies, and my all time favorite toppings for pizza. In past recipes my tenderizing method has involved a mixture of oil and acid, but recently I've been omitting the oil and still getting wonderful results. Below is a simple fail-proof method to tenderize and boost the flavors of these three veggies all at the same time.
Tender Wilted Mushroom, Onion & Bell Peppers (oil free)
2 c Mushrooms thinly sliced
1 c Yellow Onion thinly sliced
1 c Red Bell Pepper thinly sliced
2 Tbsp Lemon Juice
2 Tbsp Grade B Maple Syrup //or// 3 Tbsp Date Paste
1 tsp Salt
1 tsp Black Pepper
Evenly Mix together all of the above ingredients
Choose from one of the following Raw Food Warming Methods noted here
Evenly spread out your veggies in a thin layer
Proceed to dry/wilt your veggies for 1.5 hours
Your finished veggies should still be tender but slightly wilted (you don't want a dry shriveled veggie)
It's Pizza Party time!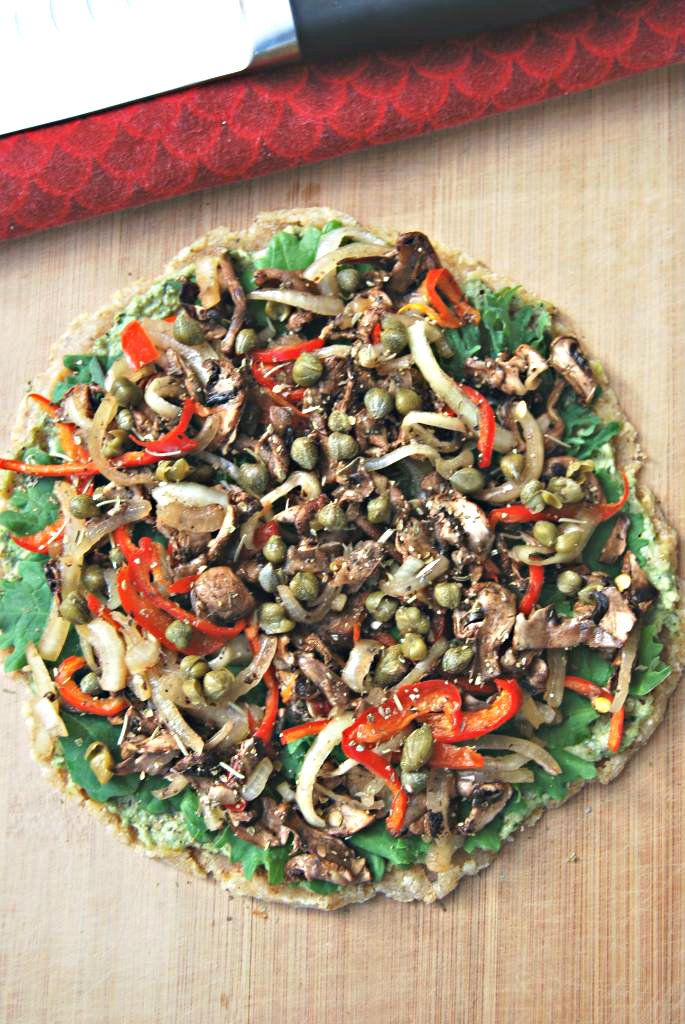 The other green that you see on my pizza (that's not the pesto) is the last minute addition of Baby Kale. So yummy!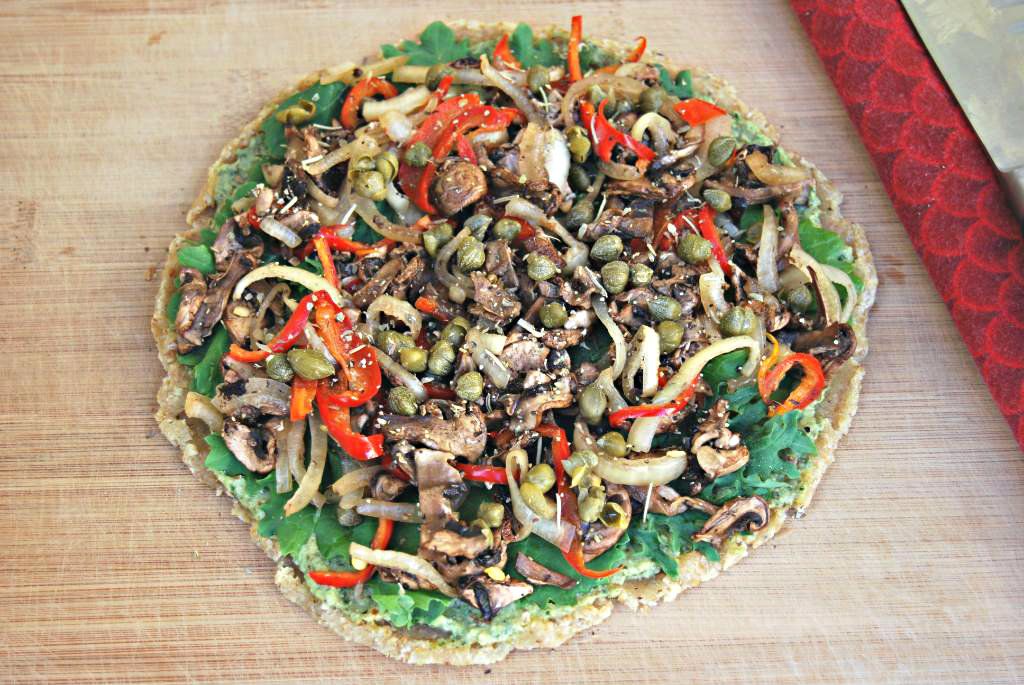 Happy Friday, everyone!
xoxo,