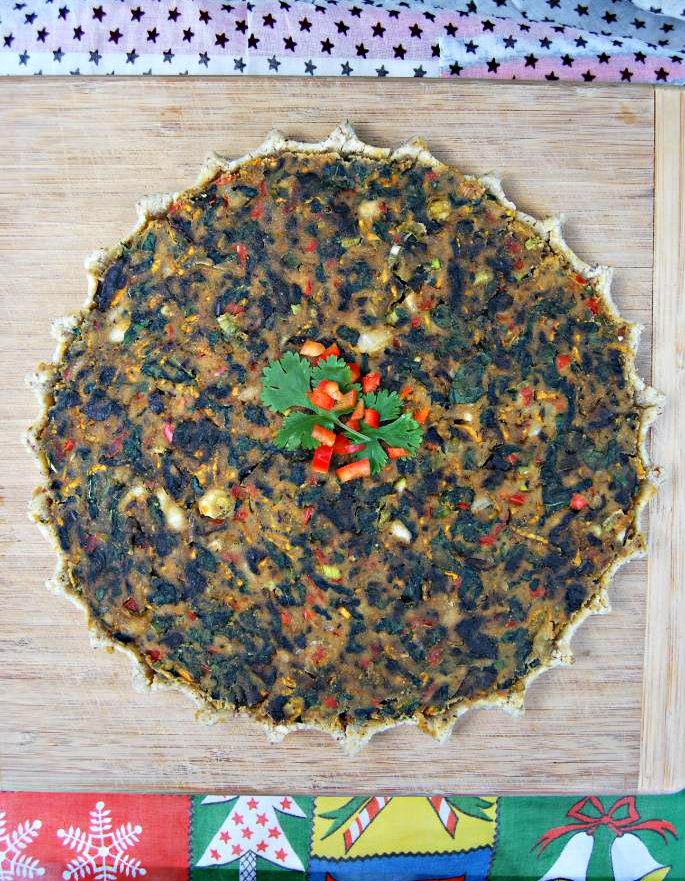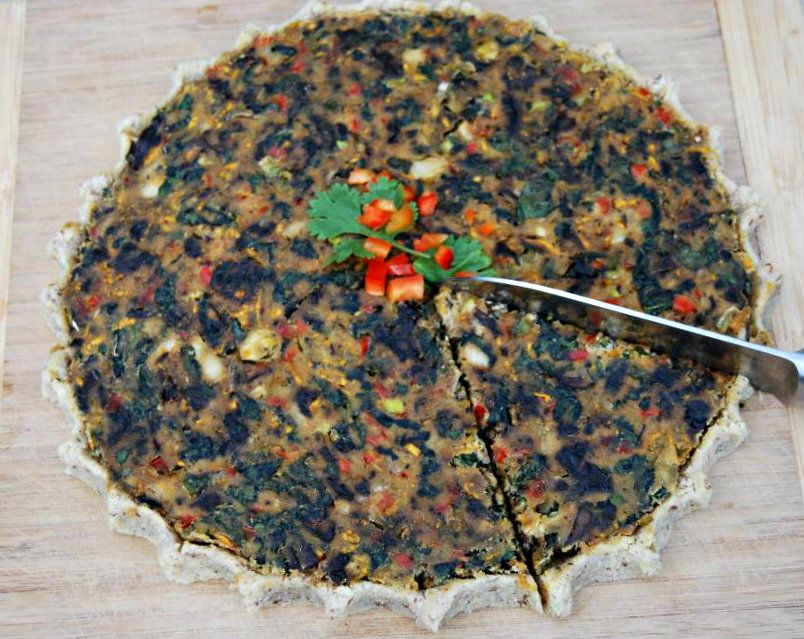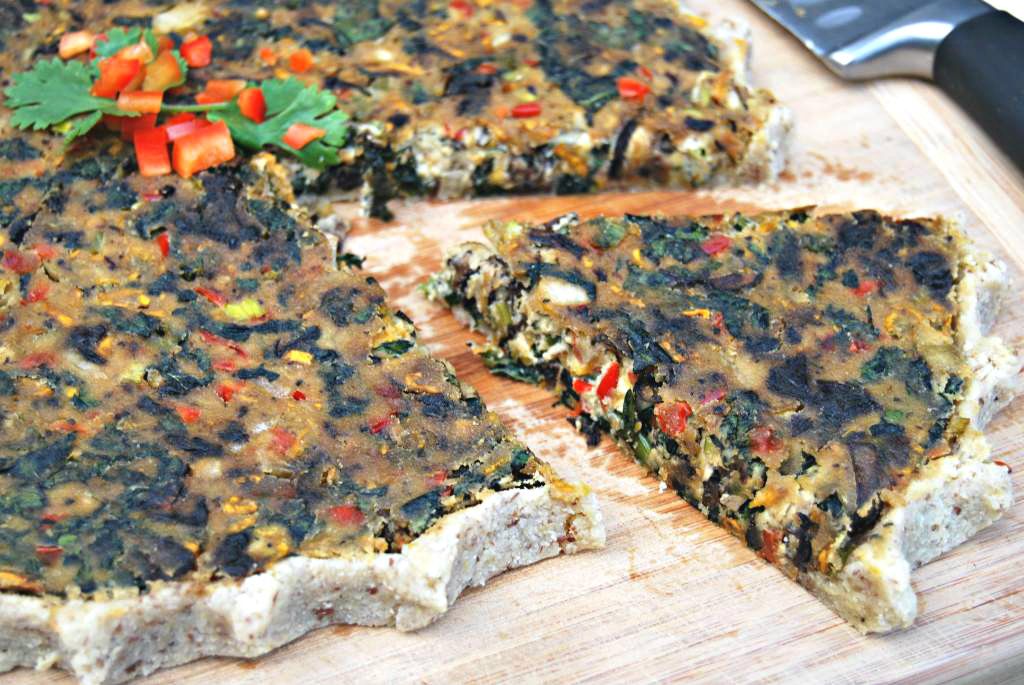 As I promised on Wednesday, I'm so excited to give you the gift of this amazing quiche recipe -- just in time for the Christmas holiday!
I know I say/write this a lot, but I am ridiculously in love with this quiche - it's definitely going to be recurring recipe for my holidays, and pretty much any other time I feel like spoiling myself. Best of all, this recipe is fairly easy to execute if you follow each step individually. I promise you won't get overwhelmed, and before you know it your whole house will be wafting with the smells of holiday savory-goodness.
First let's talk about a few important things...
Important Recipe Notes
About the Veggies:
The veggies in this quiche are seriously wonderful, in addition to adding a ton of extra flavor, they add so much nutritional value. Mix it up: if you want to alter or change what veggies you use then by all means, go for it! My only advice is that you keep the veggie measurements the same (roughly 4.5 cups of fresh veggies). Other then that add whatever mixture you're craving, or whatever is seasonally available.
About the Deviled Eggless Mixture:
This is the secret component to the quiche that makes it a home-run. Inspired by my
raw vegan Deviled Eggless Eggs
, I wanted the base of the quiche to be "eggy" and rich, and I can honestly say that this quiche would absolutely not be the same without this component. I hate to be bossy about my recipes, but I highly advise anyone who decides to make this recipe not to alter or change any of the ingredients noted in the Deviled Eggless mixture. It just won't be the same spectacular dish.
About the Crust:
In the recipe photos you'll see my
Almond Flour Tart crust
(because it's my favorite), but you can also make my
Nut-free Tart Crust
and use that instead. It's up to you! The drying time is the same.
Deviled "Egg" & Loaded Veggie Quiche
Makes one Quiche, 9.5'' in diameter
Step 1.
Veggies
Ingredients:
1 c packed chopped Kale
1 c packed shredded fresh Pumpkin //or// Carrot
1 c packed sliced/chopped Crimini Mushroom
1/2 c thinly sliced/chopped White Onion
1/2 c thinly sliced Green Onion //or// Chive
1/2 c minced Red Bell Pepper //or// Sun-dried Tomato
2 tsp minced Garlic
2 Tbsp Grape seed Oil
1 Tbsp Lemon Juice
Salt & Pepper to taste
Assembly:
In a large mixing bowl combine all of the above
Mix together until ingredients are evenly coated in the Oil/Lemon Juice
Choose from one of the following raw food warming methods noted here
In a thin even layer spread your veggie mixture out
Proceed to dry/wilt veggies for 1.5 hours (maybe a bit longer)
Set your wilted veggies aside and move on to the next step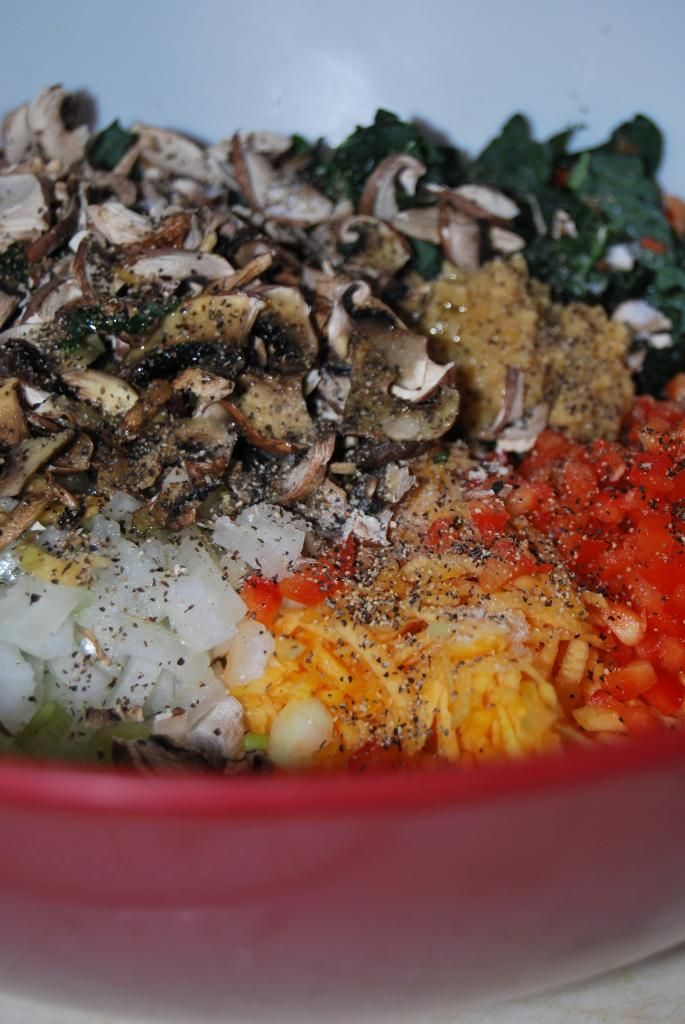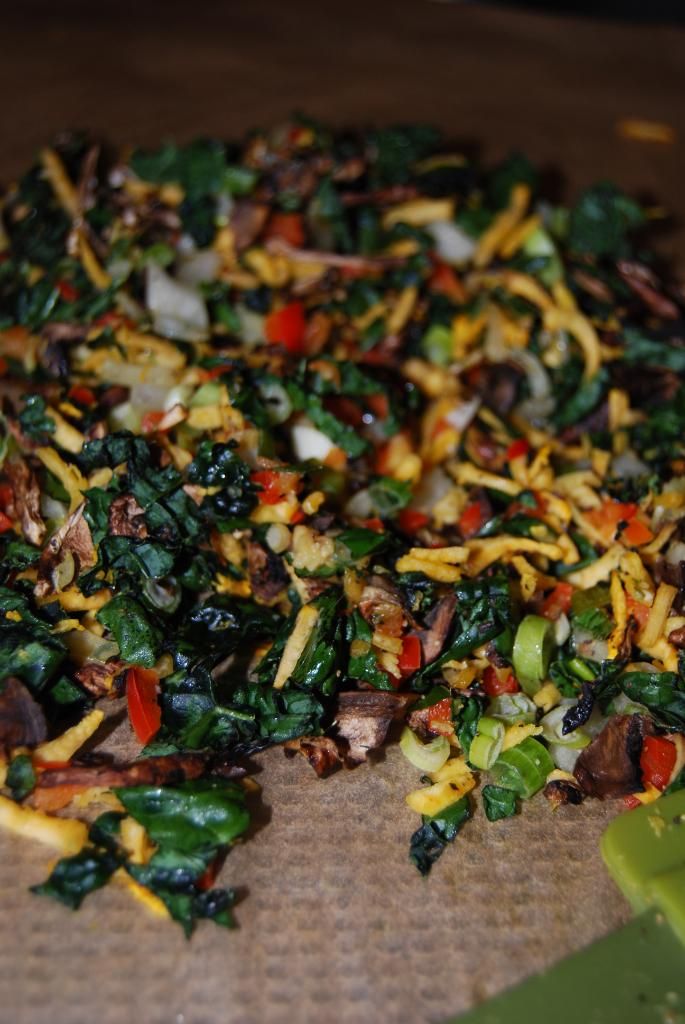 Veggies after being warmed/wilted - yummy!
Step 2.
Deviled "Egg" Mixture
Ingredients:
1 c Macadamia nuts
1/2 c AtV Sour Cream
1/2 c packed shredded Zucchini flesh (be sure to peel off the green zucchini skin)
2 Tbsp Creamy Mustard (yellow or white will do)
2 tsp Onion powder
1 tsp Nutritional Yeast
1/4 tsp Garlic Granules
1/4 tsp Kelp powder
1/4 tsp Salt
Assembly:
Place all of the above ingredients into your food processor
Puree together for 3 minutes, until very creamy (you may have to stop and scrape down the sides of your processor once or twice in the first minute or so)
Transfer your "Egg" mixture to a bowl and move add all of the wilted Veggies from Step 1
Fold your wilted Veggies into the "Egg" mixture
Choose from one of the following raw food warming methods noted here
In a thin even layer, spread your "egg" and veggie mixture out
Proceed to warm/dry for 2.5 to 3 hours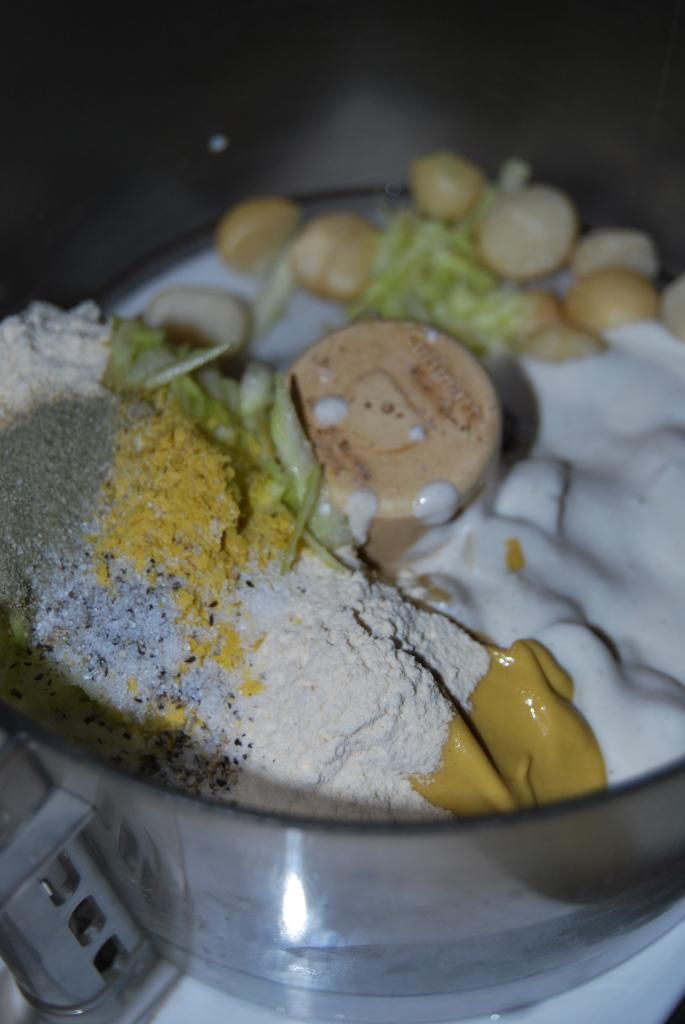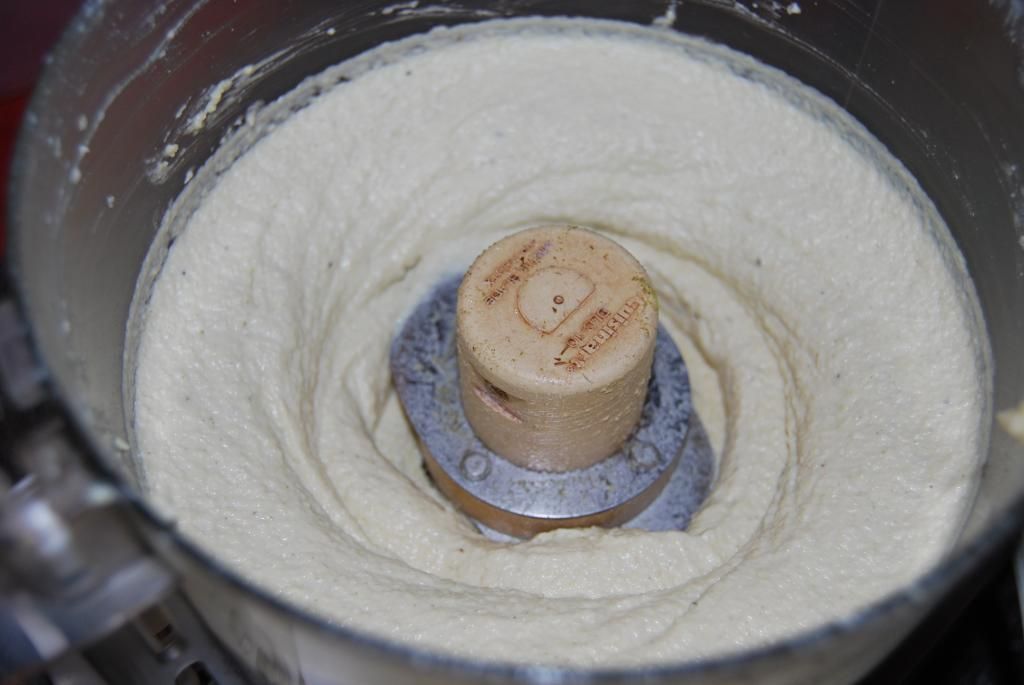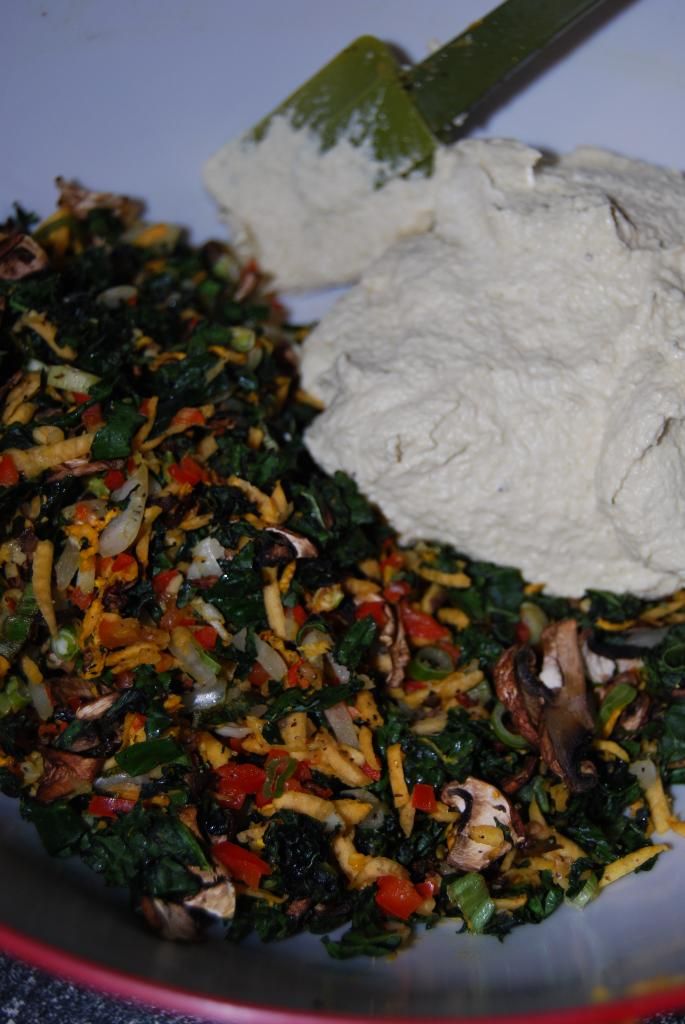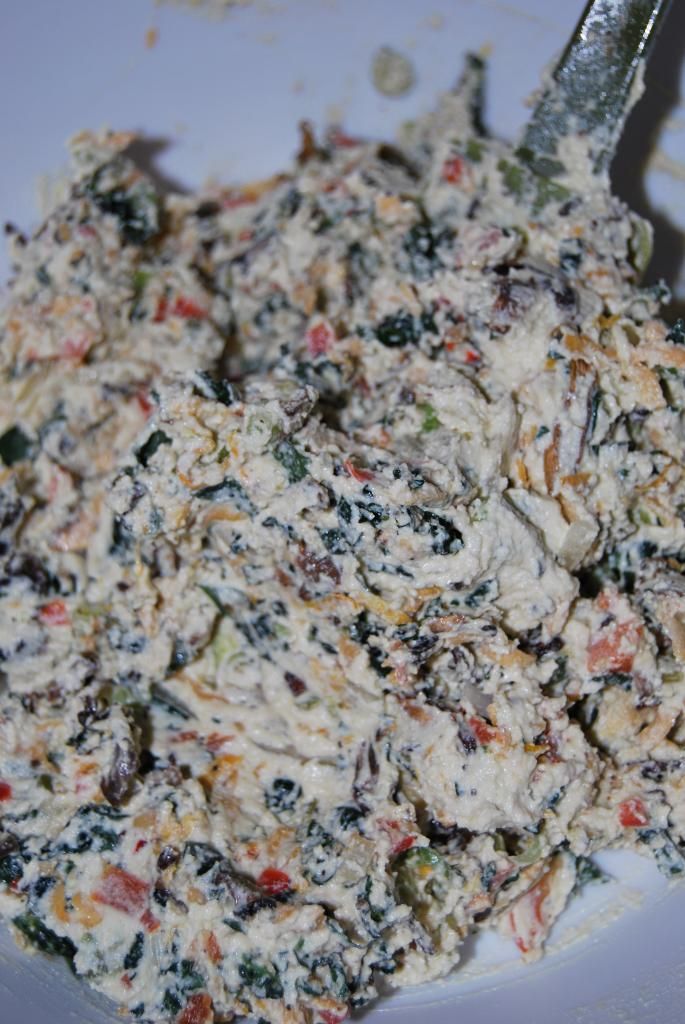 Try to resist eating this stuff right out of the bowl...it's really good.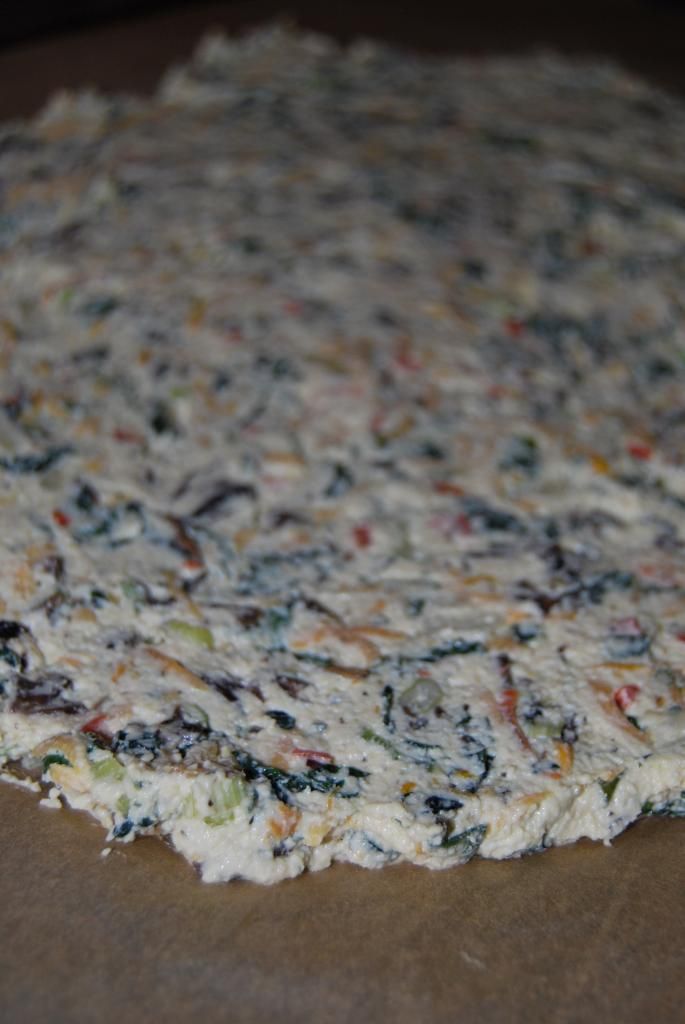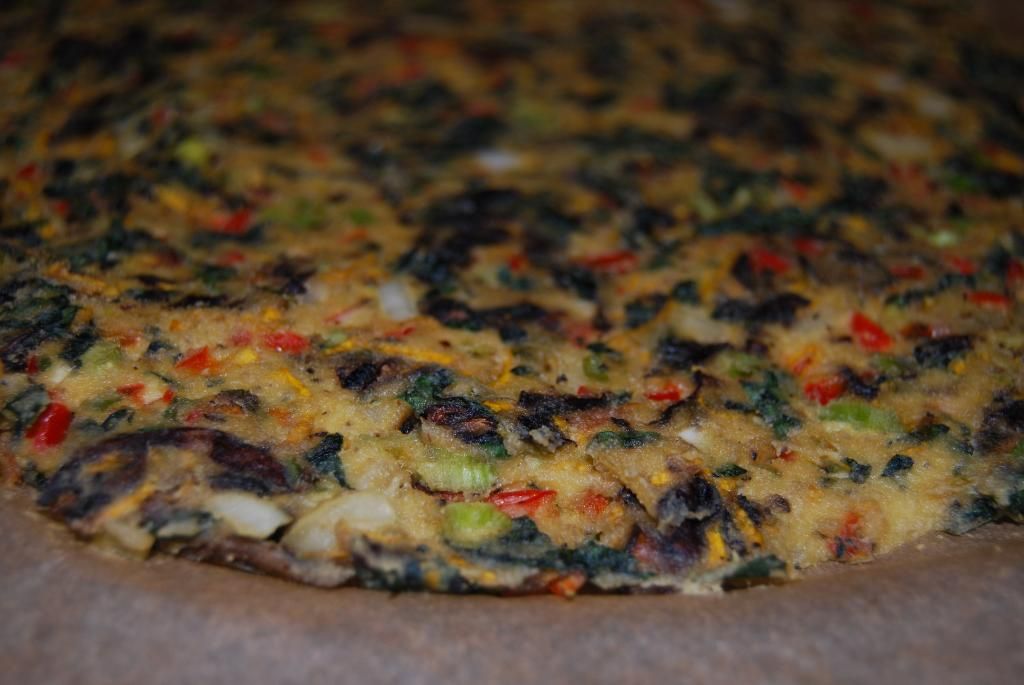 "Egg" and Veggie mixture after being dried.
*Note that it will still be white and creamy in the center.
Step 3.
Crust and Quiche Assembly, and final Warming
As I mentioned in the "Important Recipe Notes" (at the top of this post) I used my
Almond Flour Tart crust
for this quiche because it's really one of my favorites.
Make 1 batch of Almond Flour Tart Crust

On top of a sheet of parchment paper proceed to shape your crust into a round 9.5'' (I reccommend doing this on top of parchment because it keeps the raw dough from sticking)

The best way to get a round crust is use a large plate, gently set it on top of your rolled-out crust dough and mark the circle with either your fingers or a toothpick. *Don't press your plate down into the crust dough -- it's sticky and might cling to your plate!
Choose from one of the following raw food warming methods noted here
Dry your crust for 2.5 to 3 hours (I dried my "Egg" and Veggie mixture together)
After your crust and "egg"/veggie mix have finished drying combine the two of them together
FINAL DRYING/WARMING: Spread your "egg"/veggie mixture evenly into your crust and warm/dry for 2 to 3 more additional hours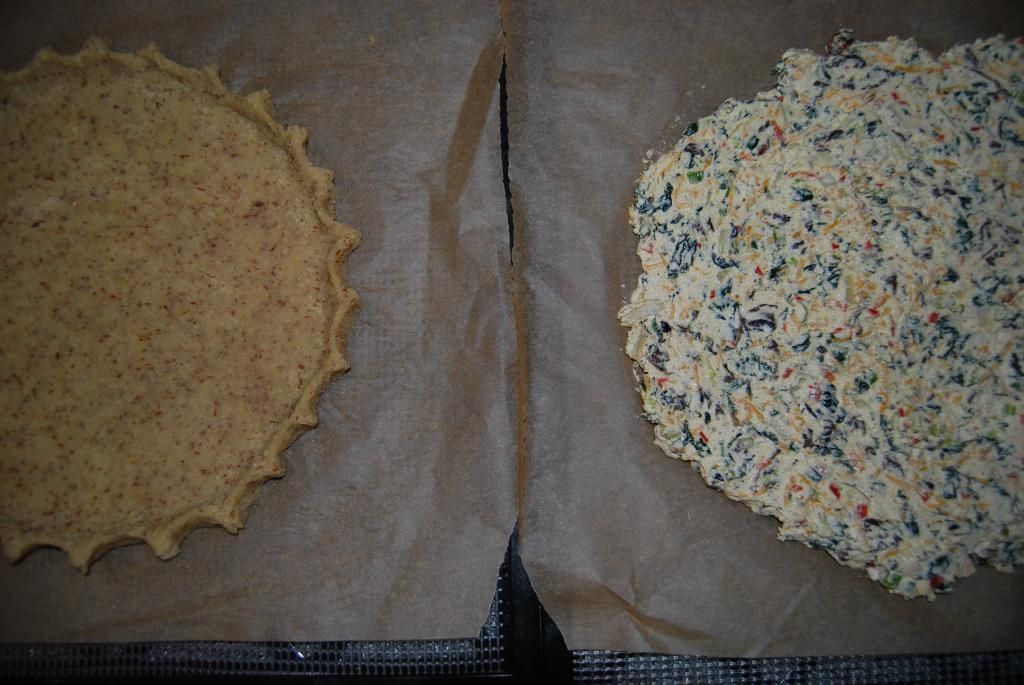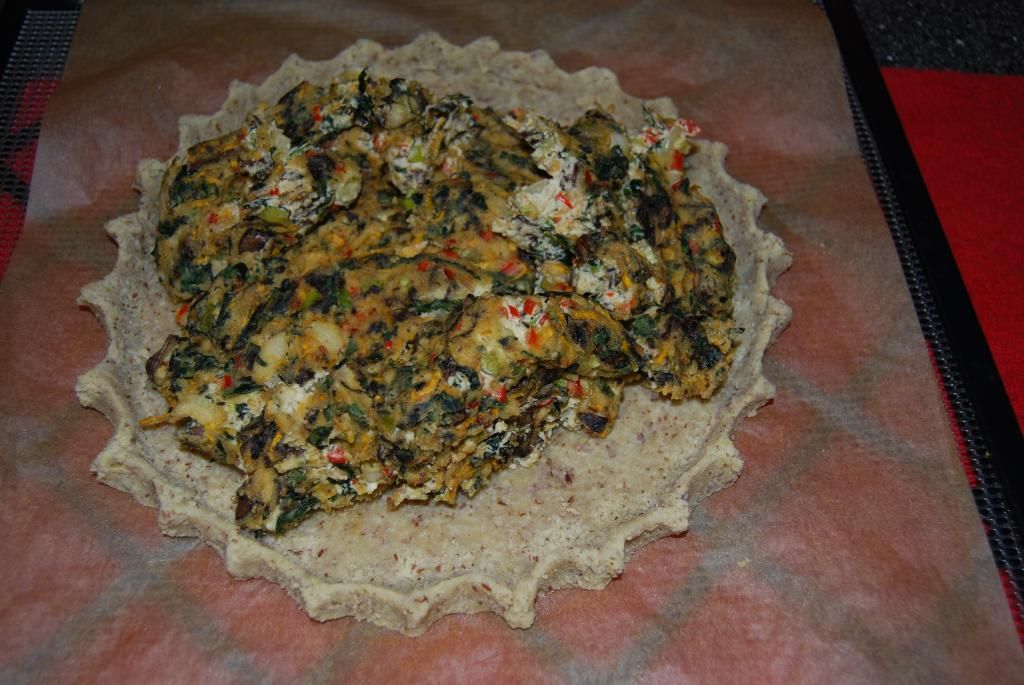 After the final drying/warming time let your quiche sit out on the counter to cool off
Your Quiche filling will thicken as is sits out, and will thicken even more if it's chilled in the refrigerator
Enjoy this quiche cold or warm -- it's totally up to you! Just eat it!
My favorite way to eat this quiche is with a side of fresh
Salsa
...so yummy!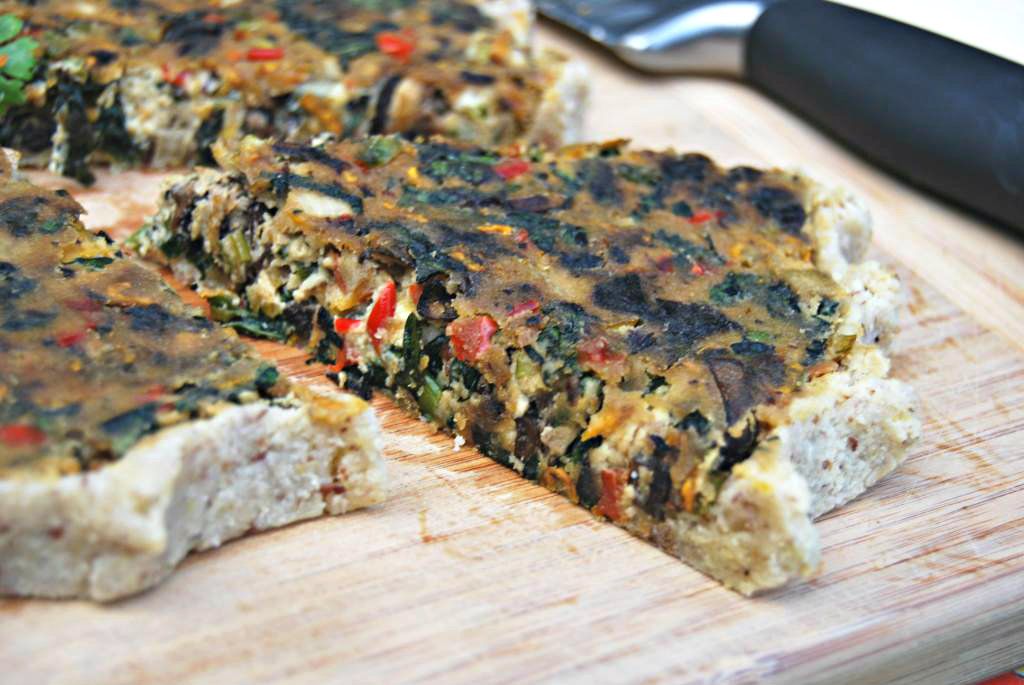 Happy Friday and happy eating!!
xoxo,