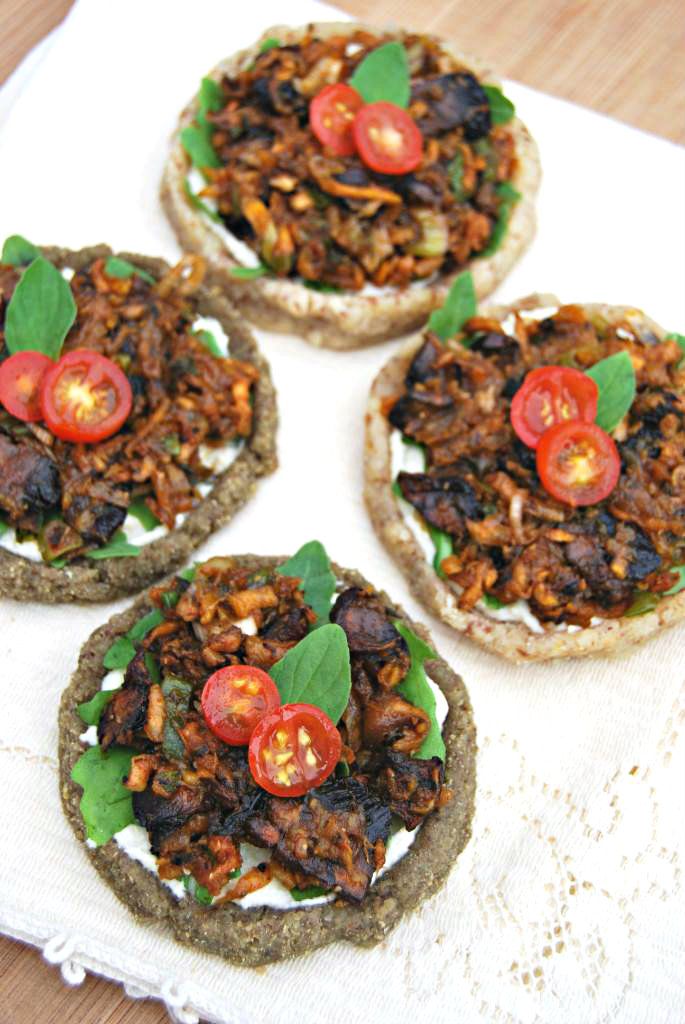 I'm so excited to be back in my kitchen, in the midst of all the crazy things that have kept me away! I miss you guys! As I mentioned before, my personal schedule is still a little bonkers, and that's primarily what's keeping me away from AtV, but I promise it's only a temporary thing, and I'm shooting to have at least one new recipe every week to share with you all. I also have some exciting news to share, but it's still a little too soon....so in the mean time, how about a dish that's perfect for the Holiday season?
Today's recipe is simple, but so exciting. These adorable tartlets can be made smaller in size as an appetizer, or larger for a main course. Best of all, you have the option to make them completely nut free!
Why wait? Let's get started...
Savory Pumpkin Tartlets (with nut free option)
The pumpkin mixture for these tarts makes enough for roughly 10/12 tart crusts, 2.5'' in diameter
1 batch of the following crust recipes should yield enough to make the appropriate amount of tart shells.
Step 1.
Tart Crusts
Choose from one (or both) of the following:
Shape all of your tart crusts into desired size.
---
Step 2.
Savory Pumpkin Mixture
Ingredients:
2 c shredded raw Pumpkin flesh
2 cups chopped Crimini Mushroom
1/2 c chopped Scallion
1 Tbsp minced Oregano
1 to 2 tsp minced Garlic (adjust to your liking)
2 Tbsp Extra Virgin Olive Oil (use a sweet and fruity EVOO, not a bitter one)
1 Tbsp Lemon Juice
1 tsp Onion powder
1 tsp Paprika
1 tsp Nutritional Yeast
1/2 tsp Black Pepper
1/2 tsp Salt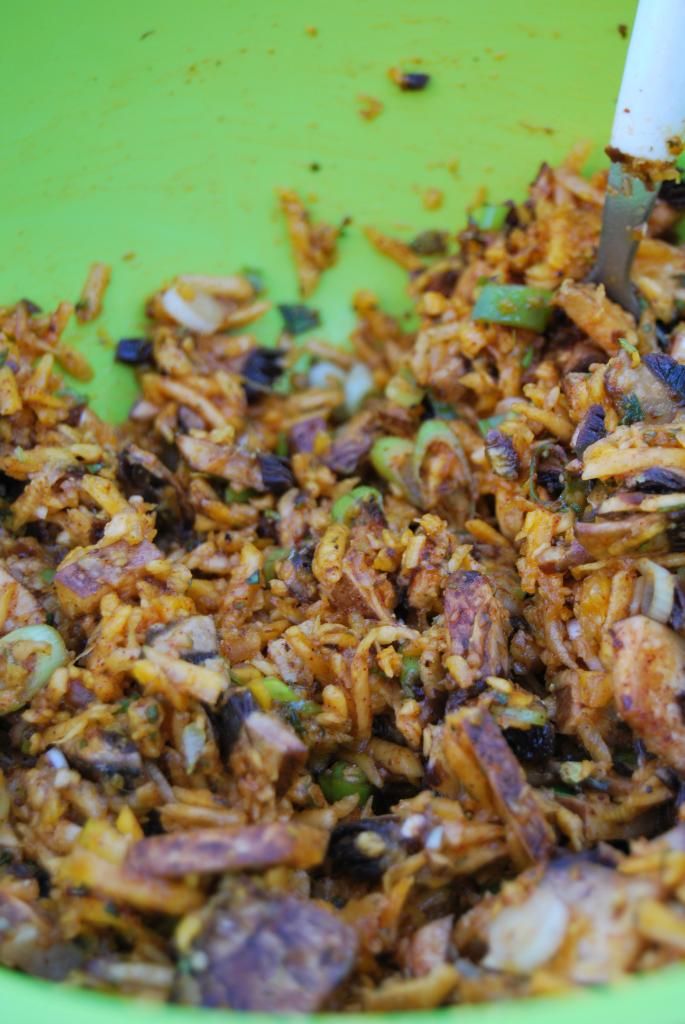 In a large bowl, mix together all of the ingredients
Choose from one of the following Raw Food Warming Methods noted here.
Evenly spread out your pumpkin mixture
Proceed to warm your mixture for 2.5 hours
Your finished product will be wilted and still moist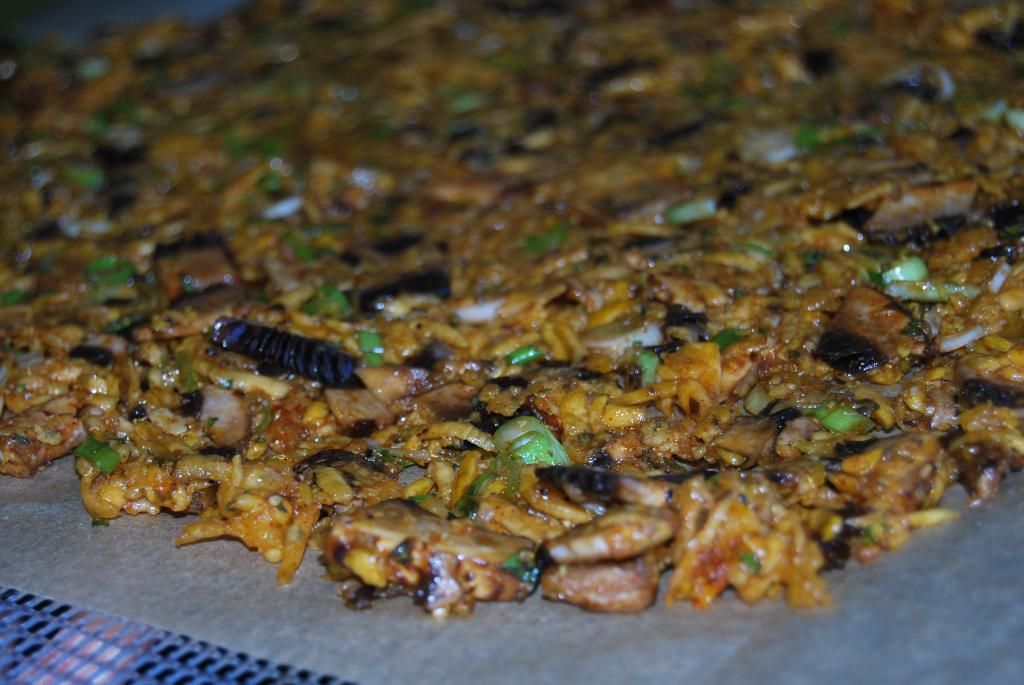 Now it's time to assemble!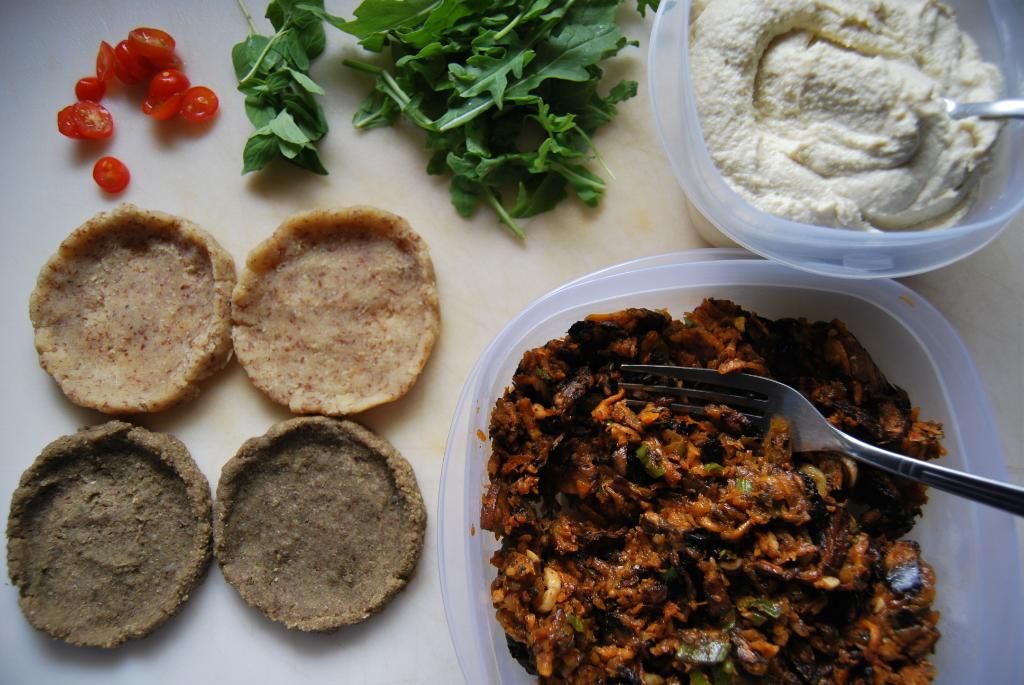 On my prep board:
Sliced cherry tomatoes, a few sprigs of fresh Oregano, Baby Arugula,
AtV Cream Cheeze
(not nut free, and optional), Pumpkin filling, and of course the tart crusts.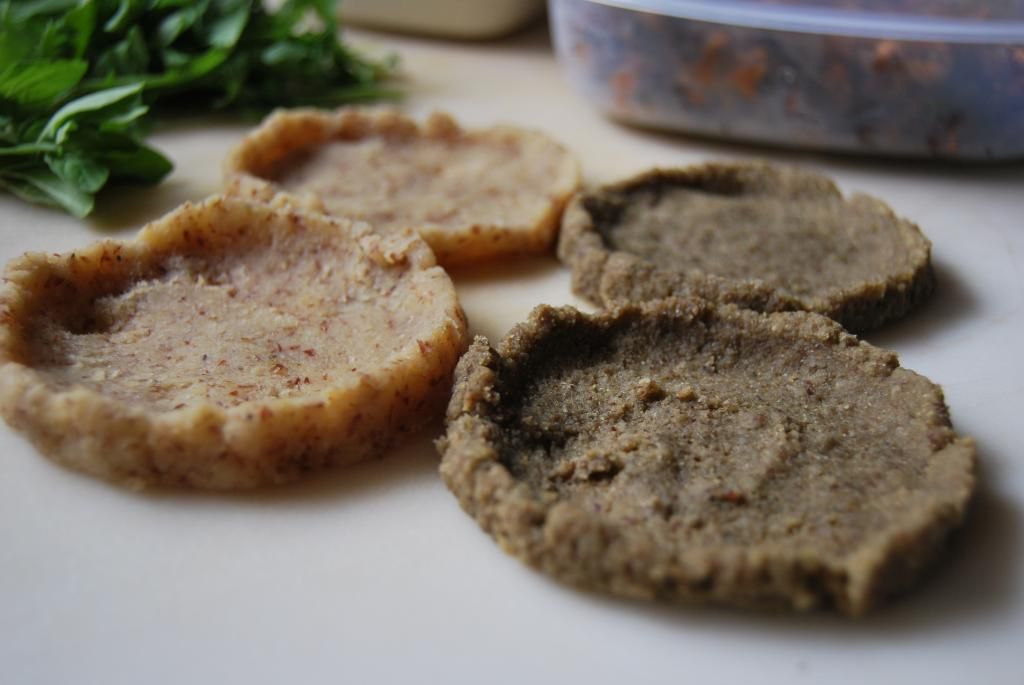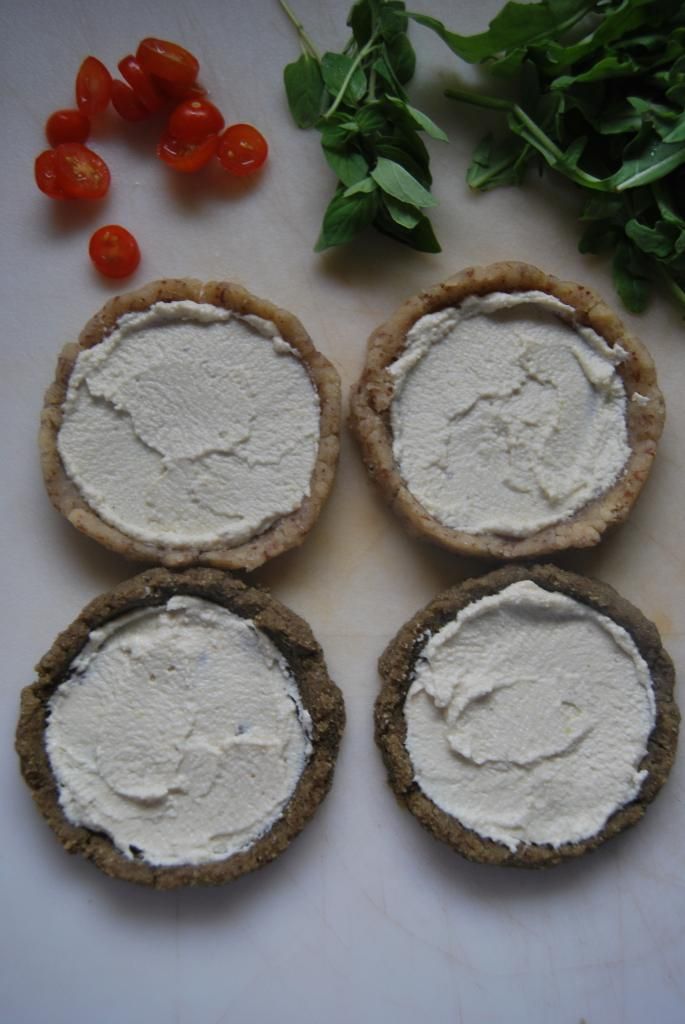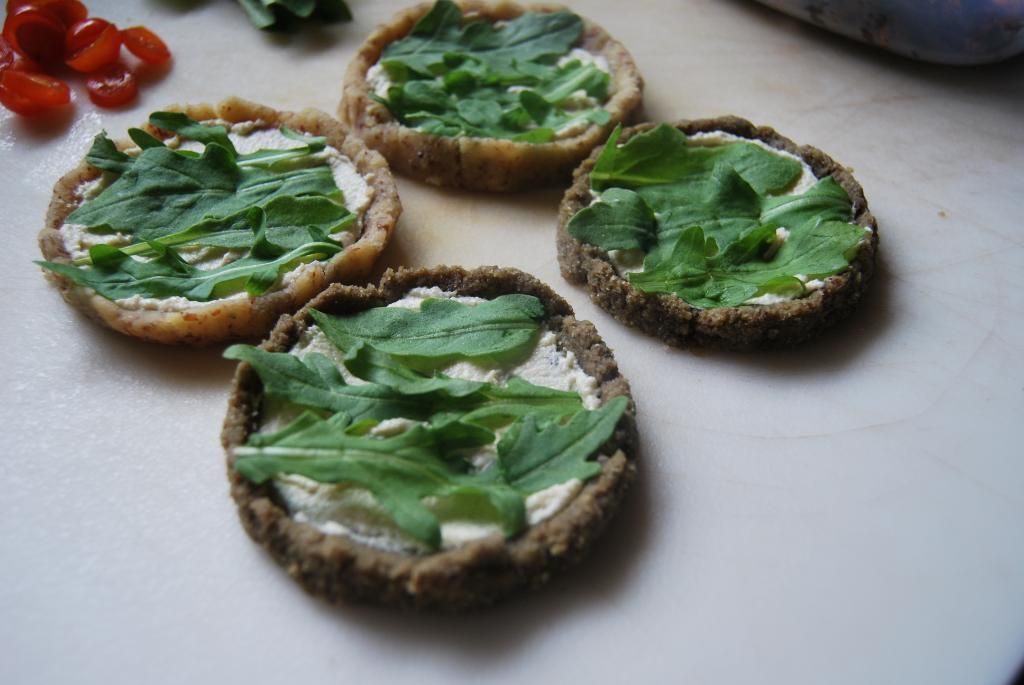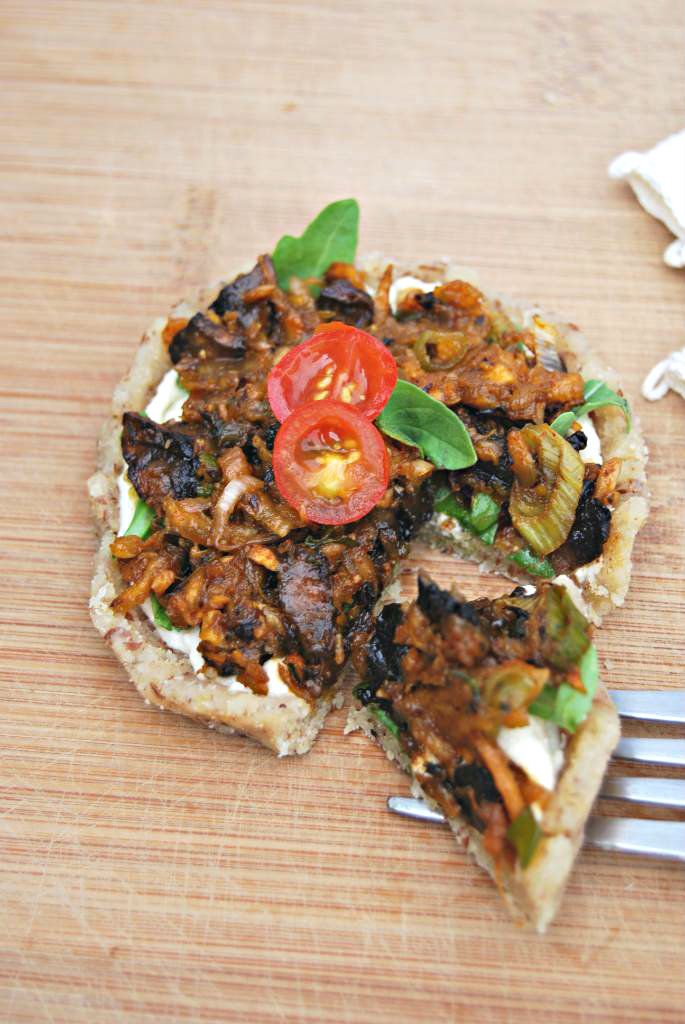 Happy Autumn eating!
xoxo,