The tides are definitely starting to turn, as I'm continuing to challenge myself a bit more in the area of nut free recipes. I'm not doing this because have a nut allergy, on the contrary I absolutely LOVE my cashews and almonds, but because the requests keep coming in!
I've thanked you all before for such resounding support and enthusiasm, and I have to thank you again because I really am so grateful for the creative "nudge" you've given me. It's exciting to be working with puzzles in the kitchen, and my brain absolutely loves the workout!
Today I'm sharing a recipe that will become the base for many future (and really tasty) nut free dishes. But before you run to the kitchen and start digging for the ingredients I have to share some important key notes about this cream. It may seem like a lot of information, but I assure you it's all easy to understand, and it helps to answer any questions for those of you just starting out here...
About the Seeds
I've used raw (sprout-able but not sprouted) Sunflower Seeds.
I chose these seeds for two specific reasons: they're easy to find and affordable.
Always keep your Sunflower Seeds refrigerated, this keeps them fresh and from going rancid.
Soaking the Seeds: In this recipe you will be soaking *1 cup of seeds for 5 hours.
After the 5th hour of soaking your seeds will have expanded to roughly *1.5 cups (maybe a bit more).
*The recipe calls for 1.5 cups of soaked Sunflower Seeds as you will see below in the ingredient list.
Do NOT wait for more than one day to use your soaked seeds in this recipe.
It is very important to use the freshest ingredients possible, otherwise you may yield slightly different flavors, most often bitter notes because either your nuts are not fresh, or your zucchini is overripe (read more about zucchini below).
-
About the Zucchini
Perfectly ripe zucchini is imperative for this recipe.
As I mentioned above, if you use overripe zucchini the flavors of your cream will often yield bitter notes.
To find the best quality zucchini for this cream make sure that your zucchini does not have any soft spots on the outside of the skin, and once washed and dried the skin should not be sticky or slimy to the touch.
When you grate the zucchini, if it's overripe it will almost immediately begin to seep it's natural water content and the flesh will be more yellow than white.
Your ideal zucchini flesh will be as white as possible.
-
Nut Free Cream vs. AtV Sour Cream
For those of you who are familiar with
AtV Sour Cream
, you might be wondering if this cream is it's nut free counter part. The answer to that is;
sort of.
About the Flavor:
At the moment here's the biggest difference between the two raw vegan creams:
The flavor.
AtV Sour Cream
is very similar to dairy in the sense that it's flavor base is extremely cooperative and it doesn't compete with anything it's combined with. If you're not a nut-sensitive person then there's no reason why you shouldn't continue making and enjoying
AtV Sour Cream
, because it's really awesome!
The new Nut Free Cream has a much more nutty flavor because of the Sunflower Seeds. I can't tell you yet what AtV recipes will go well with this new cream, but I can tell you that I'll be testing out a LOT in the coming days.
About the Consistency: Just like AtV Sour Cream, you can make this Nut Free Cream in your food processor OR high speed blender. I personally recommend using a high speed blender if you have it, because a food processor will not yield the creamiest results. Pay special attention to the notes in the recipe body about how to make it using both methods
About the Color: Aside from the flavor the only other difference between the two is the color of the nut free cream. The natural pigments from the seeds make this cream a more beige color, verses the all-too-familiar creamy white. Everyone says we eat with our eyes first, so if you can get past the unappealing (to some) tint of brown this cream contains then you're gonna be just fine!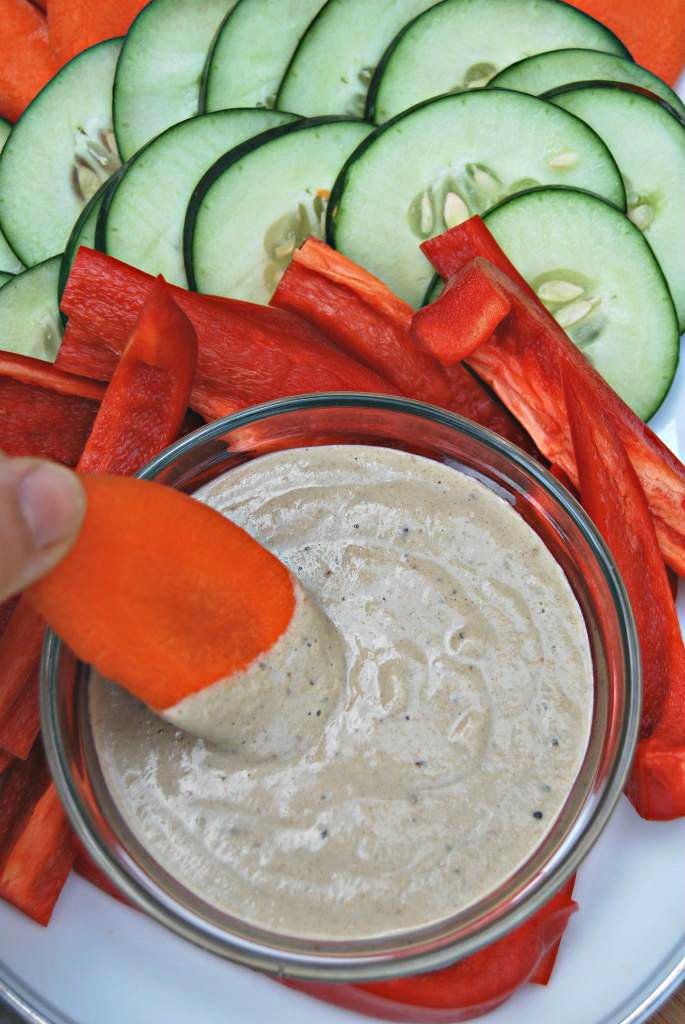 I think I've covered just about everything...now lets get to work!
AtV Nut Free Cream
This recipe yields roughly 4 cups of cream. If this is too much simply make a half batch, or you can freeze half of it for later.
Step 1.
Ingredients
*1.5 c soaked Sunflower Seeds (see notes above for details on soaking)
*1.5 c peeled and shredded Zucchini flesh (see notes above for details about zucchini)
2 Tbsp Apple Cider Vinegar
1 Tbsp Date Paste //or// 2 Medjool Dates - soaked until soft
1 tsp Salt //or// Salt to taste
1 c Water
1/4 c Grape seed Oil
Step 2.
Making your Cream
Directions for Food Processor:
Place all of your ingredients except for the Oil and Water into your food processor
Puree together for 10 minutes (I know that seems like a long time but it's necessary for the right texture)
While your processor is on, stream in the oil and continue to puree for 2 minutes
Begin streaming in your water 1/4 cup at a time. Wait a minute or more in between every 1/4 cup of water, until all of your water has been added
Transfer your finished cream to an air tight container and place in the refrigerator to chill. As it chills it will thicken quite a bit.
Finished Cream still in the food processor
Directions for High Speed Blender:
Place all of the ingredients from Step 1 into your high speed blender
Puree everything together for 1 minute
Transfer your finished cream to an air tight container and place in the refrigerator to chill. As it chills it will thicken quite a bit.
Finished cream out of the high speed blender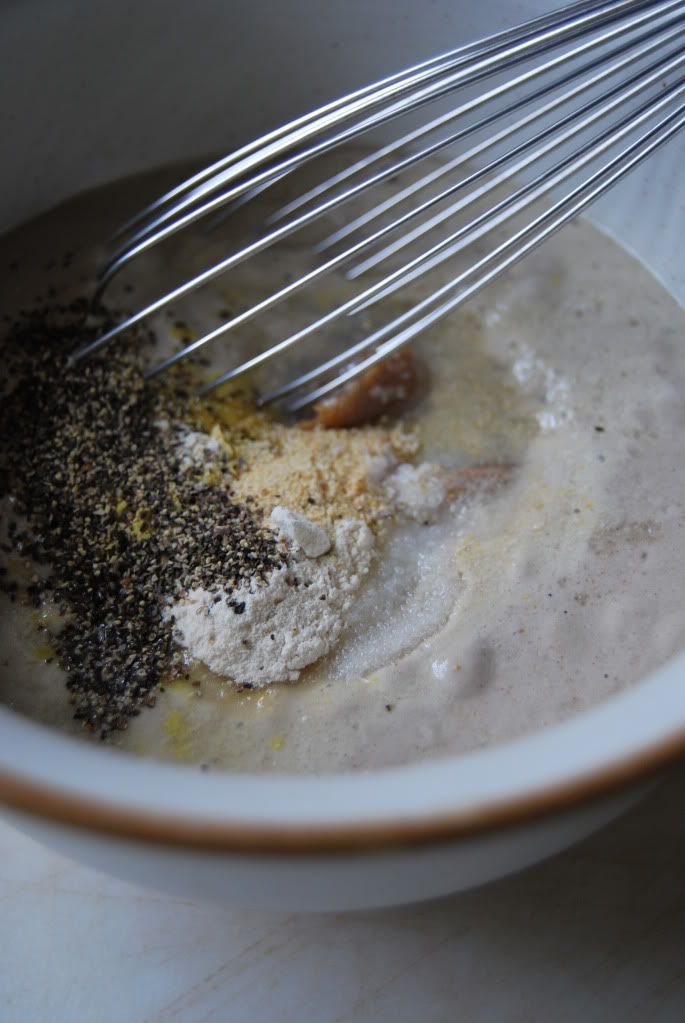 The end result was definitely not the same as the original recipe (for more on the flavors read the "About" section at the top of this post), and I can't say that the flavors were anything like Ranch, but it was a damn tasty dip for a veggie lunch platter!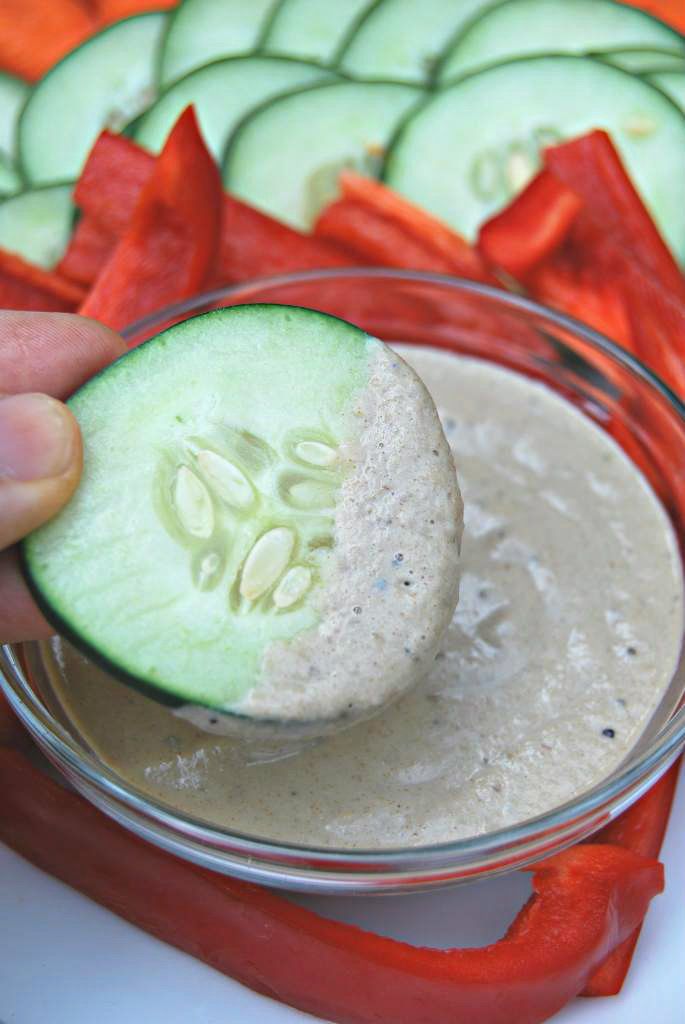 I hope you guys enjoy this recipe!
I'll be back with more on Wednesday.
xoxo,
One more non-food related note:
Things are going to start looking a little different around here as I'm gearing up to format AtV to include some pesky web advertisements. I hope this doesn't keep you from enjoying AtV because I've been avoiding it for a long time! Having a background in sales/marketing had me resistant to make this change for way too long, but I can assure you other than a few flashy new icons the content will still be the same -- with lots of tasty treats!