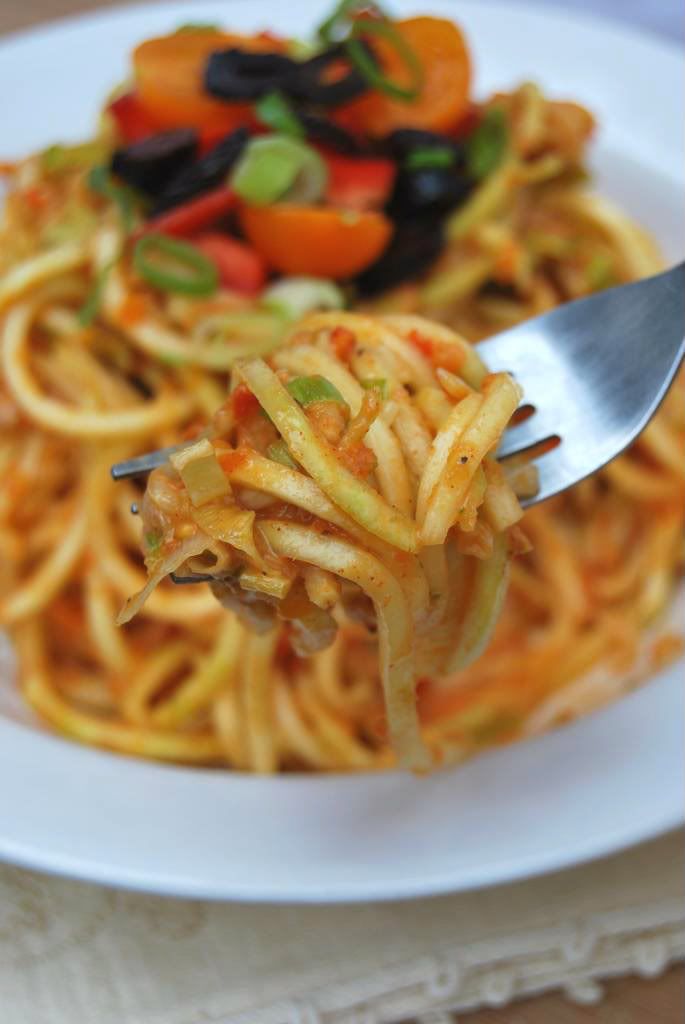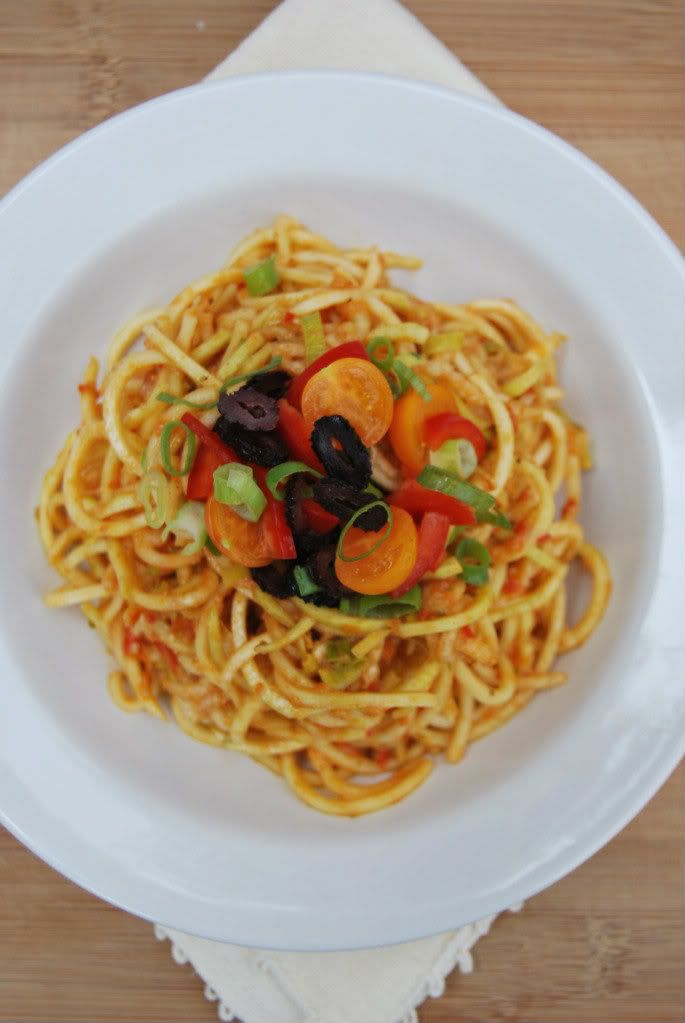 This is one of those "happy accident" recipes. When I was putting all of the ingredients together in my head I suddenly remembered seeing something similar in my
Mediterranean Fresh Cook book
. Without really knowing what I was doing, I ended up with all of the ingredients for a gorgeous Romesco sauce, sans the almonds. But you know what? This sauce doesn't need the almonds - it's so rich and decadent without them that you won't even miss the additional calories. However, if you want to add more thickness and depth to this gorgeous sauce then check out the recipes notes for my suggestions.
Important Recipe Notes
About the Tomatoes:
In this recipe I used baby heirloom tomatoes. If you don't have those available then I recommend cherry or plum -- basically the sweetest tomatoes you can find. This recipe needs the tangy-sweet kick of those little juicy gems.
If you're using regular Tomatoes I would suggest adding (along with the recipe ingredients):
3 Tbsp of Date Paste and 2 Tbsp of Apple Cider Vinegar -- this will help make up for the lack of tang and sweetness.
About the "Nut Free::
Traditional Romesco sauce calls for blanched Almonds. Even though this is a nut free recipe, you can certainly add almonds if you'd like:
Soak 1/4 to 1/2 cup of Almonds for 8 hours.
When they're done soaking remove the skins (they should just slip right off) .
Add the almonds to your food processor with the rest of the ingredients and process for an additional 3 to 4 minutes until your almonds have pureed and your sauce is thick and creamy.
About the Spice:
Traditionally Romesco is a fairly spicy sauce. I've toned down the spice a bit in my recipe, but you always have the option to add more spice, or even omit it completely. I do recommend trying the recipe as is, just because you don't know what you're missing out on!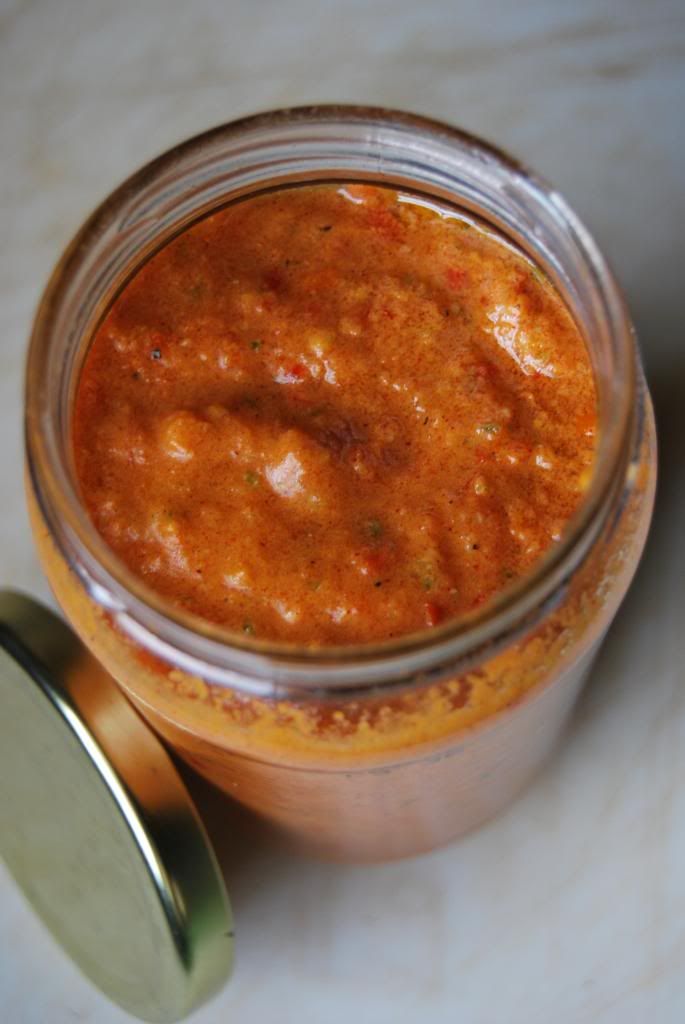 Nut-free Romesco Sauce
Yields roughly 1.5 cups Sauce
Step 1.
Ingredients
2 cups sliced Baby Heirloom Tomatoes (see recipe notes for other options)
1/2 c sliced/chopped Red Bell Pepper
1/4 c chopped Scallion
1/4 c Extra Virgin Olive Oil
1 Tbsp Lemon Juice
1 Tbsp minced/pressed Garlic
1 Tbsp Paprika (Spanish Smoked Paprika is even better)
1 tsp Onion powder
1/2 tsp Ancho Chili powder //or// Cayenne powder
1/2 tsp Cracked Black Pepper
1/2 tsp Salt (or to taste)
Place all of the above ingredients into your food processor and puree for 1 minute.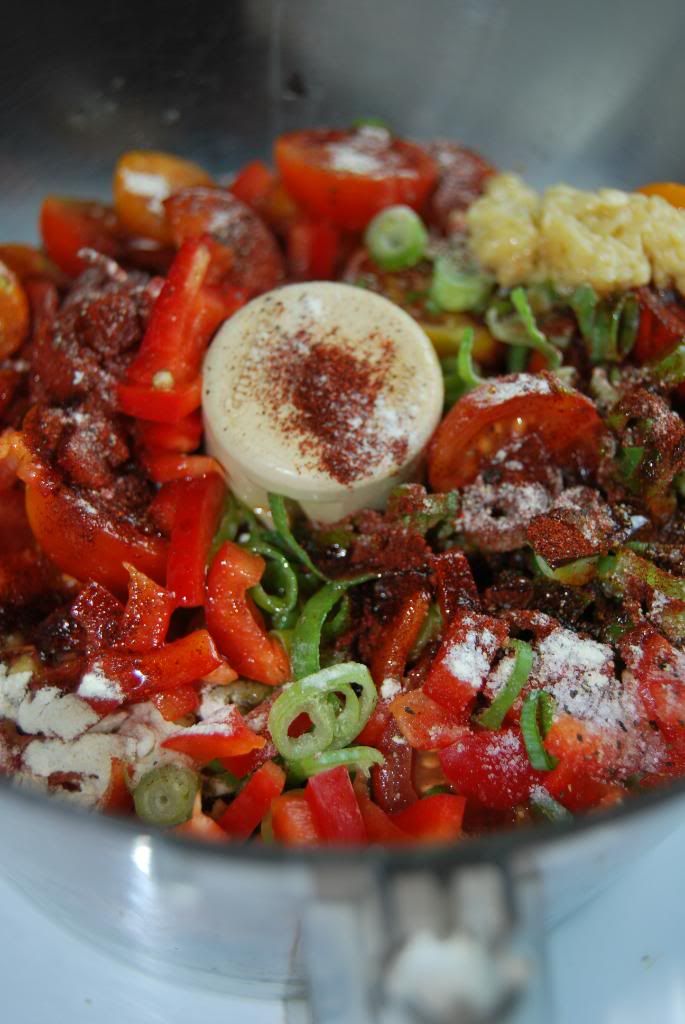 Transfer your sauce to an air tight container and place in the fridge to chill for a half hour or more. This allows the flavors in the sauce to build and merry.
---
Want to enjoy this as a warm sauce? Well you certainly can!
Raw Vegan Warming Method for Sauce
Transfer your Sauce to a Saucepan
Warm soup on your stove top at a very low heat while whisking continuously
Use a thermometer to monitor the heat...
When soup is warmed to 110/112F it's ready to be eaten!
Enjoy your Sauce over a big bed of zucchini pasta...
Make sure to keep this recipe on file -- I might end up turning it into a soup in the very near future.
Happy Friday!
xoxo,