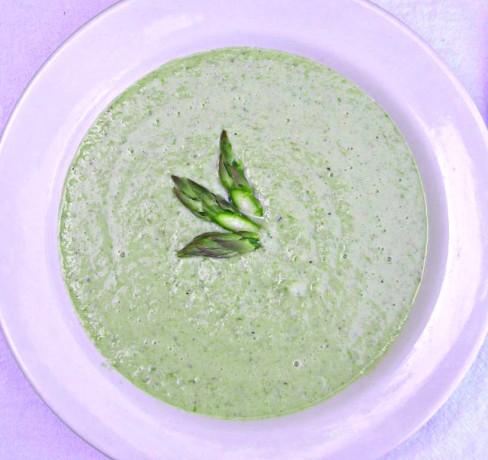 Hello lovely readers, I'm still here with my wrist in a brace -- but staying optimistic and hopeful as the week goes on. Before I get started on my photo round-up I wanted to share with you my most recent recipe post over at
The Chalkboard Mag
...it's pretty tasty!
SPRING HAS BROUGHT
a lot of gorgeous produce to my local farmers' market, but it would be in poor taste if I didn't celebrate asparagus as long as it's in season. This soup is an asparagus lover's dream come true, and when paired with my current favorite raw food staple, the results are effortlessly tasty...(click to read the full article and recipe)
And now, with the help of Instagram here are some of the little things that have been lifting my spirits:
- Copious amounts of tangy smoothies in the morning and evening
- Fresh Bananas and Apples no chopping needed
- My lovely Sister who has come to stay with me and help out in the kitchen it's not easy watching someone else prep my veggies
- Teaching the Sis how to properly hold a knife and getting to see the difference almost immediately in her chopping skills
- Afternoon shots of Spirulina; in a small jar with a lid combine 4 ounces water with 1 tsp Spirulina powder - shake and *drink quickly. *Spirulina thickens/expands as it sits in liquid, this one of the reasons why I prefer to have it as a shot instead of putting it into my smoothies.
- Puppy and Kitteh snuggles
- My Cuisinart food processors shredding/slicing attachments SUCH a sanity saver - don't buy a food processor without these attachments, people!
- My new dry skin brush! Such a wonderful addition to my health/beauty regimen.


What are some of the little things that make your day brighter?
xoxo,
P.S. I'm so sorry for my lack of comment/email responses over the last few weeks. I totally plan on doing some serious catch up just as soon as I'm able! In the meantime please know that I'm so grateful for all of your comments and correspondence, and I hope it never stops!