This salad was a surprising smash hit with my family over the Easter Holiday. I sort of threw it together without thinking too much, and upon it's success realized that a recipe had to be written. It's being posted a little later than I'd originally planned, but I'm still excited!
It's such a wonderful, hearty, creamy salad that will be sure to rival any other dish at your back yard barbeque's this Summer.
A Note About This Recipe
While this salad calls for Sprouted Red Quinoa you can also opt to use cooked Red Quinoa if you prefer.
My apologies for not including directions on "Sprouting Quinoa" in this post - however I do plan on sharing my
super easy
step-by-step sprouting method another time. For now you can go
here to find very simple sprouting directions.
Always make sure that your sprouts are as dry as you can possibly get them after they've finished sprouting - this helps keep them fresh for a longer period. The best way to dry your spouts is by spreading them out onto a double layer of Paper Towels, placing another layer of Paper towels in top, pressing down onto the towels (to soak up the moisture from your sprouts) and letting them sit like this for anywhere from an hour to to hours. Example:
How about a recipe?...
Rustic Sprouted Quinoa Salad
-
Step 1. Salad Components:
First you'll want to start with your Cauliflower - which is just as important as the Quinoa!
1 large head of Cauliflower = 3 cups Cauliflower florets
2 Tbsp Lemon Juice
3 tbsp Grape Seed Oil
1 tsp Onion powder
1 tsp dried Parsley
1-2 tsp lemon zest
salt + pepper to taste
Combine all of the above and toss in a mixing bowl until the Cauliflower has been evenly coated
Set your oven at it's lowest heat, place your Cauliflower (evenly spread out) onto a parchment lined baking pan. Leaving your oven door cracked open proceed to warm/wilt your Cauliflower in the oven for 2 hours.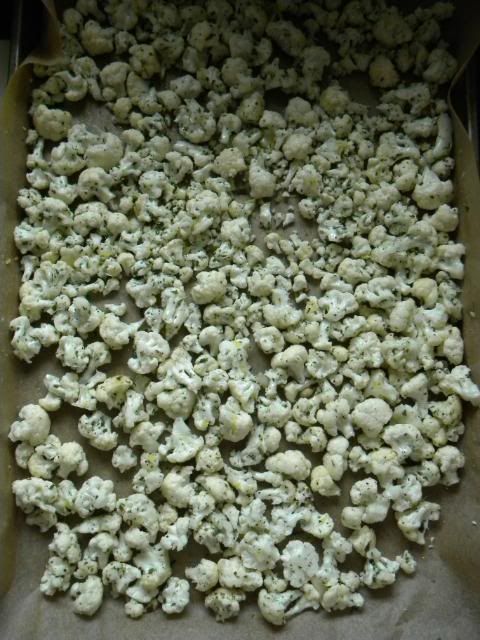 Remove your Cauliflower from the oven after it's finished and transfer it to a mixing bowl with the follow ingredients:
1 c Sprouted Red Quinoa
2 c Peas (fresh or frozen)
1 c Zucchini - peeled, thinly sliced and chopped
4 to 5 Tbsp minced Celery
3 Tbsp minced Red Onion (optional)
Toss all of the above together evenly and move on to the next step.
-
Step 2. Salad Dressing
2 heaping Tbsp Creamy White Mustard (or your favorite mustard)
1 Tbsp plus 1 tsp Onion powder
1 Tbsp Nutritional Yeast
1 tsp Garlic Granules //or// fresh minced Garlic to taste
1 tsp Kelp Granules
1 tsp Lemon juice
1/2 tsp Paprika
Sea Salt & Pepper to Taste
Combine all of the above ingredients into a small mixing bowl and whisk together evenly...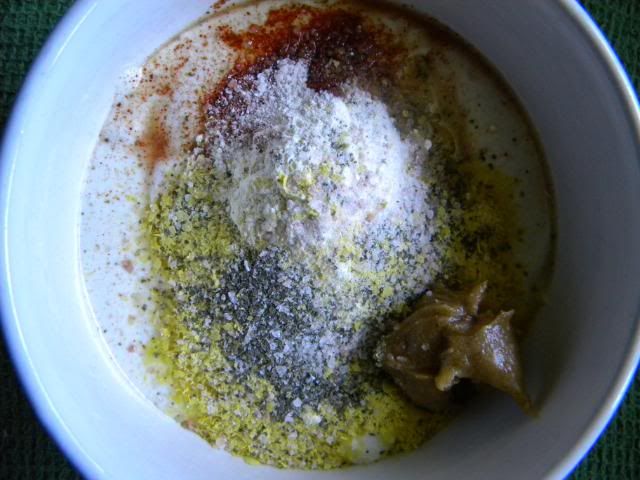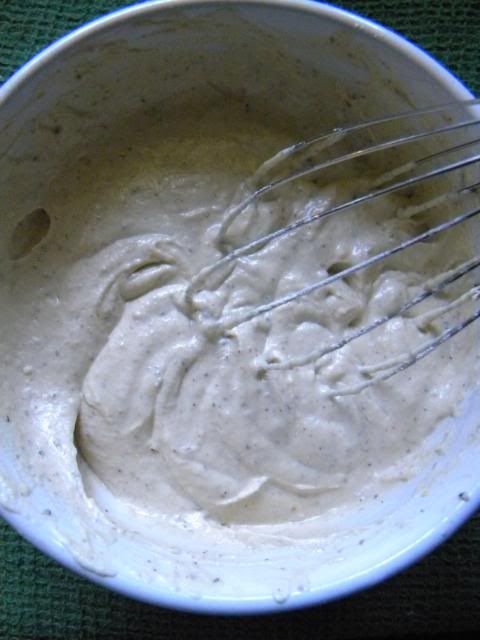 Now simply mix as much, if not all of this dressing in with your Salad components...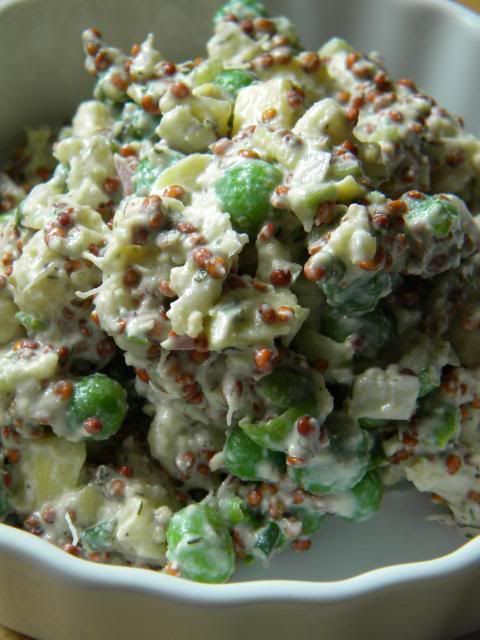 Happy Friday!
xoxo,