I'm so glad to be feeling better, and the timing couldn't be perfect. I have so much to do!
I'm also excited to be able to share a couple of special recipes with you all before the Holiday weekend kicks off.
My Christmas menu doesn't have any strict guidelines or specific "look", it simply consists of food that I love laced with a bit of decadence. Brussels Sprouts are (in my opinion) the quintessential Holiday food and truly one of my favorite vegetables. However, there's a slight problem --- I've only ever had them cooked. Until last night...
There's a simple technique to "tenderizing" these lovely little
Cabbage Buds
, with no actual cooking involved you'll be so surprised at how their texture changes as if they've been lightly steamed.
I could hardly believe it when I took the first bite, before I knew it I was licking my bowl clean and making another batch. Without a doubt these little buggers will be on my Christmas Dinner menu this Monday.
Want to learn how to make Raw Brussels Sprouts taste like Steamed Brussels Sprouts?
You've come to the right place! Follow the directions below and you won't be disappointed...
Warm & Tender Brussels Sprouts with Mustard Cream Sauce
This recipe yields enough for two small sides or one generous serving
Step 1.
Cleaning & Prep
You'll need 3 cups Whole Brussels Sprouts - which should break down to about 2 cups total
- Slice the stem off of the end of each Sprouts
- Slice each Sprout in half
- Remove the first 1 to 2 leafy layers (I do this only if the our leaves are dirty or bruised)
Once you've finished cleaning your Sprouts, place them into a mixing bowl and add the following:
3 Tbsp Lemon Juice
3 Tbsp Oil (I used Grape seed oil, but Olive or Safflower will also work)
1/4 tsp Salt
1/4 tsp Black Pepper
Mix together evenly, so that your Sprouts are coated well
Place your Sprouts into a ziplock baggy, and remove as much of the air from the baggy as you can.
Store your Sprouts in the fridge to Marinate/Tenderize. The longer they can stay in the fridge the better. I let mine sit over night.
-
Step 2.
Warming your Brussels Sprouts and making the Sauce
Remove your Sprouts from the ziplock baggy and place them on a parchment lined baking sheet, following the directions noted below:
Oven Warming Method
You can also do this in a dehydrator if you prefer
- Set your Oven at it's lowest heat
- Place your Brussels Sprouts into the oven, and leave the oven door cracked open (roughly 5 to 6 inches)
- Let the Brussels Sprouts stay in the oven for 30 minutes
- After the first 30 minute mark toss your Brussels Sprouts with additional:
1 tsp Lemon Juice & 1 tsp Oil (they need this to continue to tenderize)
-Let your Sprouts continue to warm for another 20 to 30 minutes
- Remove from the oven and serve immediately with Mustard Cream Sauce, garnish with Salt and Pepper to taste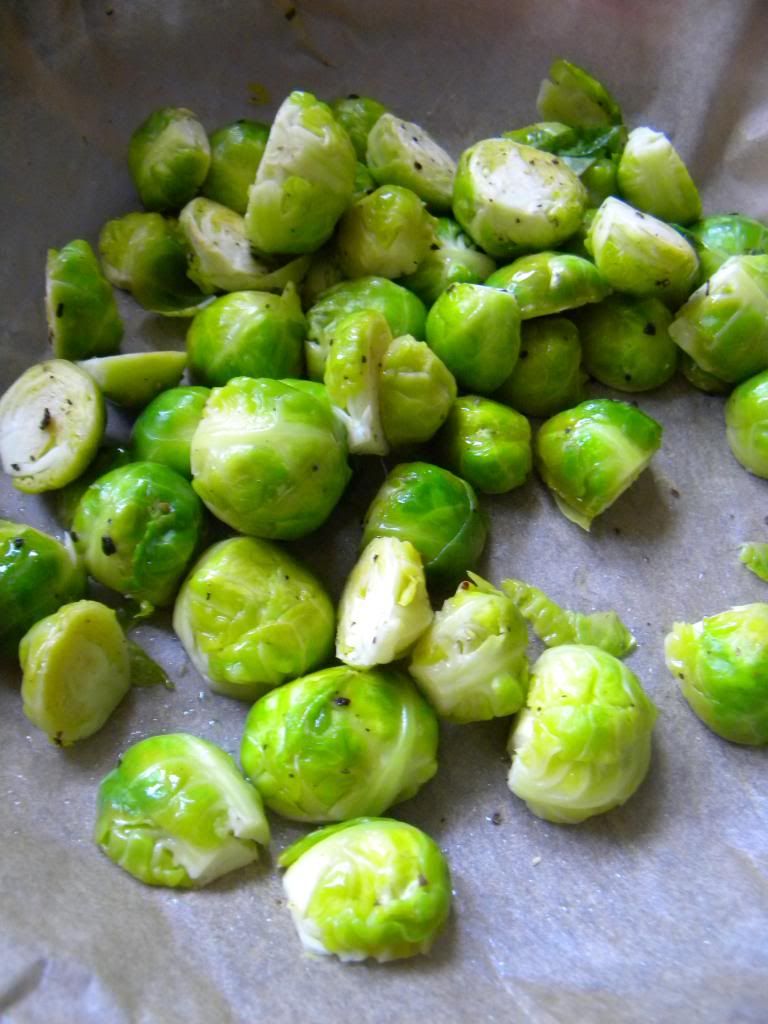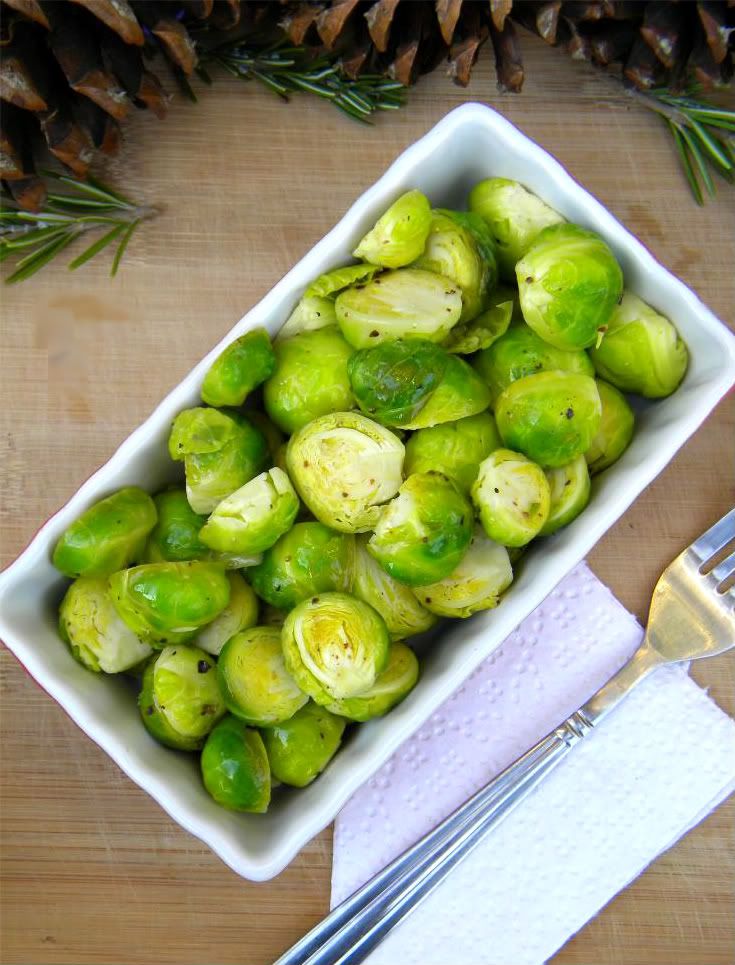 -
Mustard Cream Sauce
Makes enough for 2 to 3 servings
In a small bowl combine the following:
4 Tbsp Mustard (your choice, but I recommend creamy verses stone ground)
2 Tbsp Water
1 Tbsp Lemon Juice
1 tsp Onion powder
1/2 tsp Garlic Granules
Salt and Pepper to taste
Mix everything together evenly....
and put it on your Amazingly Tasty Brussels Sprouts!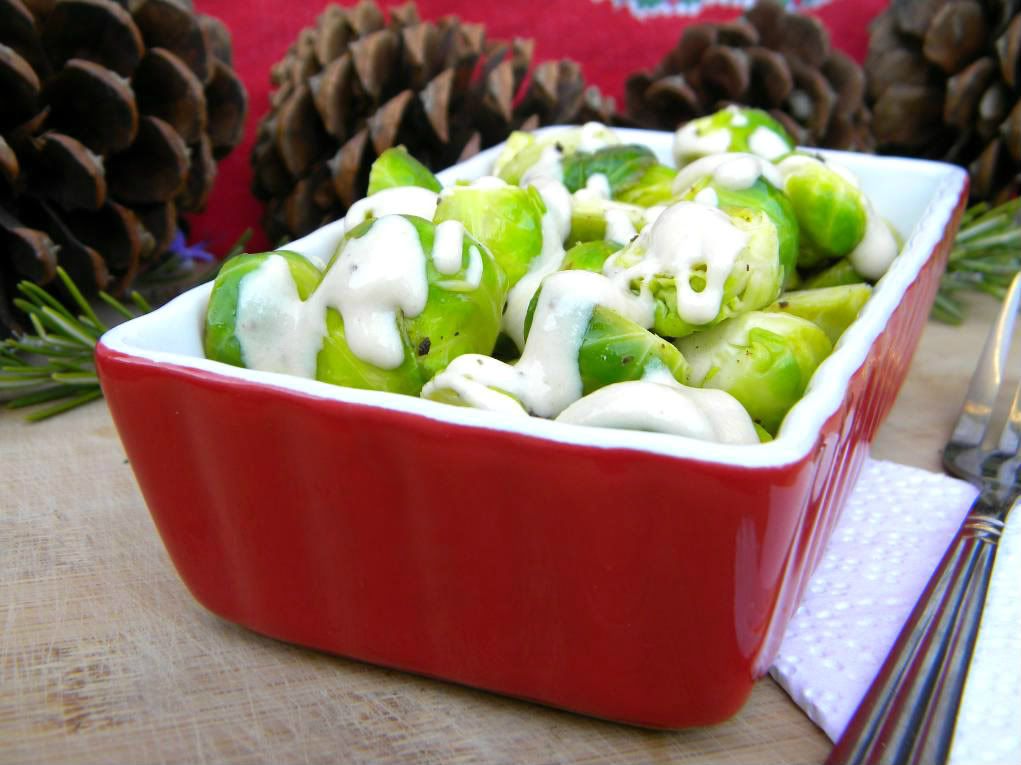 I've been bouncing around the house all day in excitement over this recipe, and I really hope you love it as much as I do!
Stay tuned for another special and slightly strange Holiday recipe, coming up tomorrow...
xoxo,
P.S. What are you looking forward to eating this Holiday Season?