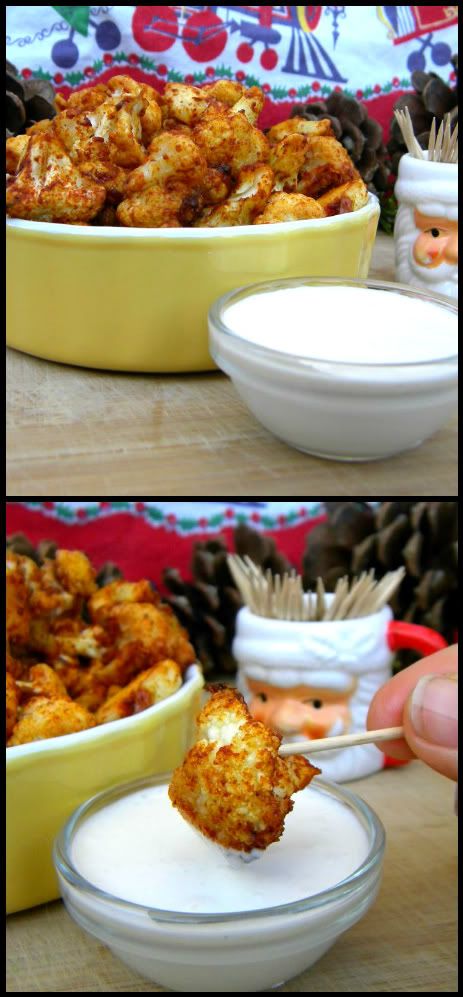 This recipe is dedicated to those of you who come into contact every year with a big crock-pot full of Little Smokies.
It's a strange American tradition to incorporate those weird tiny sausages into just about every Holiday festivity. Lets be honest here, sweet tangy barbecue flavored food doesn't need a special day, it's good all of the time! Today's recipe pays homage to those of you who aren't in the "Little Smokies Club" but really want to indulge in something just as tasty, and even better - guilt free!
I may not be a BBQ pro, but I come from a family of passionate outdoor cookers, and I'd like to think that I have a pretty keen taste for what a good barbecue spice mix should be. With notes of brown sugar, spicy heat, smokiness, salt, and of course the tang. It's gotta be unctuous and comforting, leaving you salivating for more at the same time feeling so satisfied.
In todays recipe I'll be sharing with you a dry Barbecue spice mix and combining it with florets of tenderized Cauliflower. There's a few important steps in this recipe that I urge you to stick with, the result will be something you can take to just about any party, for any event -- Winter Spring Summer or Fall. There's always room for barbecue!
Important Note About This Recipe
About the Sweetener: Most successful Barbecue mixes call for the use of Brown Sugar. In AtV's dry spice mix I use Coconut Crystals (also known as Coconut Palm Sugar). If you're not concerned about this recipe being Raw/Vegan then you can use Brown Sugar, otherwise you won't have any option but to use Coconut Crystals. It's very necessary!
Another thing about Coconut Crystals - depending on the specific brand you may notice that your Coconut Crystals aren't fine granules. This is okay, however if you have access to a spice grinder I recommend grinding your Crystals into a fine grain or powder, or at least sifting them (or stirring through a mesh strainer) to break up the granules evenly.
About the Heat: I've made a mildly spicy barbecue mix, but if you want yours with more heat then by all means, go for it!
Raw Vegan Little Smokies anyone?
AtV Barbecue Spice Mix
6 Tbsp Coconut Crystals
4 Tbsp Smoked Paprika
2 Tbsp Onion powder
2 tsp Garlic Granules
1 tsp Lemon Pepper
1/4 tsp Chipotle Powder //or// Cayenne
1 tsp Cacao powder
1/2 tsp dried/crushed Thyme
1/4 tsp Cumin powder
1/4 tsp ground Celery Seed
1 tsp Salt
Optional: 1/2 tsp Alder Smoked Sea Salt (so good if you can find it!)
Mix everything together...
Store this Dry Spice Mix in an air tight container, and get ready to put it in just about anything and everything.
Smokey Sweet BBQ Cauliflower Bites
Makes enough for 4 to 5 large sides
Step 1.
Tenderizing your Cauliflower
In a large mixing bowl combine:
8 cups Cauliflower Florets (roughly 2 medium sized heads)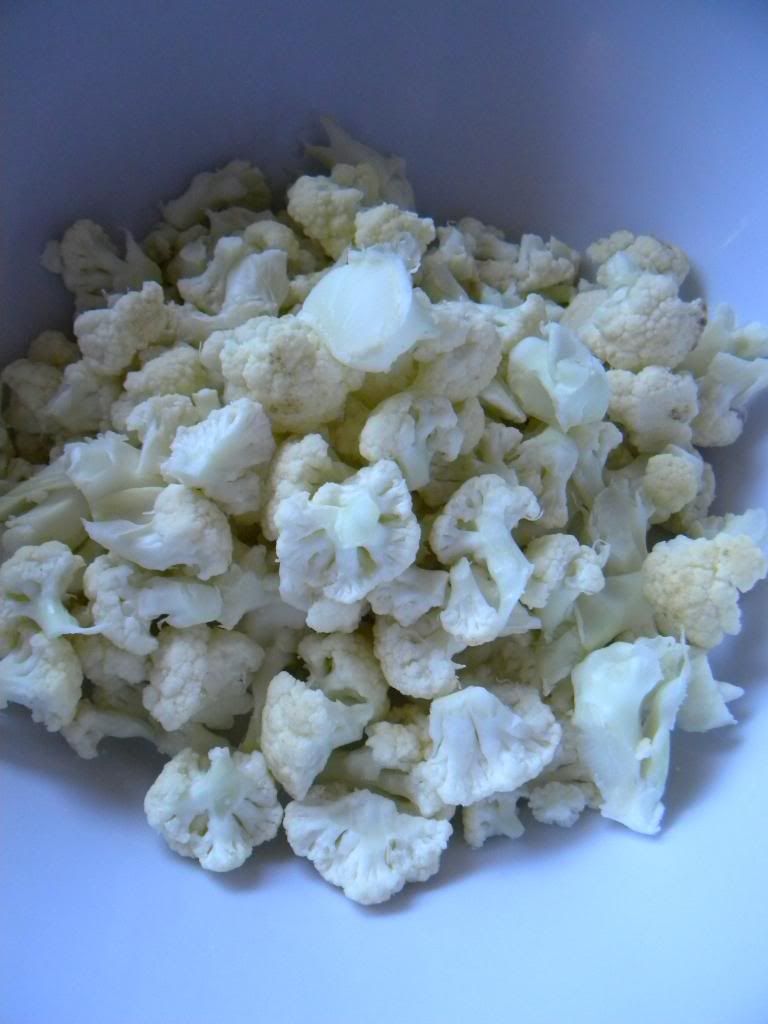 Add to your bowl of florets:
2 Tbsp Lemon Juice
2 Tbsp Apple Cider Vinegar
4 Tbsp Grape seed Oil //or// Safflower Oil
1 tsp Salt
Mix together until your florets have been evenly coated
Transfer your Cauliflower florets into a ziplock baggy and proceed to remove as much of the air from the bag as you can.
Let your florets marinate in the air tight baggy (in your fridge) for at least 4 hours - overnight is even better. After the marination process you will notice a distinct change in the texture of your florets, as if they've been blanched.
We're almost done!
Step 2.
Making Tender BBQ Cauliflower Florets
In a large mixing bowl combine:
ALL of your marinated Cauliflower
2 additional Tbsp Apple Cider Vinegar
Then add ALL of your AtV Barbecue Spice Mixture:
In this photo I was making a half batch
Mix everything together evenly and transfer your Cauliflower to a parchment lined baking sheet:
Oven Warming Method
You can also do this in a dehydrator if you prefer
- Set your Oven at it's lowest heat
- Place your Cauliflower into the oven, and leave the oven door cracked open (roughly 5 to 6 inches)
- Let the Cauliflower warm in the oven for 40 minutes to 1 hour, you may want to taste test one or two checking on the texture. It's really up to you when you get to take them out of the oven.
- Remove from the oven and serve immediately!
Serving Options:
Plate your BBQ florets on a platter next to some toothpicks
Or you can skewer them before-hand, making them more fingerfood friendly
Serve with a side dish of
AtV Sour Cream
for dipping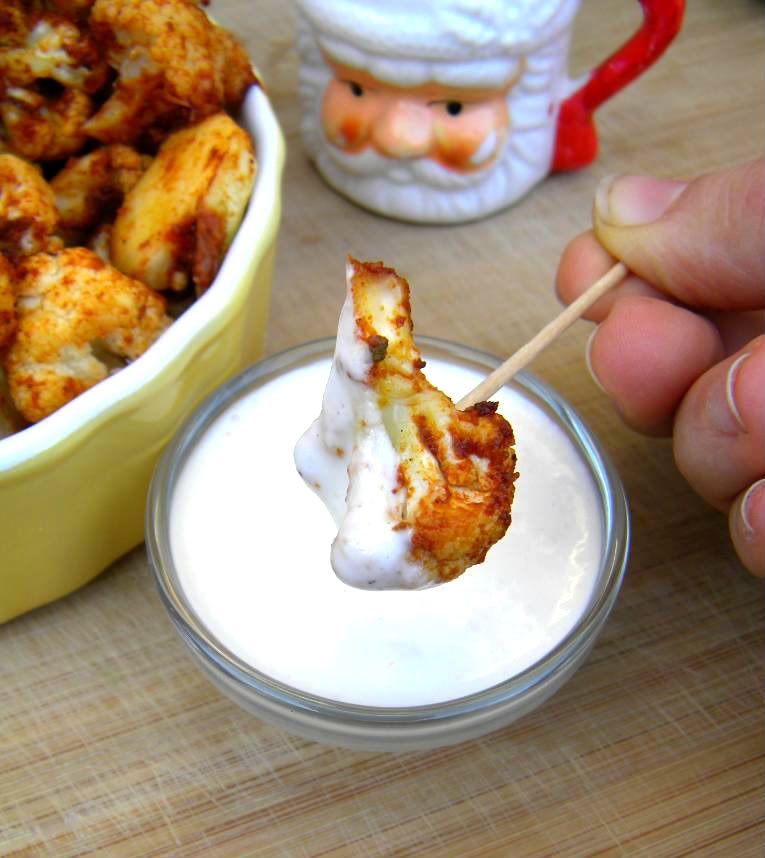 This dish will most certainly make an appearance in future family gatherings of mine, and the barbecue spice mix will be showing up in AtV recipes to come.
Wishing you all a very very Happy Holidays!
I couldn't be more thankful to have Addicted to Veggies in my life as a way to reach out and connect with all of you. It's truly the highlight of my week, and one of my favorite parts of this Holiday season.
From the bottom of my heart, thank you for supporting Addicted to Veggies.
I'll see you all next week!
xoxo,
Sarahfae - AtV