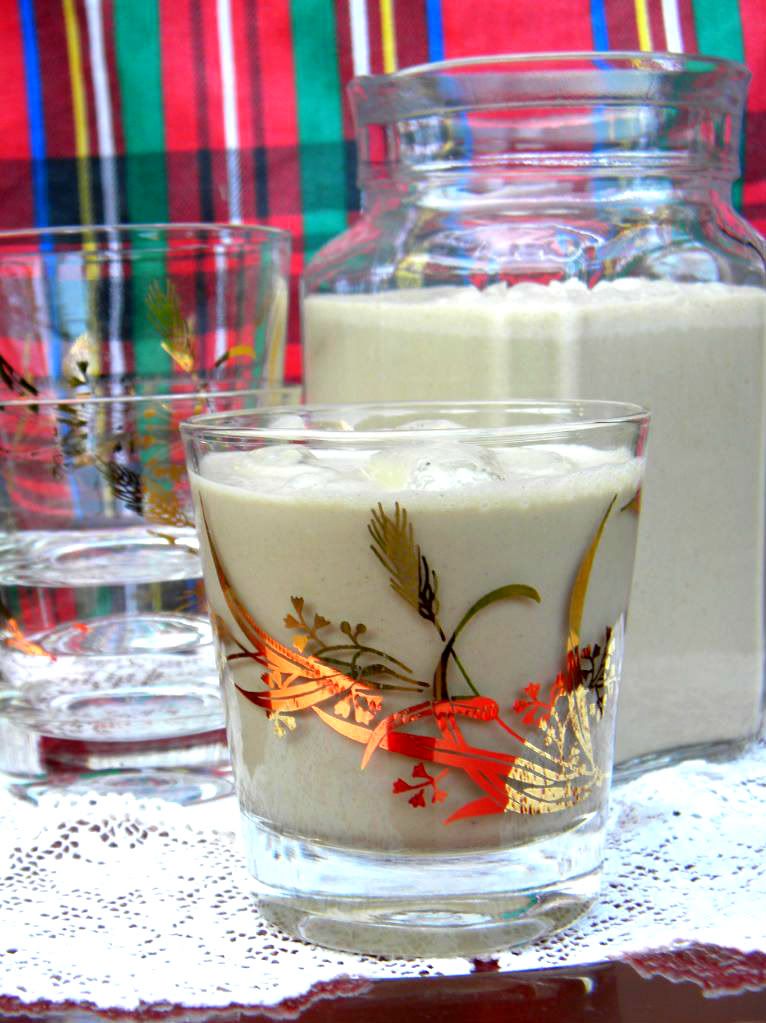 I don't know about you guys, but I've never actually been brave enough to try "real" Egg Nog.
Something about the name and the smell never appealed to me. I've never even tried Soy Nog, which seems to be more and more available at grocery stores these days - and you'd think it wouldn't freak me out as much, right? Not true!
I'm so happy that I was brave enough to research and then try my hand at making a less intimidating version of this unfamiliar Holiday drink. I didn't think in a million years that Raw Vegan Nog would be so seducing, but holy cow, it is!
I also have a secret ingredient/weapon in making this recipe even more special and tasty. So I hope you'll read on, and I hope even more that you'll make it!
Important Note About This Recipe
About the Nuts:
I've chosen to use soaked Cashews for the creamy base of this drink, but you can also use soaked Almonds if you don't mind the additional time it takes to remove the skins:
Soak 1.5 cups of Almonds overnight (up to 8 hours)
Your Almonds should expand to 2 cups after being soaked
Remove the soaking liquid and rinse your Almonds
Proceed to take the skins off of your Almonds by placing each Almond in between your Thumb and Index Finger - the skin will easily slide off!
Be careful though, sometimes the Almond will go flying after you've squeezed the skin off. Wee!
Tools you'll need:
A Blender
A Big Bowl
A Fine Mesh Strainer
Enjoy in a variety of different ways:
- If you're a coffee or tea drinker use this Nog in place of cream
- Instead of dessert, warm up this drink and enjoy it with your guests following a big Holiday meal
- Enjoy this Nog over Ice (my personal favorite way) with a splash of Orange Juice
- Bring a Fancy Homemade drink with you to a party instead of a platter of food, serve in small glasses so your guests are encouraged to saver each tasty sip!
Lets have a glass of cheer...
Raw Vegan Eggless Nog
Makes roughly 5 cups of Nog
Step 1.
Beforehand Prep
Soak 1.5 c Cashews for 4 hours
***Your Cashews will expand to 2 cups after they've soaked
(if you want to use Almonds see the "About" portion noted before the recipe)
Brew 1 bag of Earl Grey Tea in 1/2 c Water
(Yes, Earl Grey Tea! It's the secret weapon in this recipe)
---
Step 2.
Making Raw Vegan Eggless Nog
Pay special attention to the *water portion of this step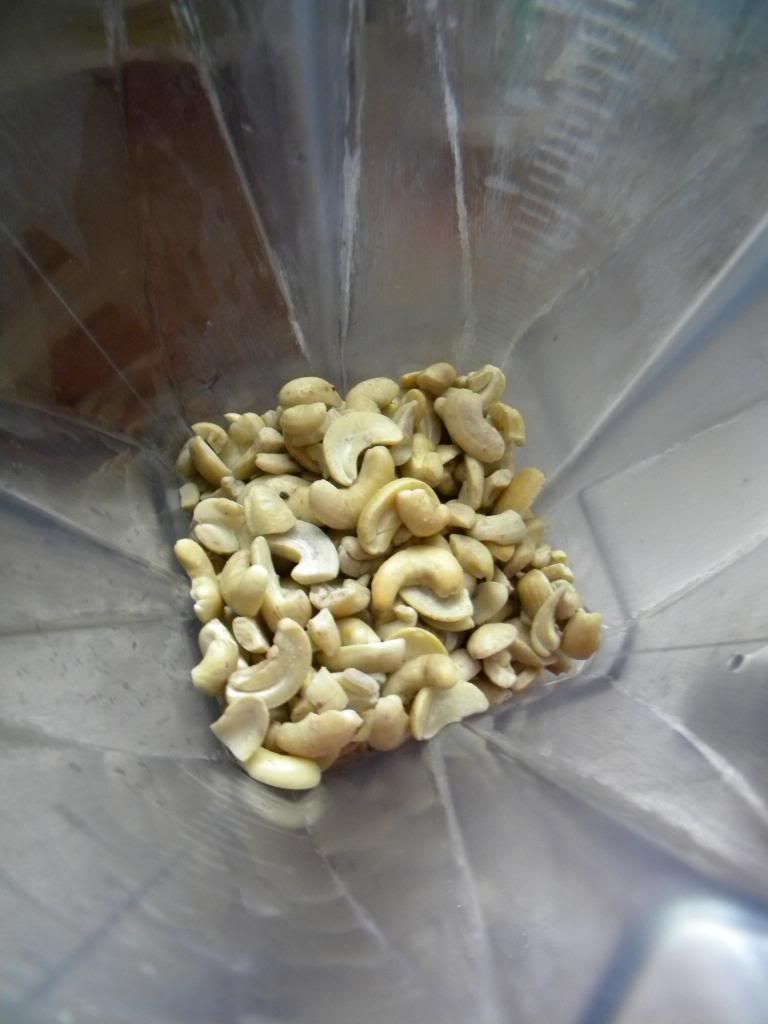 Into your Blender add:
2 cups ***soaked Cashews
3/4 c Coconut Crystals
1 Tbsp Apple Cider Vinegar
1 tsp ground Cinnamon
1 tsp Vanilla
1/2 tsp ground Allspice
1/2 tsp Nutmeg
1/2 tsp Salt
1/2 c Earl Grey Tea Water
1 c *Water
Puree all of the above together graduating up to "high" on your Blenders settings
After about 20 to 30 seconds begin slowly streaming in:
*3 c Water
Let your Nog puree for another 30 seconds
Straining:
Over a large deep bowl position your Fine Mesh Strainer
In small batches slowly pour your Nog through the Strainer, stirring the nog as it passes through the strainer (this helps to move along the process)
Depending on how well you've blended your Nog you may need to stop in between straining each batch to rinse out your Strainer -- and continue!
It's as simple as that!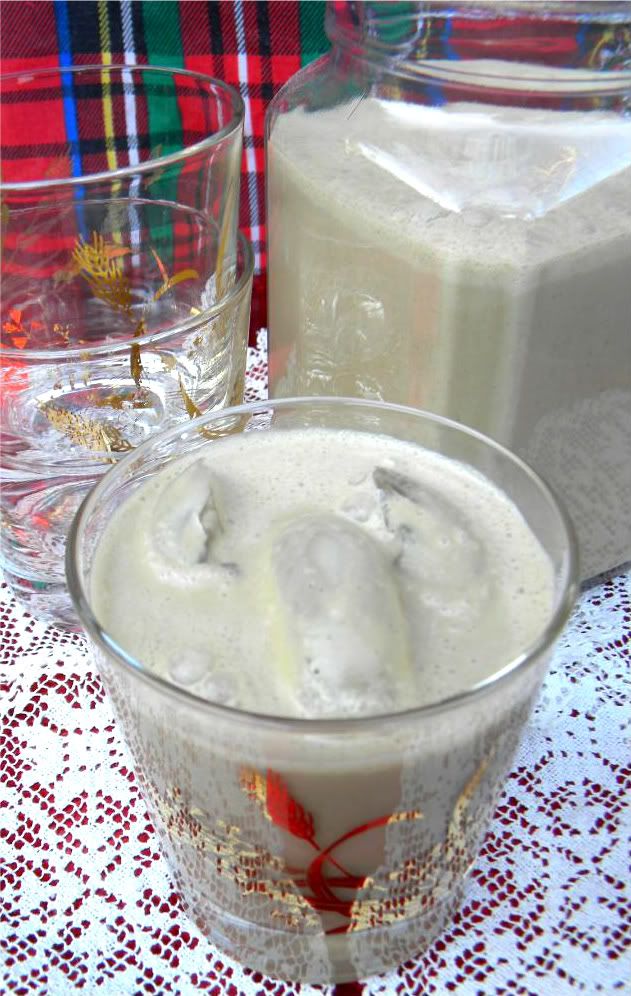 Cheers to you and yours!
xoxo,