I wish I had some sort of text equivalent of a drum-roll for this recipe.
Pumpkin Spice Cheezecake -- you naughty minx you.
I had no idea that I'd actually end up loving this dessert as much as I do. Being perfectly honest here, I've never been a fan of Pumpkin pie so venturing down this road had me a bit worried. But since I know a lot of lovely ladies and gents who are more than just big fans of this well known Autumn Pie I was able to find motivation.
If you're a skeptic of Pumpkin pie like I am, heck if you're a skeptic of cheesecake you must give this recipe a try, or have someone else make it for you!
Important Note About This Recipe
If you don't have a spring from pan for this recipe don't worry! You can still make it.
Follow the assembly directions at the final recipe step to see how to make this as an "Upside down Cheezecake". All you need is a round 5 to 6 cup tupperware container and parchment paper.
Now lets make dessert...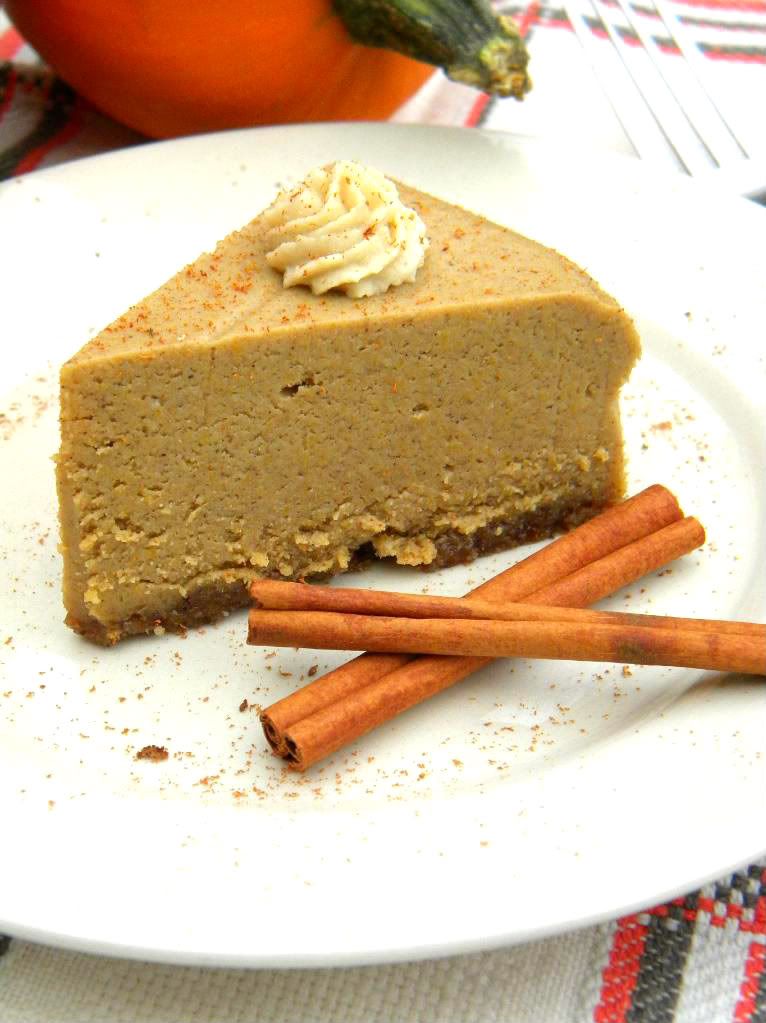 Pumpkin Spice Cheezecake
Step 1.
Beforehand Prep
Soak 1/2 to 3/4 c Cashews for 4 to 6 hours.
**This recipe calls for 1 cup of soaked Cashews. Since Cashews expand when soaked in water, 1/2 cup of dry Cashews should equal 1 cup after being soaked. Always remeasure your Cashews after they've been soaked to make sure you have the proper amount that the recipe calls for.
-
Step 2.
Making your Pumpkin Spice Cheezecake
1 c Macadamia nuts
1 c soaked Cashews
In your food processor grind your nuts until they've become a paste: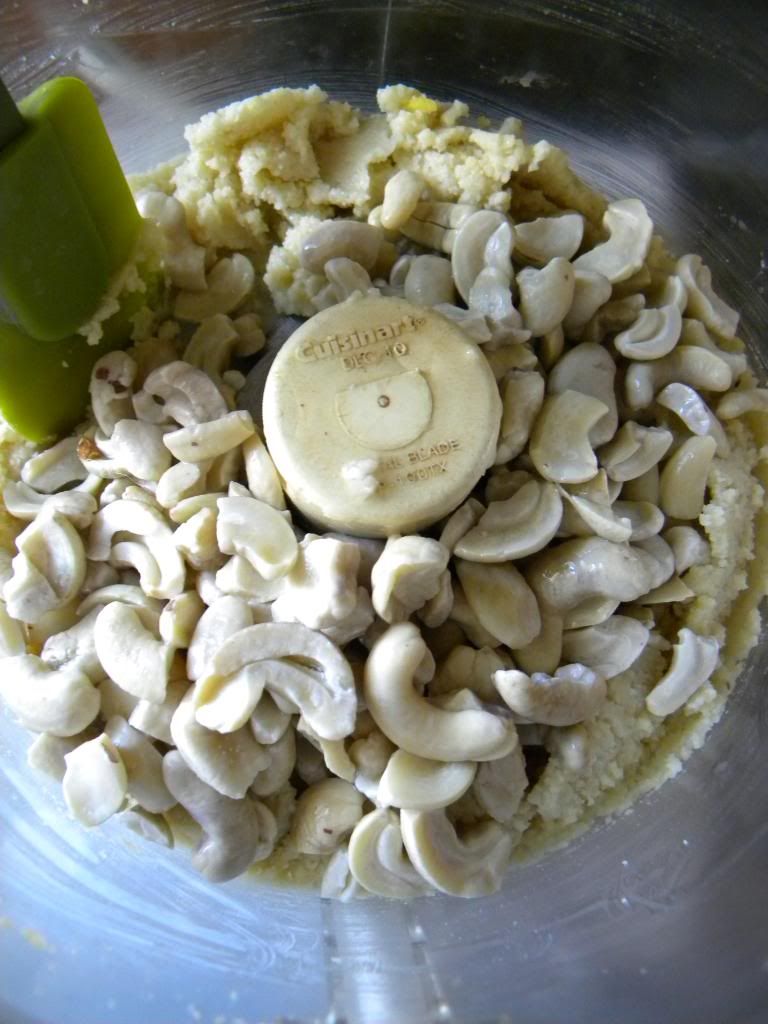 Add to your food Processor all of the following:
2 c fresh/raw shredded Pumpkin Flesh (Kubocha or Sugar Pumpkin works best)
1/2 c Coconut Crystals plus 3 heaping Tbsp
1/4 c Coconut Oil
3 Tbsp Lemon Juice
1 tsp Apple Cider Vinegar
1 tsp Vanilla
2 tsp ground Cinnamon
2 tsp ground Allspice
1/2 tsp Ginger Powder
2 pinches Salt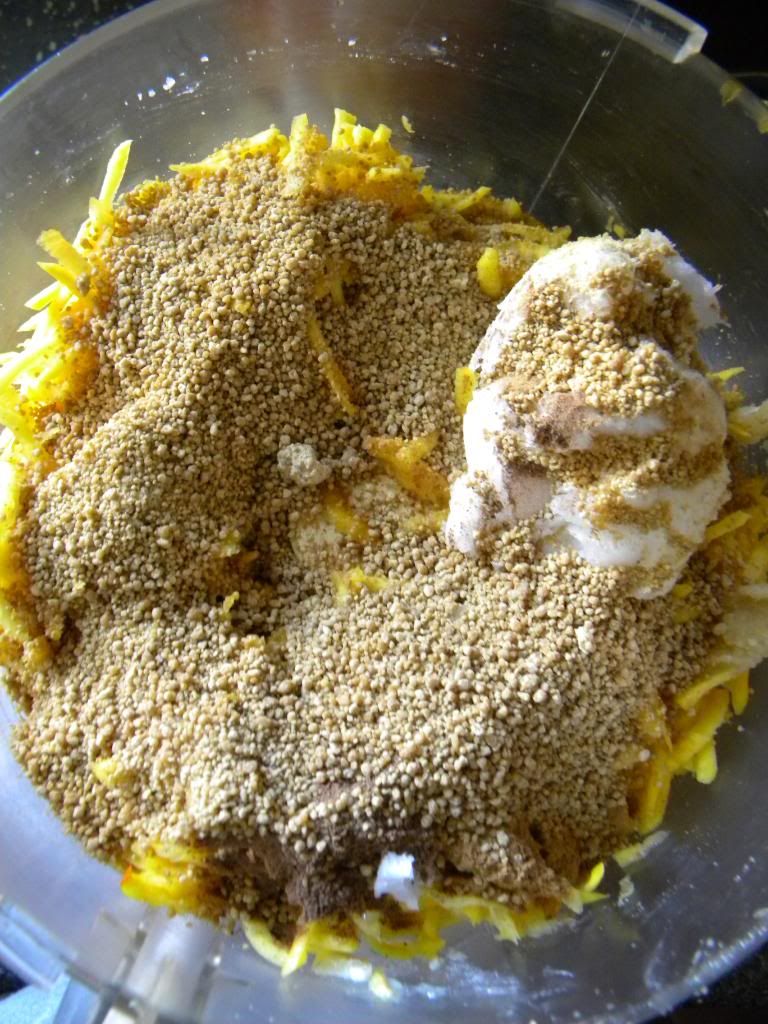 Puree everything together for 3 minutes, until whipped and creamy.
-
Step 3.
Making Your Crust
1 c Pecans (Walnuts will also work)
5 Dates
1 tsp Cinnamon
pinch of Salt
Place everything together in your food processor and pulse until all of your ingredients are evenly ground up: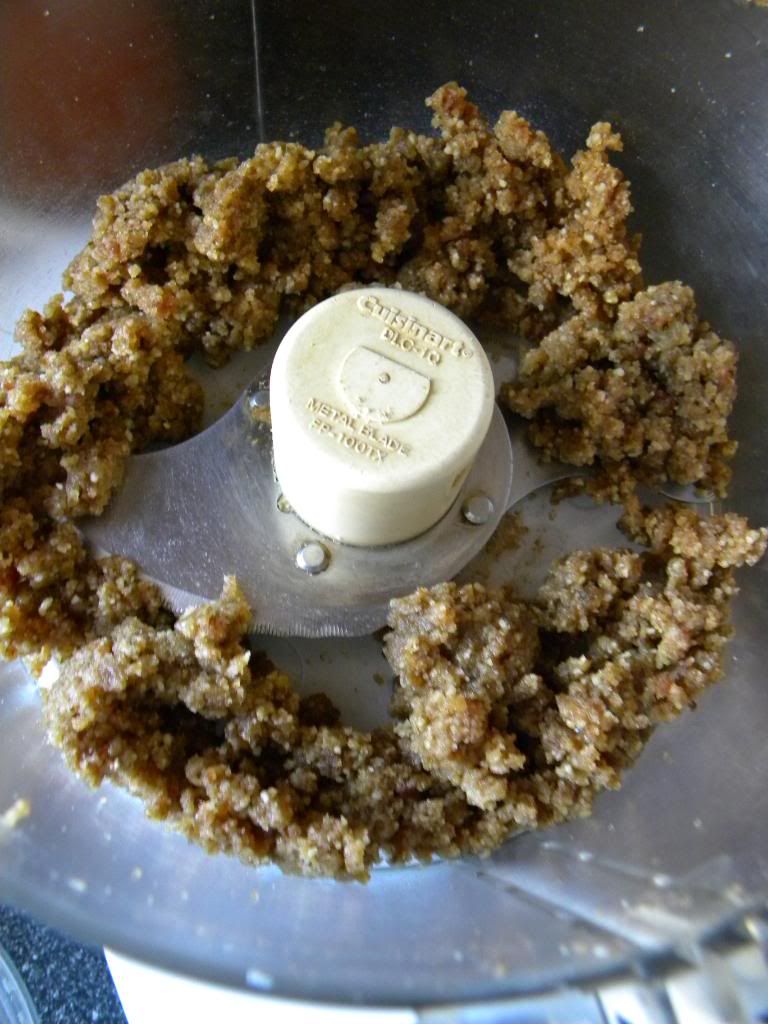 -
Final Step - Assembling:
Using a Spring Form Pan?
Proceed to layer your crust first, and pour your cheezecake batter into the pan on top of the crust. Place it in the freezer so all of the ingredients can properly set. This may take anywhere up to 4 hours - but freezing is important, so the longer the better. Remove from the freezer after frozen through and store in your fridge.
Making an Upside-down Pumpkin Spice Cheezecake
Skip this step if you have a normal Cheesecake spring form pan
Line the inside of a large round tupperware container with Parchment paper. This works best if you have another container around the same size that you can fit inside, to press the parchment paper down: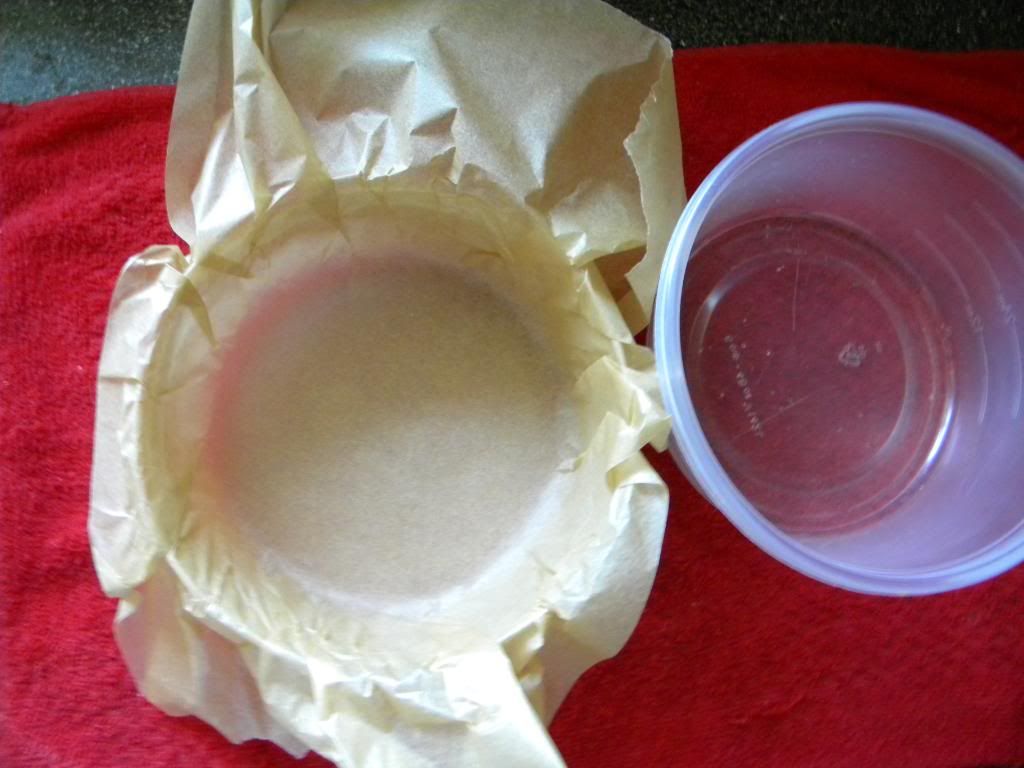 Pour your Cheezecake filling into your Parchment lined container:
Place your Cheezecake into the freezer and leave it there for at least 4 hours (I let it stay there overnight) or until it becomes solid.
This in an important step, and will enable you to properly apply your crust - otherwise it will be too soft.
Once your Cheezecake is frozen thru, you can remove it and apply the crust...very sloppily in my case: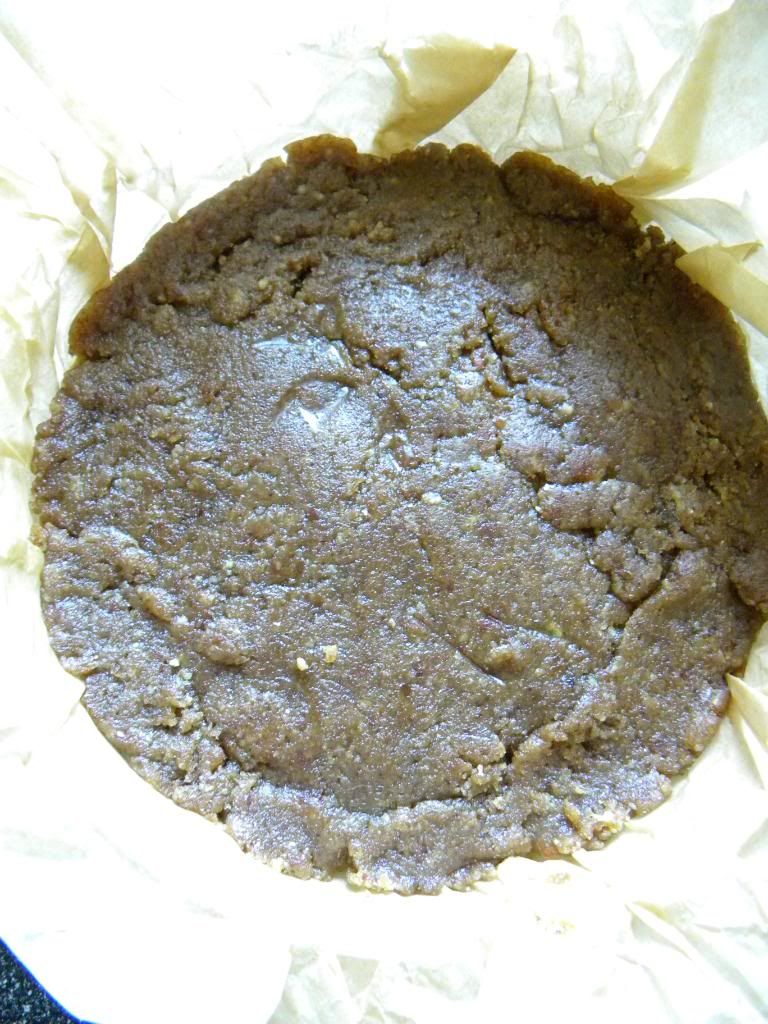 After you've applied your crust remove your frozen cheezecake from the container and proceed to flip it over...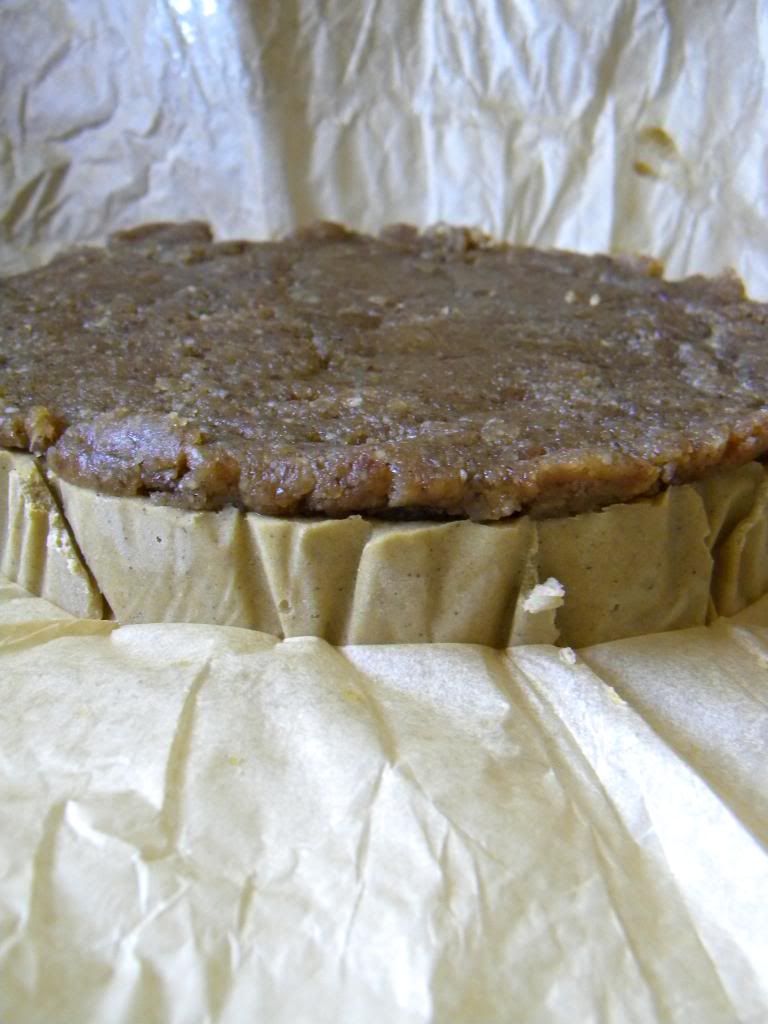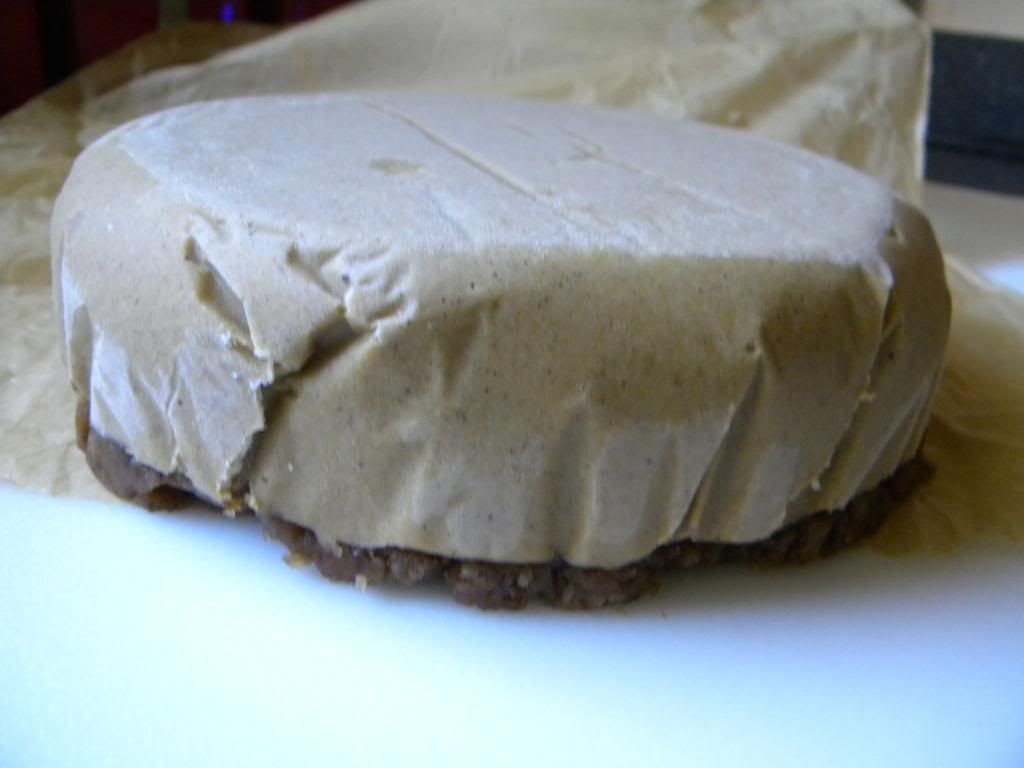 Place your cheezecake (covered) into the fridge, allowing it to thaw for about 30 minutes to an hour before slicing and serving.
Now lets take a look at the texture of this baby...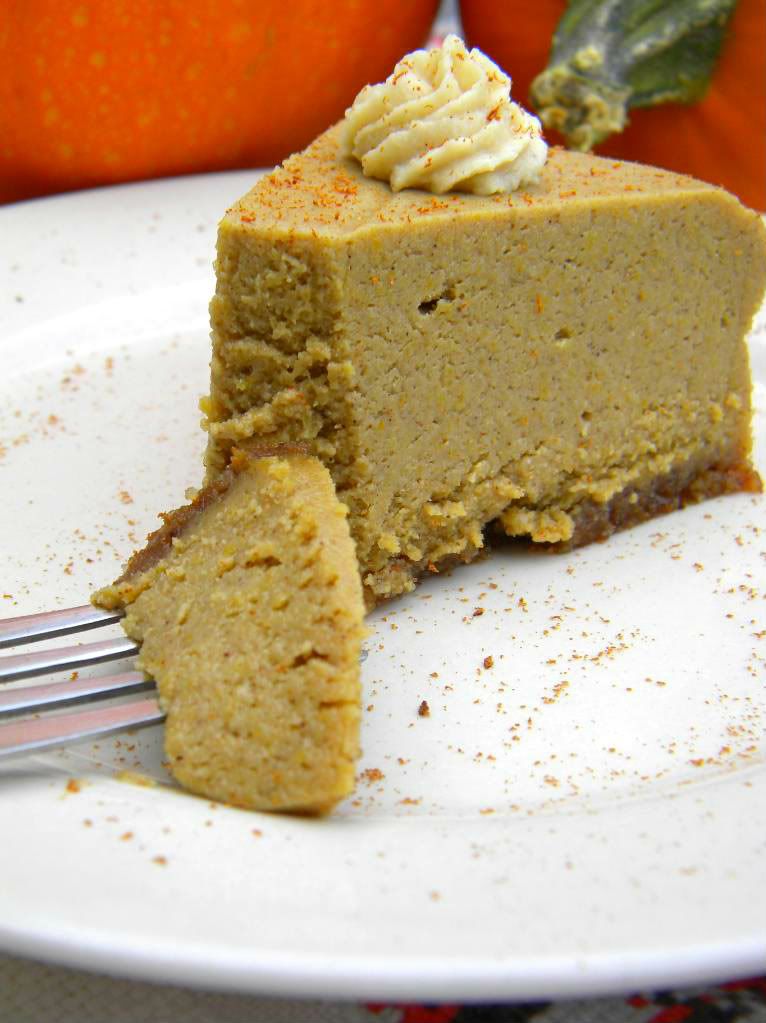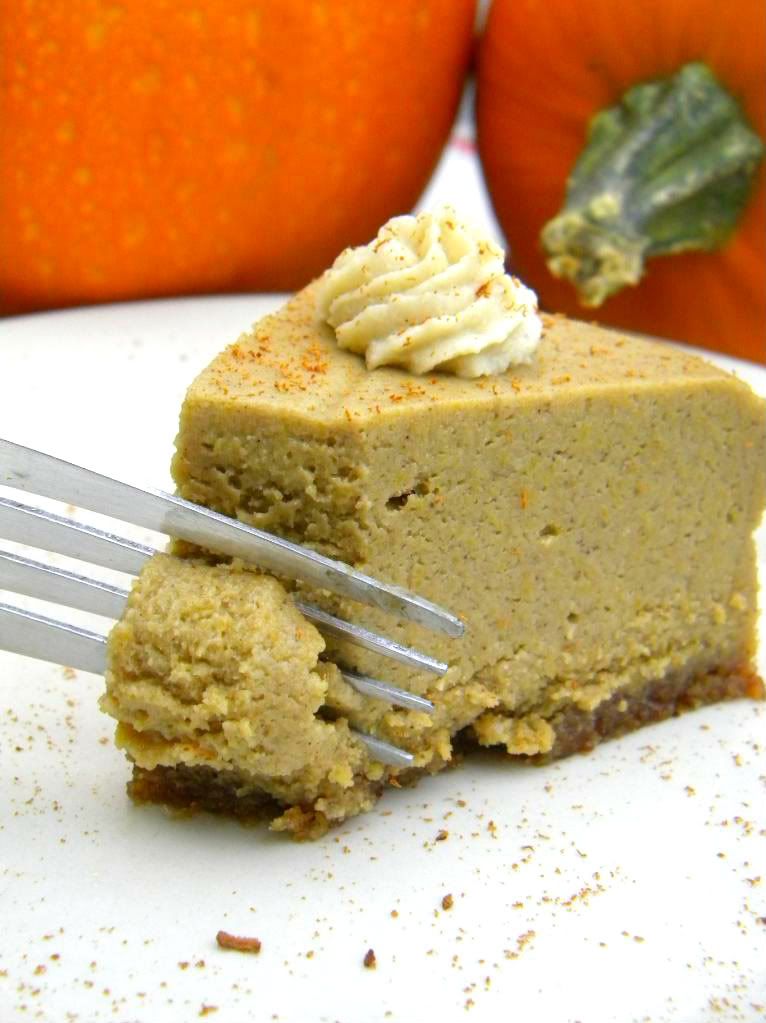 This is seriously one sexy piece of pie, er cake.
I had intended on sharing a recipe for Vanilla Ginger Whipped Cream (a great pair to this decadent dessert), but that will just have to wait.
I have two little puppies at my feet begging to be taken for a walk before the sun sets.
Hope you're all doing well!
xoxo,
Sarahfae - AtV