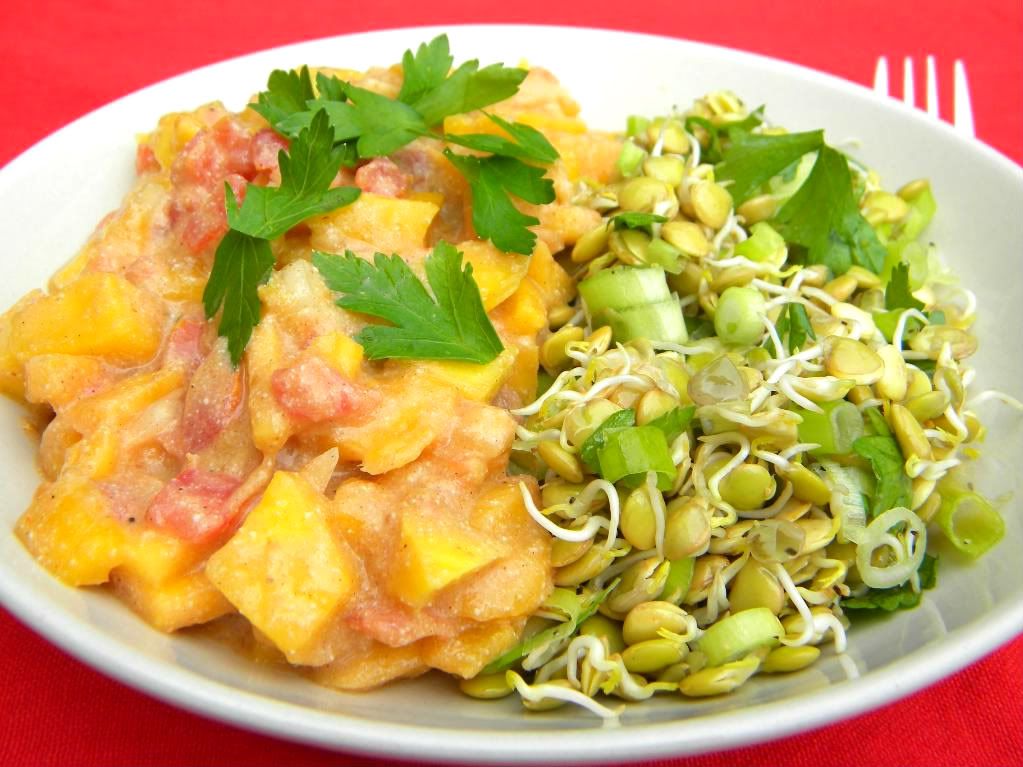 I'd like to thank every one of you who has nudged me with recipe requests to explore the intimidating world of Indian cuisine.
I've had a small amount of Indian food in my lifetime, some of it "ho-hum", and some of it seriously "knock your socks off" amazing. The latter of those two has brought me here today (again, along with your encouragement).
There's something truly magical about good Indian food. It can induce this body high of spicy flavorful emotions, enhancing all of your senses, making you feel euphoric and happy. I mean, if ever there was a food that made me feel like a super hero (who wanted to take a nice long nap) after eating it I'd have to say it was Indian food.
If you've had good Indian food than hopefully you know what I'm talking about. Otherwise you're probably thinking "Somebody spiked that girls Chai tea".
With all of that said/written...how could I NOT be intimidated by this totally foreign (to me) cuisine?
I found myself in a local bookstore a few months ago with Mister AtV when I realized I should probably "get over" my fears. I apprehensively tip-toed over to the cook book section, and my eyes fell almost instantly on this little gem:
Literally having NO idea what kind of book I should be buying, there was one other Indian cuisine cookbook on the shelf next to this little cutie, but it was about five times as big with about five-hundred more pages. I laughed to myself, rolled my eyes, and reached for the smaller book. What I found inside on the first page made me sure I was heading in the right direction.
This book is a Novice Indian Cuisine Lovers dream come true! I could probably write an entire post solely based on the information I've learned in the first 65 pages (read while standing in the book store), but since I try to keep things simple at AtV I'm going to encourage you to buy this book instead. If you're a food-science lover like myself you won't be disappointed. For those of you who are vegan, please note that this is not a vegan cookbook, but there is still SO much to be gained from it with a little substitution and creativity.
At the moment I've marked a bunch of pages with my highlighter, and the impending Autumn weather has me excited about warm flavorful Indian food on stormy weather days.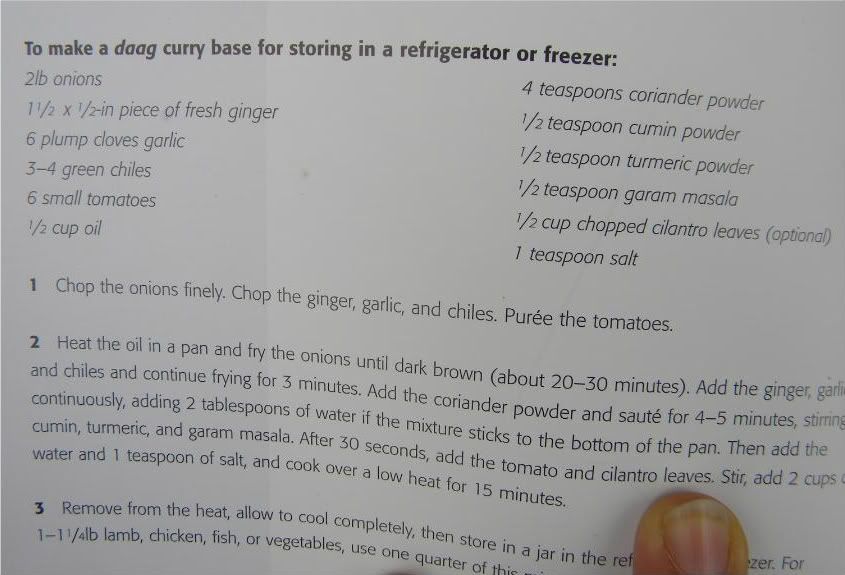 The first recipe I found in this book (on page 26) is for a simple daag Curry base which can be made in a fairly large amount, stored in the fridge, and used in a variety of Indian dishes.
The difference between AtV's daag Curry base and the cookbook's?
A couple of things...
Rather than cooking/frying to enhance the flavors of the daag, I'm marinading mine - which works wonders!
The encouragement that I've found regarding Indian recipes; depending on the region and the person who's making it --- there's a great deal of flexibility to each dish, so long as you know your ingredients and your recipe outline.
As always, my goal with this Indian food adventure is to create a cooked-food flavor palate using raw food techniques.
...Let's make some Indian food, shall we?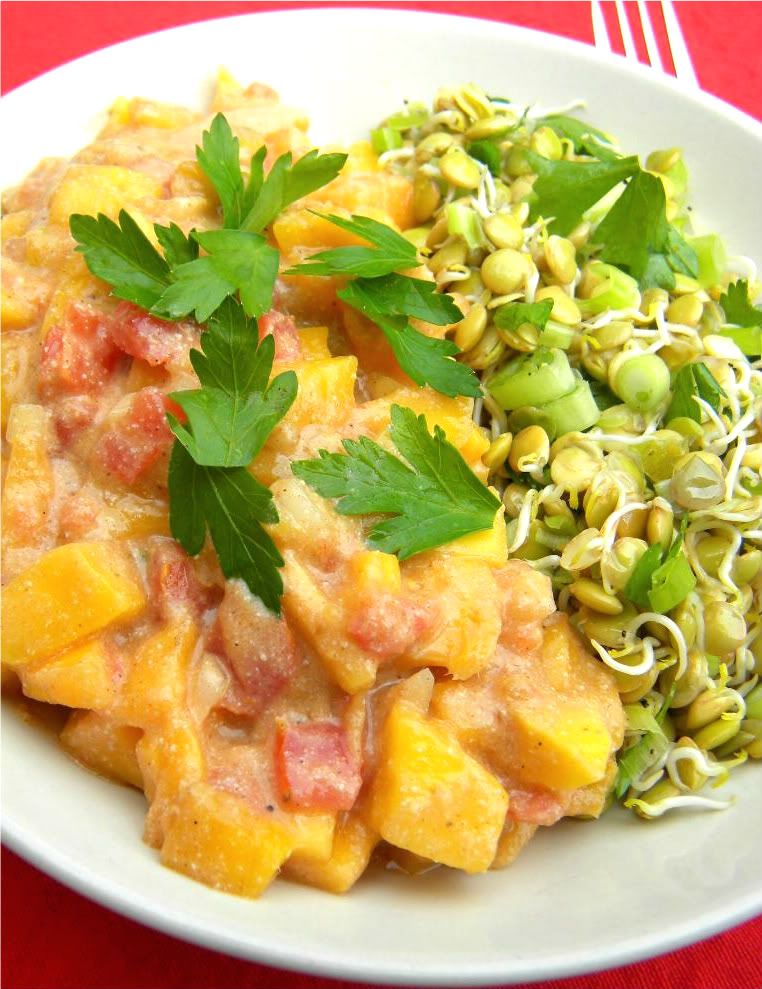 Important Note About This Recipe
Don't be intimidated by Indian spices like I was! Some of the spices in today's recipe may be new to you, if they are please don't hesitate to ask me where you might find them. Often times you can find whole un-ground spices (like Fenugreek and Coriander) in the bulk spice section of a grocery store. These will more often than not be cheaper than if you were to purchase them already ground. I have a coffee grinder that I use exclusively for my spices, so buying them as whole seeds doesn't deter me one bit. Another helpful hit when purchasing new (to you) spices; image search them so you know what they look like as whole seeds/spices. This way you won't be lost in the spice isle trying to find something you've never seen before.
Be brave!
Step 1.
AtV Daag Curry Base
Store this in and air tight container in your refrigerator.
Makes enough for 2 servings when made into Mango Masala
Wet Ingredients:
1 large Tomato = 1 cup chopped or minced (it's up to you)
3 Tbsp Oil - Canola, Safflower, or Grape seed
2 Tbsp Apple Cider Vinegar
3 heaping Tbsp Date Paste
1/2 tsp Lime Juice (optional - for more tartness)
Mix with a fork or wisk
Dried Ingredients
Proceed to add the following to your wet:
3 heaping Tbsp Onion powder
1/2 tsp ground Garam Masala spice mixture
1/2 tsp Garlic Granules
1/4 tsp ground Mustard Seed
1/4 tsp Ginger powder
1/4 tsp Paprika //or// Cayenne powder to Taste - for those of you who like heat
1/4 tsp
ground
Fenugreek Seed
3 to 4 pinches
ground
Cinnamon
3 pinches Cumin powder
2 pinches Turmeric powder
Salt to taste
Mix everything together!
Place your Curry base into your refrigerator for at least 2-3 hours, but I recommend overnight.
-
Step 2.
Making your Lentils
Into a mixing bowl combine:
1 & 1/2 c sprouted Lentils (you can also used cooked Lentils if you prefer)
1/4 c Green Onion - chopped
Fresh Cilantro leaves - as much as you'd like
1 Tbsp Oil - I used Grape seed because it's my fav
Salt & Pepper to taste
Mix it all together!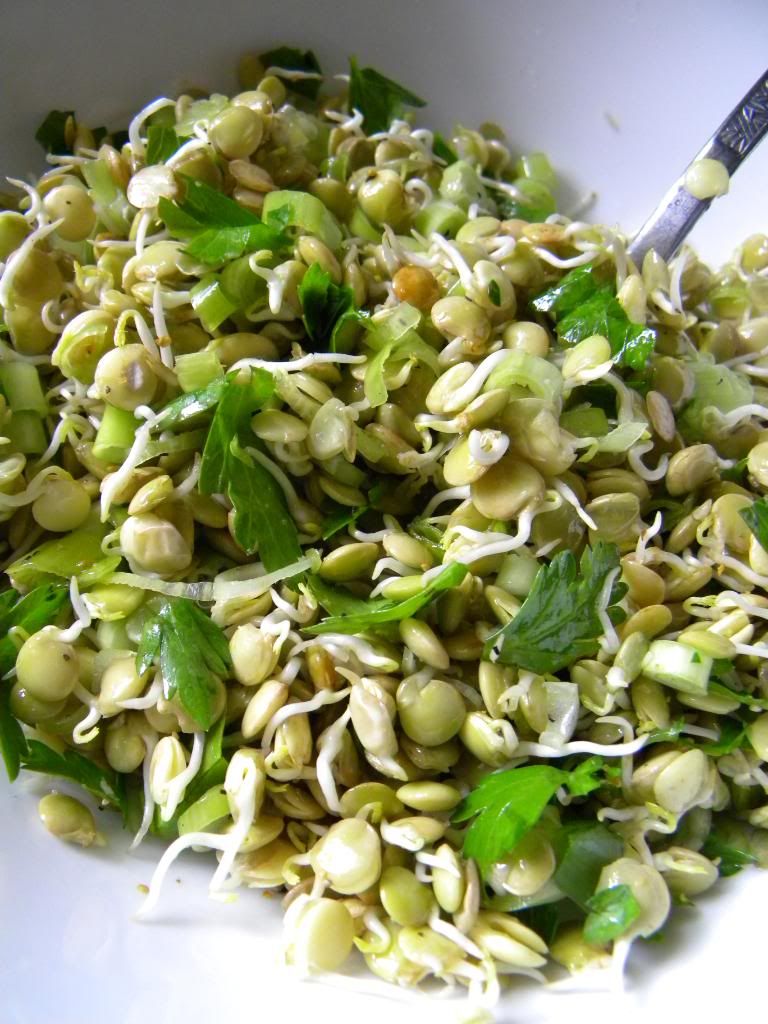 Cover and set this aside while you move on to the next step.
-
Step 3.
Assembling your Mango Masala
The recipe in this entire post makes enough for roughly two servings
Into a mixing bowl combine the following:
2 c Mango - chopped
1/4 c yellow Onion - minced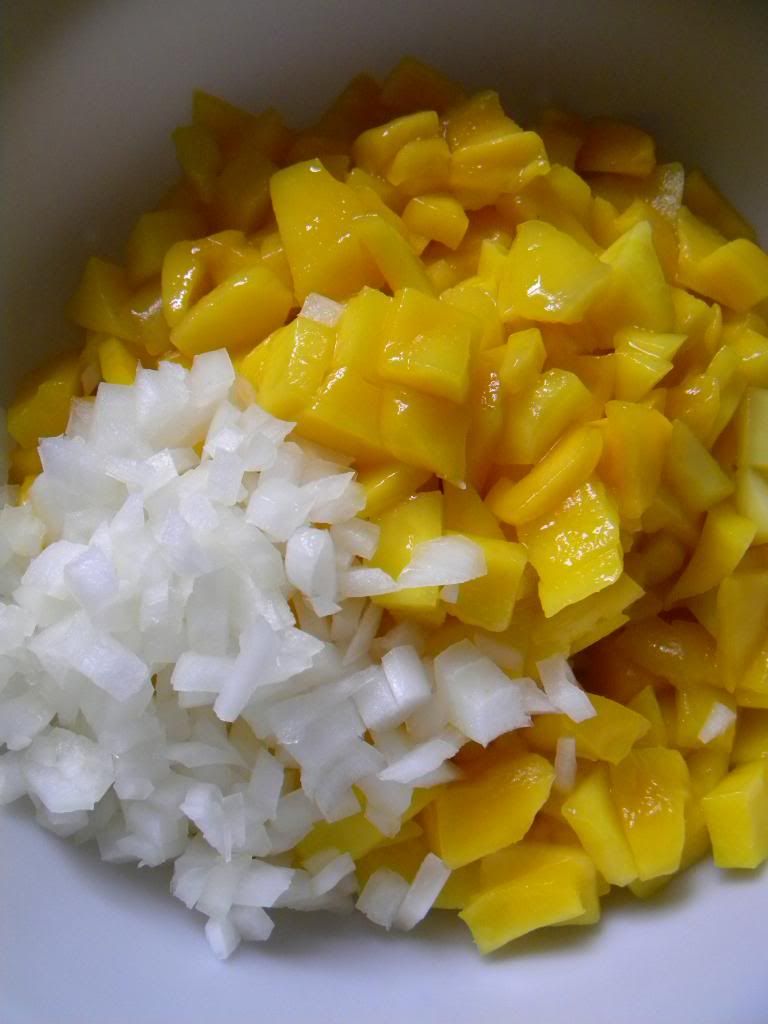 Add all of your Daag Mixture and mix together:
Now here's the super special part...
Add 3 Tbsp of AtV Sour Cream:
This elevates your Mango Masala to a whole new level of yum! I promise - you don't want to leave the Cream out.
You have two options next:
Plate up your food and eat it chilled
OR
Warm it gently on your stove top or in your oven (setting your oven at it's lowest heat and leaving the oven door cracked open).
Either way, make sure you have time to sit down and savor every bite of this delicious dish...
I hope you've enjoyed my very first recipe adventure with Indian Food...I certainly did.
Happy Friday Everyone!
xoxo,
Sarahfae - AtV