I knew almost immediately after getting her request that it was time...
Time for me to get over my fear and resistance to the increasingly popular Young Thai Coconut.
One of the main reasons behind my resistance to purchasing this fancy baby coconut; they are very difficult to find without ordering them online. The biggest focus of AtV's recipes is using "easy to find" ingredients. Because I want everyone to enjoy the food I love, and hard-to-find ingredients will definitely hinder anyone from making a recipe - no matter how yummy it may appear.
However - with their rising popularity, the young coconut is becoming increasingly more available in local natural foods stores, sometimes even found in the frozen fruit section as well.
Young Thai Coconut lovers, don't get too excited! I won't be using these guys in my kitchen very often, and if I do (with the exception of today's recipe) I promise to do my very best to offer substitute options!
Be sure to save your Coconut Water - you'll need it for this recipe too!!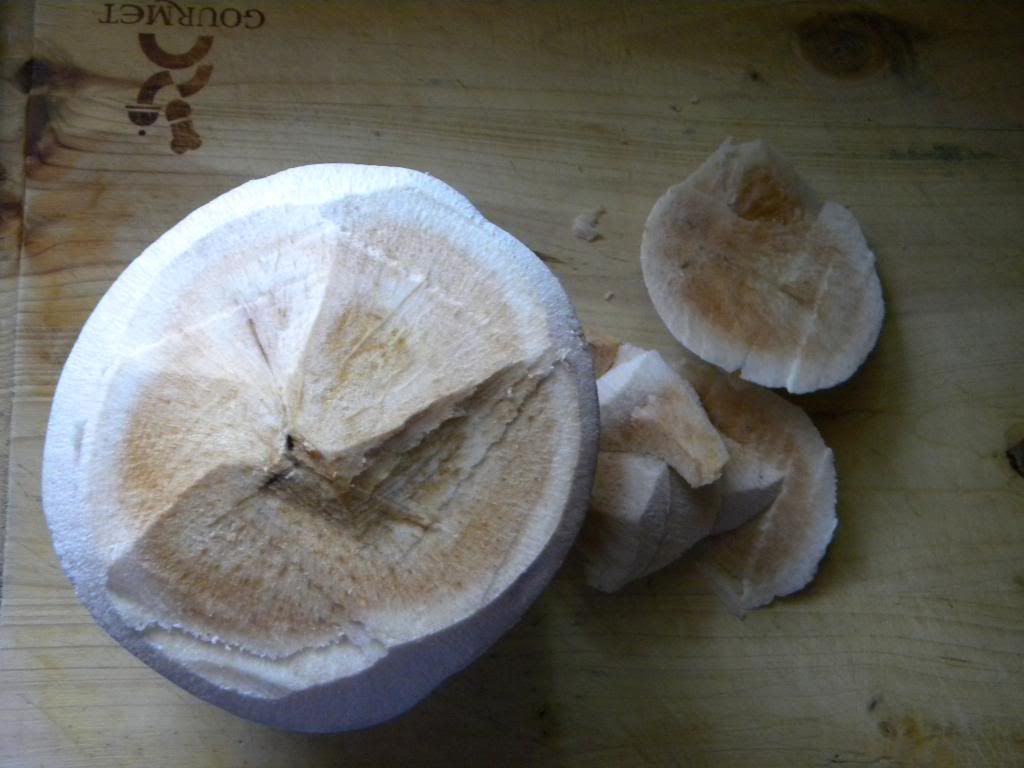 Getting ready to crack my Coconut open...
My aftermath: 1 cup Coconut meat and 1&1/2 c Coconut Water
Food Processor
Fruit Scoop or Ice-cream Scooper (this will help you easily remove the soft coconut meat)
Muffin/Cupcake Mold
---
This recipe includes a LOT of Coconut based ingredients. It's kind of fun and exciting!
I think I've counted 7 different forms of coconut total. I am in no way a dessert professional, so this recipe is fairly simple, and really revolves around the flavors and texture, not the presentation aspect. Although it looks a lot prettier than I anticipated. Dessert decorating is hard, people!
1 and 1/4 c Pecans //or// Almonds
1/4 c Coconut Flower
2 heaping Tbsp Coconut Crystals (also known as Coconut Palm Sugar)
1/4 tsp ground Cinnamon
Grind everything noted above into a fine "meal" like texture:
3 Tbsp of melted Coconut Oil - gently melted (you can do this in a small sauce pan in very very low heat.
Yay! Now you can form this into 9 mini crust shells.
Be sure to oil each muffin tin before shaping your crusts (unless you're using paper muffin liners - then you won't need to):
Roughly 2 heaping Tbsp of Crust mixture into each mold:
Pack it all down...
Now place your crusts into the freezer. This will set them so you can easily remove the crust from the shells without having them break.
-
1 c Young Thai Coconut Meat //or// The Meat of 1 Young Thai Coconut (basically the same thing)
1/4 c Young Coconut Water
1/4 c Plus 3 Tbsp Coconut Nectar
4 Tbsp melted Coconut Butter
2 Tbsp Lime Juice
1/4 tsp Sea Salt
Puree Everything Together for 5 minutes.
Yes, I said 5 Minutes! (You may need to stop in the first minute or so to scrape down the sides of your food processor once or twice):
Stopping to scrape things down.
Five minutes later - everything is perrfect!
I'm sure you can tell by my finger-print that I've tasted this to be sure.
It's gooood!
Place your Coconut Cream into a container with a lid and let it chill until it firms up (this will take about 2 hours.
Optional (seen above): Dried-shredded Coconut and Lime Zest for the toppings!
I used an icing/piping bag to fill my crust shells, but you could also use a plastic baggy with one of the corners snipped off.
Get your crusts out of the freezer (they should stay there until you are ready to fill them, that's an order!)
The reason why you only see 6 mini cream pies here is because I'm an airhead and forgot to oil 3 of the muffin molds - when I tried taking the crusts out they broke. *sadness* It's okay though! I reshaped them and they're back in the freezer firming up. If you're not using paper muffin liners you better oil that tin!
Remove them 10-15 minutes before serving and enjoy!
xoxo,