When I was a kid growing up we never had gourmet meals. Not to knock on my Mother, who always did magical things in the kitchen and never made a meal that I can remember turning away (with the exception of one recipe that I'll touch on another time). Mom always did her best to make food from scratch, and having six little mouths to feed I can only imagine she had some kind of superhuman powers. I think my love of sauces and dips is deeply rooted in my childhood, and American comfort food is right there with it.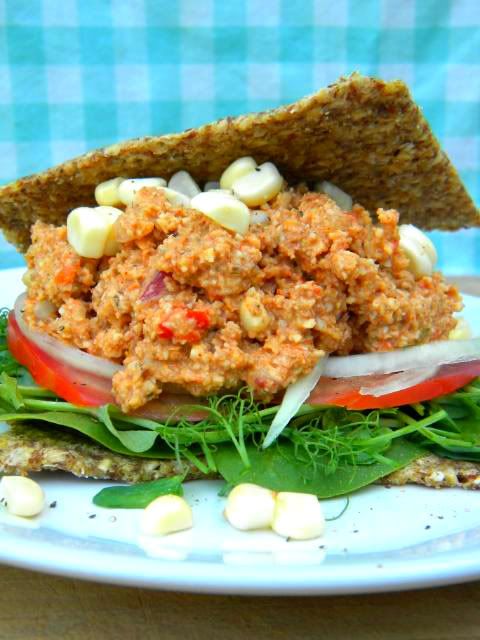 Today's recipe is an ode to my childhood, and in fond memory of the flavors that still linger on my palate. Without a doubt this the food that inspires me the most in my kitchen. I will always turn to a plate of messy hearty savory food before a prim and proper dish that contains strange foreign ingredients that I have a difficult time pronouncing (not to mention finding in my grocery store).
(I probably mark their pages more often than I mark my own cookbooks.)
(in the Sandwich section of the special edition)
my mind immediately went to "Sloppy Joes". Oh man, I don't even remember the last time I've had a real Sloppy Joe - probably over 17 years ago. But I remember it...and I didn't hesitate one bit in hurrying to my kitchen.
My younger brother(omnivore) and sister(vegan) were over the evening that I made this recipe for the first time, and they were my taste testers too. Their reviews? Clean plates speak louder than words in my food loving mind, but I'm pretty sure I heard some mumbling in between bites that sounded like
"yummm!".
-
Important Note About This Recipe
No dehydrator needed!...Unless of course you own one and prefer to use it instead of your oven as a warming method. Also - while I do call on the use of a Food processor for Step 2, if you have patience and the gusto than you can chop this recipe by hand. It may take a while, and you may want to do it in batches, but it'll work!
Be sure to pay close attention to this recipe - there are special notes in each step that are not to be missed!
Lets make some food shall we?
Sloppy Joes
This recipe makes roughly 4 to 5 servings
-
Step 1. The Sloppy Sauce
1 & 1/4 c Tomato cubed (seeds and all)
1 & 1/4 c Red Bell Pepper chopped
1/2 c Apple cubed (I used Braeburn Apple)
3 tsp Apple Cider Vinegar
3 tsp Lemon Juice
2 Tbsp Onion powder
2 Tbsp Nutritional yeast
2 tsp Paprika
1 tsp Cumin
1 tsp dried Basil
1 tsp Garlic Granuels //or// fresh minced Galirc to taste
1/2 tsp Chipotle powder - add more to taste if you like heat
Puree all of the above in your blender or food processor.
*Add Sea Salt to Taste
Puree ---
The following is *optional but really tasty:
*Add 1 to 2 Tbsp of Date Paste for a nice sweet kick
Your finished sauce should look like this:
Pour your sauce into a large mixing bowl and move onto the next step.
-
Step 2. The Joe
2 c soaked Almonds
Pulse/grind your almonds until they look like this:
Add to your ground soaked Almonds:
1 c Zucchini peeled and cubed
1 tsp Paprika
1/2 tsp Cumin
1/4 tsp Garlic Granuels
1/4 tsp Chipotle powder (or to taste)
Sea Salt to taste
Pulse Grind all of the above ingredients together, stopping to scrape down the sides of your food processor so that your ingredients evenly chop.
Your finished "Joe" will look like this:
-
Step 3. Putting your Sloppy Joe together
Together in one bowl combine:
--- Your Sloppy Sauce
--- 1/4 c minced Red Onion
--- 1/4 c minced Bell Pepper
--- 1/2 c Corn Kernels
Then add your "Joe"
Mix it all together evenly:
-
Warming your Sloppy Joes
Place a large piece of parchment paper onto a baking sheet.
Spread your Sloppy Joe mixture evenly onto your parchment paper.
Place your Sloppy Joe mixture into the oven set at its lowest heat.
Leaving the oven door cracked open warm your Sloppy Joe mixture for 30 minutes, stirrring half way to ensure even warming.
...
Serve your Sloppy Joe on (or with) whatever you'd like!
Wishing you all a wonderful weekend!
xoxo,