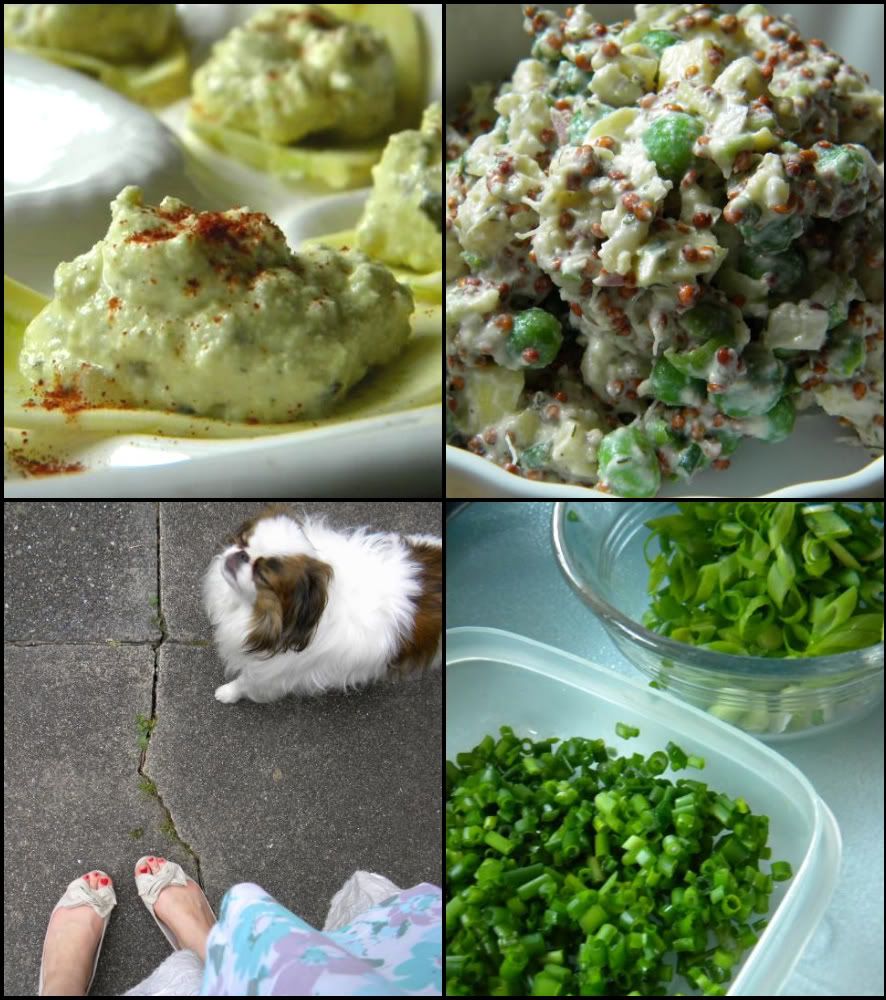 Most Holidays aren't that big of a deal to me, outside of Christmas and Thanksgiving. But as I've gotten older and grown more confidant with my recipe skills, the excitement of the Holidays has truly taken on a life of it's own. Holidays = family and food. A winning combination in my book.
This Easter was especially exciting in the food department because I was bringing some brand new recipes to the buffet, as well as high-hopes of winning over some non-veg family members with these new foods. The result? Very surprising, and very exciting. I mean, normally I'm a fairly excitable person when it comes to the food I make, but yesterday my excitement reached new levels. The most surprising thing happened when I nervously plated my Raw Vegan Deviled Eggs (trying to set aside expectations)...they were a smash hit!
This recipe is truly my baby, and one of my proudest of all recipes on AtV - simply because it mimics the flavor and texture of Deviled eggs so well, you won't miss the real thing! And I have my wonderful (and very honest) family to thank for this feedback. They ate my Deviled "Eggs" over the real eggs that shared the same buffet.
Even though Easter is over, I'm glad I was smart enough to make extra, because I had a feeling that I'd be wanting more for breakfast this morning...and I was right!
AtV Deviled Eggless Eggs
Makes roughly 2 dozen Deviled "Eggs"
-
Step 1. "Egg" Mixture
1/2 c Macadamia nuts
1/2 c soaked Cashews (soak for 6 to 8 hours)
1/2 c packed Zucchini - peeled and shredded
2 Tbsp Mustard - (Yellow or creamy Dijon)
1 to 2 tsp
Date Paste
//or// 1 Medjool Date - soaked in warm water for 10 minutes
2 tsp Onion powder
2 tsp Nutritional yeast
1/4 tsp Garlic Granules
1/4 tsp Kelp Granules
1 tsp Apple Cider Vinegar
Sea Salt to taste
1/2 c Water
In your food Processor Puree all of the above ingredients together until completely smooth. Your finished product/texture should look like this: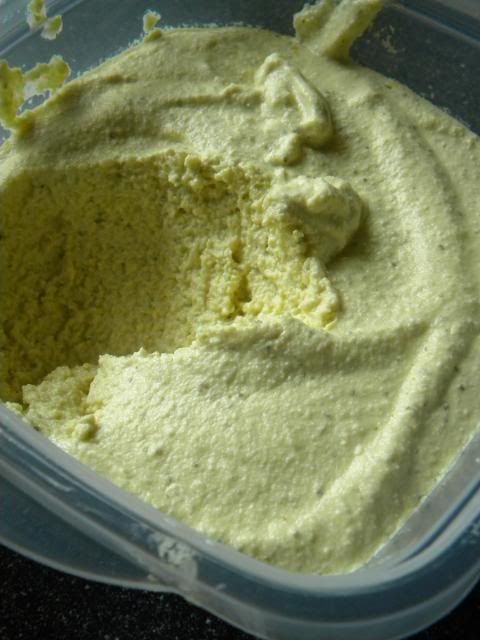 Whipped and creamy!
Fold into your Deviled "Egg mixture One or More of the following - TO TASTE:
Pickle Relish
Minced Red Onion
Minced Celery
Minced Garlic
I only added Pickle Relish for the sake of tradition and simplicity.
-
Step 2. "Egg" Shells
Traditional Deviled Eggs call for hardboiled eggs whites to hold the magnificent filling. In my "testing" I've found that Yellow Crookneck Squash when peeled has a very similar texture, and a lovely mild sweet flavor. It holds up wonderfully as the "egg shell" for the deviled mixture!
This is the tricky part - because I can't tell your exactly how many Crookneck Squash you will need, but I can tell you that they must be uniform in size, and the less "crookneck" the better:
Peel your Squash, and cut off the ends and crooknecks. Remembering to keep them uniform is size, seen above.
Slice each Squash in half, like so: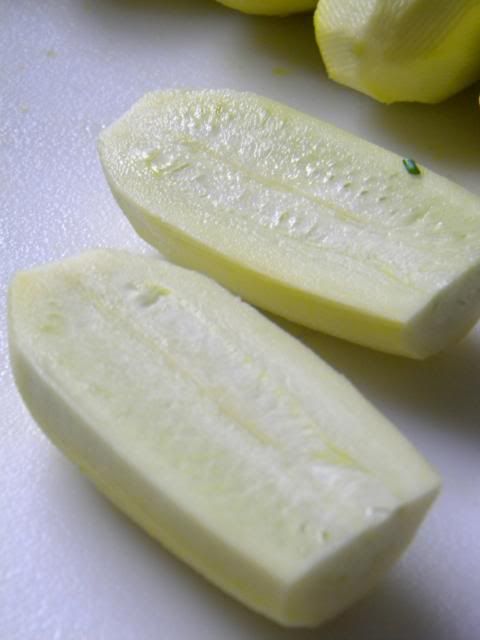 Using a Mandolin or a very sharp knife slice from the inside of your Squash out to less than a 1/4'' thickness: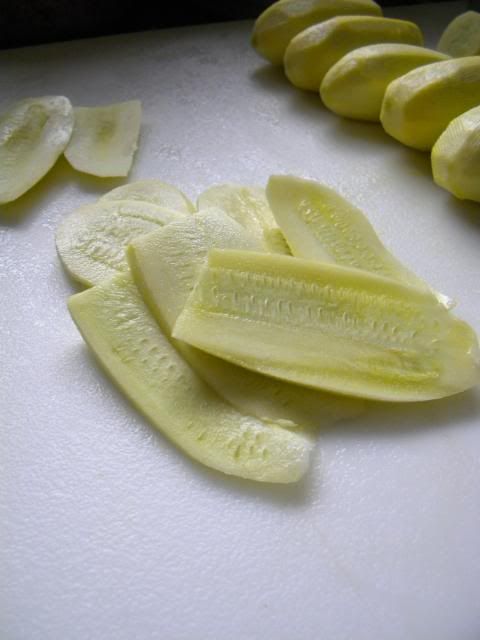 At the end of slicing you might have some reject nubs of squash - enjoy them as a snack as you continue slicing!
Once you've sliced all of the Squash that you need (roughly 2 dozen slices) proceed with topping them with your Deviled "Egg" mixture!
Garnish with Paprika (Spanish Smoked Paprika would also be dreamy for this) and serve immediately to your loving friends and family.
-
This Wednesday I'll be sharing another successful Easter recipe:
Rustic Pea and Sprouted Quinoa Salad
...so stick around, will ya?
xoxo,