With all due respect to egg yolk lovers (hell, even I can admit that it's a damn tasty thing) this recipe is dedicated to those of you like myself, you who have been searching for a satisfying cholesterol-free version of that amazingly seductive sauce. Of course some might argue that anything without an egg yolk fails in comparison...and sadly I'd have to agree.
THAT is why I have been working so painstakingly on this recipe...because I remember what real hollandaise tastes like, and I still dream about it. Up until last night I was about to throw in the towel on that dream, but it all came together beautifully when a simple change in technique was made. Of course this recipe is fairly rich and fatty, but the good kind of rich and fatty darnit! In my opinion sometimes you just can't substitute fat for anything else... and you just have to spoil yourself.
Tweak this recipe if you must, but be advised that it won't be nearly as good as the original that I am about to share. Try sharing this with an egg eater and see what their reaction is! And please let me know too!
One more important note:
I'm dedicating today's post (along with the Asparagus) to my lovely friend Rachel, who I miss very much and hope to see sooner than later...so that I can feed her some yummy food.
Love you sweetie!
Warm Asparagus with AtV (Raw Vegan) Hollandaise Sauce
This is really a rather simple recipe, just pay close attention to the details in every step and you can't go wrong.
Step 1. Getting your Asparagus ready:
1 bunch of Asparagus - washed:
Slice your Asparagus thinly on the bias, starting at the bottom of the stem working your way up. Make sure to stop right before you get to the head. You want to leave the head of the Asparagus in tact completely:
Place all of your sliced Asparagus into a bowl and toss with:
2 Tbsp of Safflower oil
S&P to taste
Transfer your Asparagus to a Parchment lined baking sheet: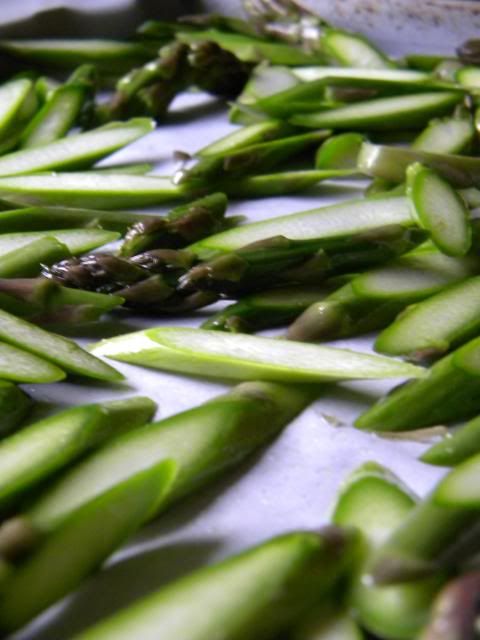 Set your oven to it's lowest heat, place your Asparagus into the oven and leave the door cracked open (about 6 inches or so). Warm your Asparagus for 1 hour.
You can also do this in your dehydrator if you prefer.
Move on to the next step while your Asparagus is warming.
-
Step 2. AtV Hollandaise Sauce!
Using a Fine/Small Grater or Micro-plane grate (over a bowl)
20 Macadamia nuts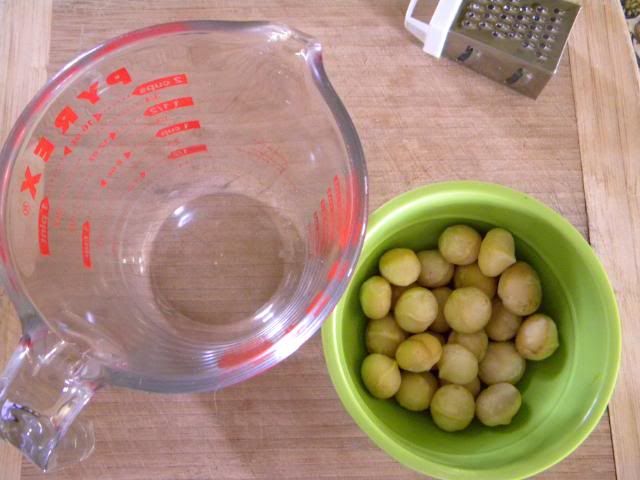 Your grated Macadamia nuts should amount to 3/4 cup (maybe a little less or more, which is okay)
Transfer your grated nuts into your Food Processor or Blender: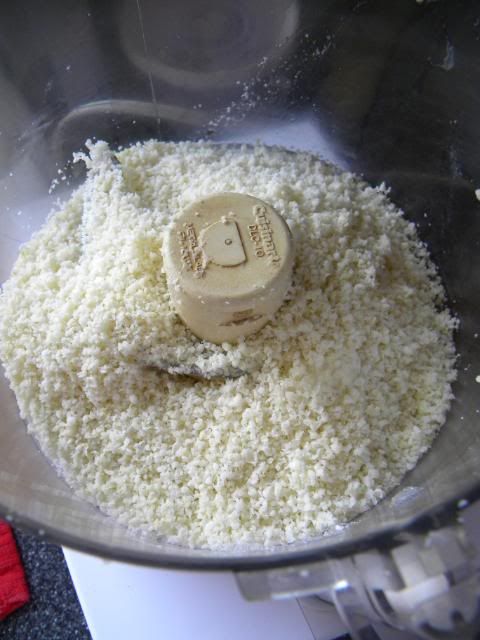 Add to your Food Processor/Blender - along with the grated Nuts:
2 Tbsp Lemon juice
1 tsp Mellow White Miso Paste
1/4 tsp Garlic Granules
1/4 tsp Paprika
1/4 c Safflower//or//Canola Oil
1/4 c Water
Sea Salt and Pepper to taste
Puree all of the above together for 3 minutes.
Your finished product will be whipped, creamy and amazing!
Warm your sauce on the stove top at a very very low heat, stirring continuously until it's heated to the touch. The sauce will thicken as it chills in the fridge, but as soon as you warm it up it will return to the creamy state that it originally was intended.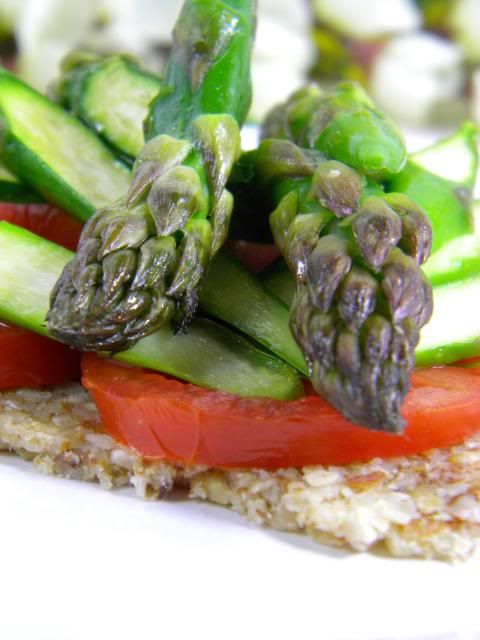 Drizzle your raw vegan Hollandaise over your Asparagus, pair it with sliced tomato, wilted Spinach, or whatever else you wish! Just eat it!
Thanks for stopping by - I'm gonna head into my kitchen and eat some leftovers now!
xoxo,
Sarahfae - AtV