Whether it's breakfast, dessert, a mid-day snack, or a special treat for a brunch date (I've been daydreaming of hosting a weekly out-door ladies bruncheon as soon as the rainy season is over), this fluffy chocolate almond butter should be made!
-
An Important Note about the Almonds and Technique in this recipe:
I chose to soak my Almonds. This adds a lovely "fluffy" texture to the butter - hence the title of this recipe. You do not however need to soak your almonds. If you choose not to soak them you will have a more dense and heavy butter, and it will also keep longer in your fridge. Soaking your Almonds does cut back the refrigerator life of your butter, but you can also opt to freeze half of your butter if you're worried that you won't eat it all before it spoils.
One more thing: Almonds expand/ grow in size (just like Cashews) when you soak them. Always re-measure your nuts before making a recipe if they have been soaked. If you soak 2 cups of Almonds then then you will usually end up with 2 & 1/2 cups after soaking them.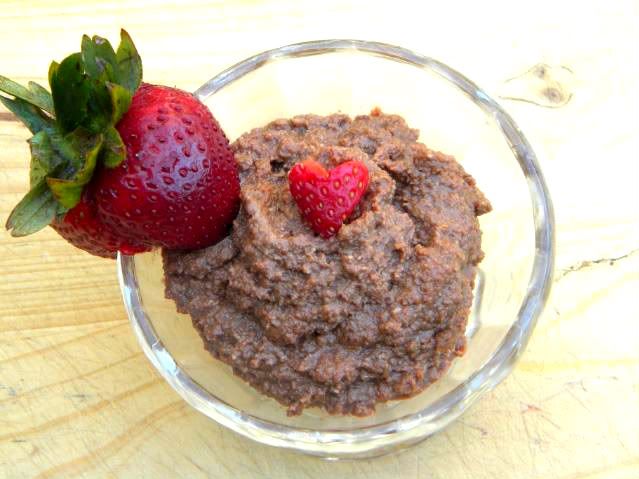 Fluffy Almond Butter
2 c Almonds - soaked 8 hours (or overnight)
5 Tbsp Cacao powder
2 tsp Vanilla
Place all of your ingredients into your food processor and puree:
Stop once or twice to scrape down the sides of your processor. Continue with pureeing for 5 minutes until your butter looks like this: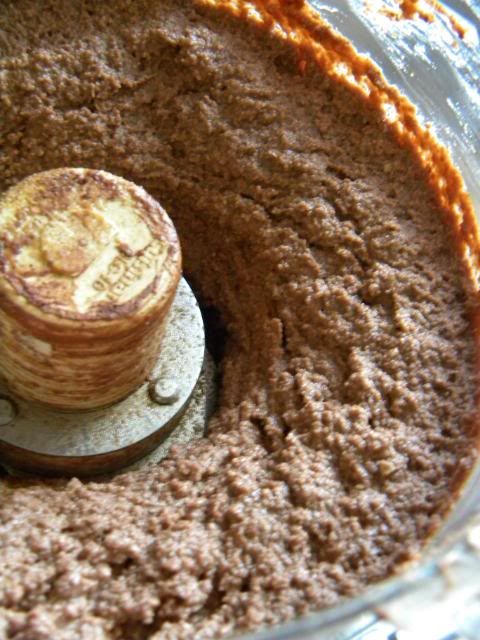 Whipped and Fluffy! Oh yum!!
Store your Butter in an air tight container in the fridge. Enjoy however you like, with what ever you want! For a kid friendly treat hollow out the center of a bunch of strawberries and stuff them with Fluffy Almond Butter.
Or you can eat it like I did this morning, as an open face sandwich on some homemade Almond-Oat-Flax bread (recipe to come) with slices of Banana & Strawberry...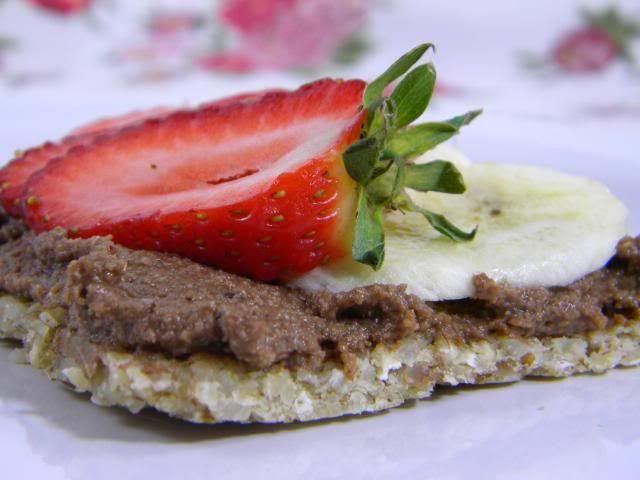 xoxo,