With all of the rain and chilly days we've been having recently I've been thinking a lot about making this soup. It's kind of the token comfort food in my mind: Yummy Starch!
Go figure when I woke up this morning the sun was shining and it actually felt like Spring was paying an early visit. In spite of the weather change (very typical for this area) I still wanted to make this soup...so I did!
If you're a Potato lover like I am, this recipe is for you. It hits all of the right flavor notes, it's rich and creamy with a natural hint of sweet that the Parsnip lends. When the rain decides to make another visit (supposedly tomorrow night) I'll be ready and armed with a big bowl of this soup, my slippers, and a mug of green tea.
Creamy Parsnip Soup
This recipe makes roughly 3 medium sized bowls of soup
-
Step 1. Soup Prep & Veggies
--- If you want to have a chunky soup like the pictures show, here's what I did (you can totally use other veggies too if you'd prefer):
* 2 Celery Stalks (sliced very thin)
* 3/4 c Corn Kernels
* 1/2 c dried or fresh Crimini Mushroom
Toss your veggies in:
2 Tbsp Canola //or// Safflower Oil
1/4 tsp Lemon Pepper //or// Cracked Black Pepper
Sea Salt to Taste
Place your veggies into either your Dehydrator or your Conventional Oven (set to it's very lowest heat with the door cracked open) and warm them while you move on to step 2.
-
Step 2. Making your Soup:
Be sure to see the directions at the end of this step for High Speed Blender vs. Food Processor.
1 & 1/4 c packed Parsnip (peeled & shredded)
1/2 c Corn Kernels
1 to 2 Tbsp Mellow White Miso (found in the refrigerator section of the grocery store)
2 Tbsp Nutritional Yeast
2 tsp Onion Powder
1 tsp Garlic Granules
pinch of ground Celery Seed
*1 & 1/2 c Water (see below for special note on water)
...
High Speed Blender: Puree for 3 minutes on high until creamy and smooth
...
Food Processor: Pour only 3/4 cup of water FIRST. Puree for 5 to 6 minutes until very creamy (it will be thick too). Slowly add the rest of the water until you've reached desired consistency. You might not need all of the water!
...
Heating Soup: Once your Soup is pureed and Creamy you can opt to heat it on the stove top set to a very low heat, whisking the soup constantly, and removing from the heat every 20-30 seconds to make sure you don't over heat it. When soup is warm to the touch it's ready to eat!
If you're not concerned with over heating your soup then don't worry about it! Just remember that you don't need to heat it any more than to a simmer.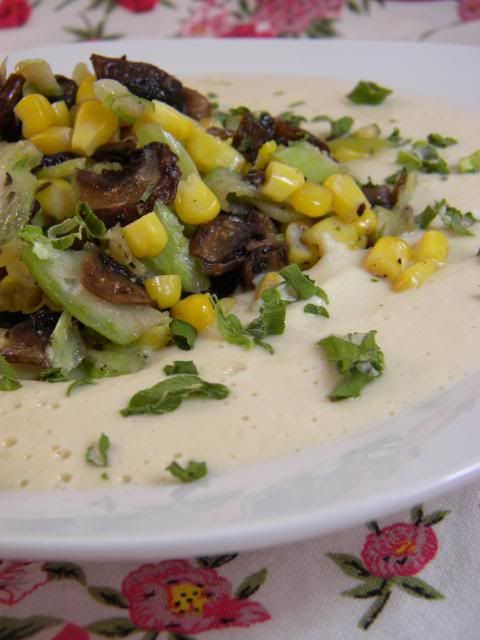 Enjoy, and Happy Friday everyone!!
xoxo,