I wanted to call this something wacky, like "Sauer-Apple Salad" or "Pickled Apple Slaw", but decided to keep the title simple and save the descriptive explanation for here.
This is without a doubt one of my current favorite salads to make. It's sweet, salty, acidic, creamy, crunchy, and basically everything I love all wrapped up in one tasty dish. I have a deep love of Sauerkraut, and when it's paired with a sweet and tangy apple, a tasty "Pickle Vinaigrette" (recipe included in this post), my senses do the dance of joy. It's almost as if the "Pickle Vinaigrette" and the Sauerkraut combined make the Apple taste even better. Hence my wanting to call it a "Pickled Apple Slaw".
I guess that'll just have to be it's alias.
Creamy Apple Slaw with Sauerkraut
This recipe yields a good amount - roughly 3 or 4 portions depending on if you serve it as a side or eat it as a main part of your meal. It will keep in the fridge for a couple of days as well.
-
Step 1. Pickle Vinaigrette
You will only need about 1/2 c of this Vinaigrette, save the rest in an air tight jar in your fridge. It will keep for at least a month.
3/4 c Oil - Safflower/Walnut or another mild and light tasting oil. Do not use EVOO.
1/2 c Water
1/2 c Apple Cider Vinegar
1 heaping Tbsp dried Italian seasoning
1/4 tsp Garlic Granules (if not already in your Italian seasoning)
1/2 tsp Onion powder
1 tsp Mustard Seed
Sea Salt & Pepper to Taste
Shake/Whisk together the above ingredients until evenly mixed. DO NOT PUREE!
Place your Vinaigrette in an airtight container in the fridge so to flavors can merry, while you move on to the next step.
-
Step 2. Assembling your Salad
Try to keep the contents of your salad fairly uniform in size. I feel that this makes for the ultimate taste/flavor enjoyment.
2 medium sweet & tangy Apples - chopped or sliced into small cubes (I recommend Braeburn or Golden Delicious)
2 small Carrots - grated
1 small Bell Pepper - chopped small
1 c Sauerkraut squeeze as much of the liquid as you can - chop roughly
1 small Tomato - chopped small
Handful of either fresh Parsley or Cilantro - chopped
2 Handfuls of dried or fresh Green Onion - chopped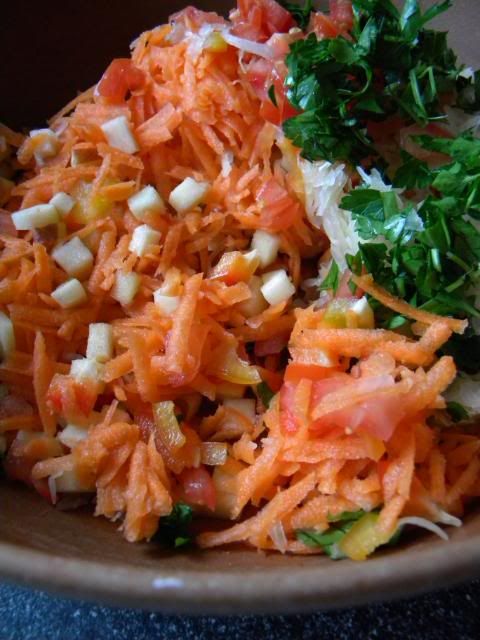 Add to your Salad mix:
1/2 to 3/4 c
AtV Sour Cream
(depending on how creamy you want it to be)
1/4 c plus 4 Tbsp Pickle Vinaigrette (from Step 1.)
Sea Salt & Pepper to Taste
Mix it all together evenly!
-
For a fun addition to your salad, and something I like to do every so often...
Using the worlds tiniest grater...(or Microplane)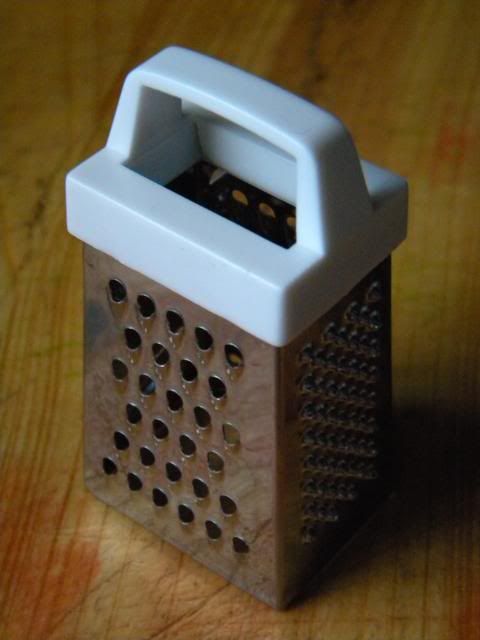 Dawwwww...lookie how cute the little bugger is!
Grab Six or Seven Macadamia nuts...
And grate them! They turn into the loveliest fluffy nutty topping for just about anything, especially this salad!
-
Serve your Creamy Apple Slaw in whatever fashion you like. If you're entertaining guests then try hollowing out a few Apples and stuffing them with the Slaw and some baby greens too: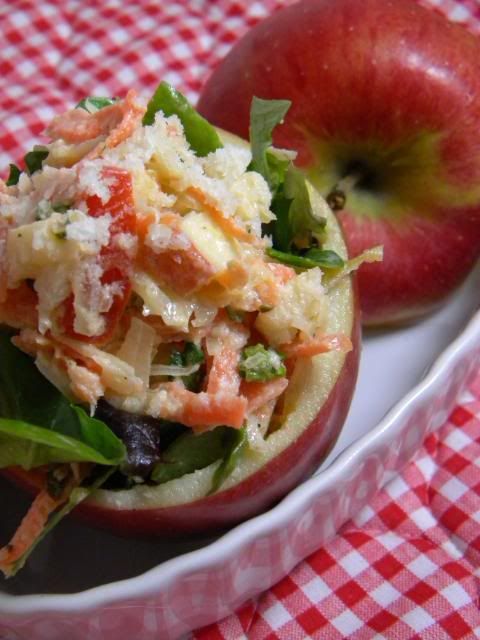 Or you can use some Napa Cabbage (or any other type of Cabbage) and make some Salad cups:
Either way, this salad is a winner! And you will be too...if you make it!
xoxo,