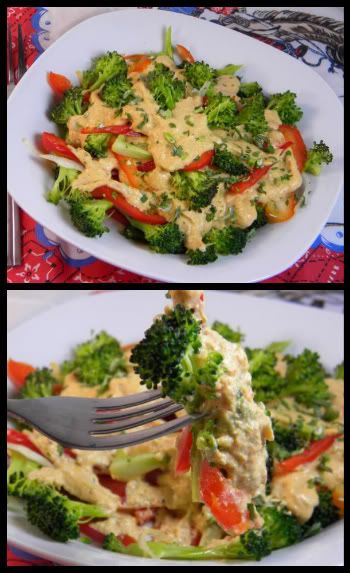 This recipe came to mind yesterday when I was thinking about what I had in my fridge...and what needed to be eaten up before it spoiled. Originally I made this dish in a flurry of
"Weekly Veggie"
madness, almost a year ago - holy cow, time flies!
My tummy and taste buds agree that this newly tweaked recipe has graduated to the
AtV Favorites
List. And since Winter has finally decided to show up in my little Pacific Northwestern town (this means lots of hail and wind) I'll be cuddling up to more than a few big bowls of this in the near future. I do recommend that it's eaten warmed, however if you're in Australia or anywhere else that is muggy and hot at the moment then you may want to have this chilled.
One more quick but important note about the Sauce in this recipe: It is SO gosh darn good all by itself! If you'd rather have it as a dip for chips, crackers, veggies, turn it into a soup, or even incorporate it into a completely different dish, then by all means go for it! There's no rules here, only suggestions!
Broccoli & Bell Pepper Gratin
This makes roughly 3 generous helpings. Make sure to note the directions for Raw/Vegan Heating methods. Conventional oven and Dehydrator are both included!
Step 1. Prepping Veggies:
1 small head of Broccoli
2 small Red Bell Pepper
1 small White Onion (optional)
Slice or Chop all of your Veggies fairly uniform. I like to slice my veggies thin and lengthwise, but if you prefer a more rustic chop then go for it.
-
Transfer your Veggies to a mixing bowl and toss with:
4 Tbsp Safflower/Canola Oil
1/2 tsp Lemon Pepper
1/2 tsp Sea Salt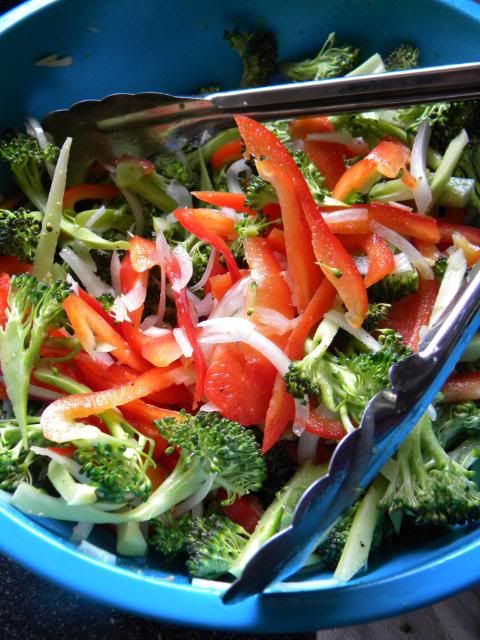 Transfer your Veggies to Parchment Paper and either of the following:
Dehydrator: For 1 hour, mixing/tossing half way to ensure even "wilting"
Conventional Oven: Set at the very lowest heat, leaving the oven door cracked open - place your Veggies onto a baking rack and place the baking rack onto a baking sheet. Proceed to warm/"wilt" your veggies for about an hour.
-
Step 2. Making your Gratin Sauce:
1 c Macadamia Nuts
1/2 c Red Bell Pepper (chopped small and packed)
1/4 c Tomato (chopped small and packed)
2 tsp White Dijon Mustard //or// 1 tsp Mustard powder & 1 Tbsp Apple Cider Vinegar
1 tsp Lemon Juice
1 tsp Onion Powder
1 Tbsp Nutritional Yeast
1 tsp Lemon juice
1/2 tsp Parsley
1/2 tsp Paprika
1 tsp
Date Sweetener
//or// 1 Medjool Dates (soaked in warm water for 10 minutes, pits removed)
1/2 tsp Lemon Pepper
1/2 tsp Sea Salt
1/2 c Water
ground Cayenne to taste (optional)
In your Food Processor Puree all of the above for 5 minutes until creamy and smooth.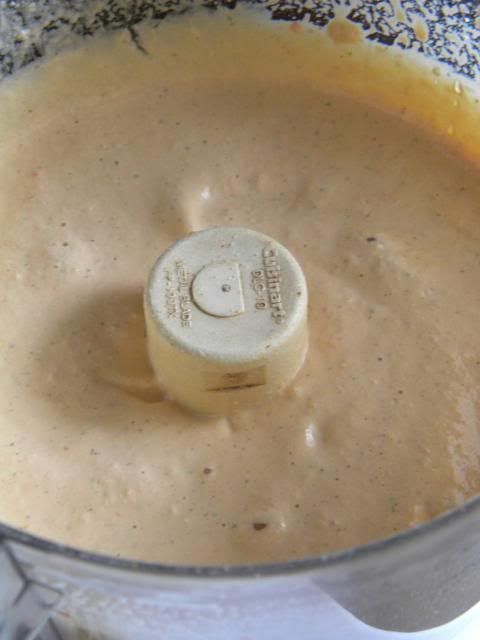 Warming Methods for Sauce:
Dehydrator: In a shallow dish place your sauce in your dehydrator for an hour or until it's reached desired warmth.
Stove Top: Place your Sauce in a sauce pan and set your stove top to a medium-low heat. Stir continuously with a whisk until the sauce is warmed to touch, lifting the pan off the burner every minute or so to make sure it's not getting to hot.
If heat isn't an issue: Of course, if you're not bothered by the heat then by all means heat the sauce as much as you'd like (it'll still taste just as good!) - but please note that it will thicken if it stays on the burner for too long!
-
Plating your Meal 2 Ways:
1. Pile all of your warm veggies onto a plate and pour the warm Gratin Sauce on top!
- Or -
2. Toss all of your veggies in the Gratin, transfer to a shallow baking dish and warm very briefly in either your dehydrator or conventional oven following the heating method/directions from Step 1.
xoxo,
P.S. I might be having this for lunch and dinner today...