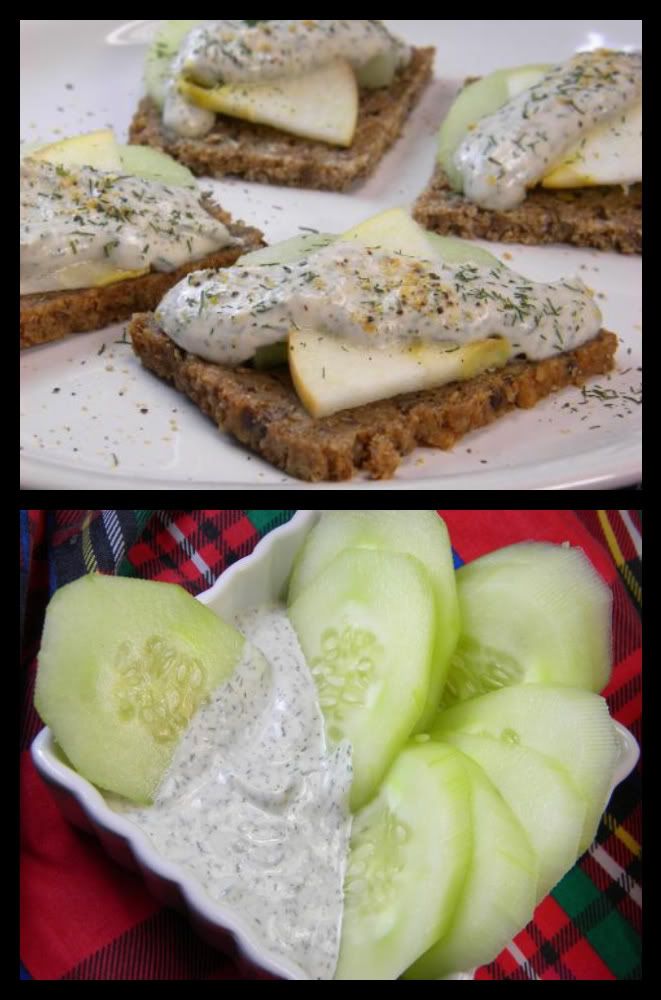 I'm so excited about this dip, I might even go so far as to call it a Christmas Miracle!
One of my favorite things about Holiday parties is the finger food I get to make (and eat). There's no question that I have an affinity for appetizers, but for someone who loves dips as much as I do I definitely have a very discriminating palate. I like my dips to taste like they're loaded with all kinds of flavor - in short, I like my dips to taste like they're NOT raw/vegan.
I'm happy to say that this Holiday season I have successfully fooled my non raw vegan friends with some amazingly tasty dips...and I'm going to share one of them with you right now!
AtV Creamy Dill Dip
In this recipe you can use either dried or fresh Dillweed. I recommend fresh, if you have some available.
Step 1. Before-hand Prep
Step 2. Making your Dip
*** In a medium mixing bowl combine:
1 & 1/2 cups AtV Sour Cream
Mix evenly and set aside
-
*** In a small mixing bowl combine the following dry ingredients:
4 heaping Tbsp minced fresh Dillweed //or// 2 heaping Tbsp dried Dillweed
1 Tbsp & 1 tsp Onion powder
1 tsp Garlic Granules
1/4 tsp ground Celery Seed
Sea Salt and Pepper to taste
Using a fork, mix together your dry ingredients evenly.
Slowly add your dry ingredients into your Sour Cream. Once you've mixed your dip let it chill in the fridge for about an hour - this will let the flavor of the dried Dillweed develop.
---
My favorite way to serve this dip for parties is with a HUGE bowl of thinly sliced Cucumber rounds. You can pair it with chips, bread wedges, sliced apple...and probably many more things. Either way you can't go wrong!
In the photo above I paired the Dill dip with fresh cucumber, apple, and a dash of lemon pepper - all piled onto flax/rye 'bread' (recipe for bread will be coming soon). This is probably my favorite way to eat the dip as a meal or snack.
---
Coming up next:
My favorite dip in the whole wide world:
French Onion Dip!
Seriously you guys. I don't even know what else to write about this. I'm beside myself with excitement!! I'll be back soon!
xoxo,