I've actually been sitting on this one for a little while now, and only yesterday perfected it. Naturally I'm beyond excited to share it with you guys! Like many other
Staple Recipes
to come be sure to bookmark this one, as you will be seeing it's appearance in the near future.
One more important thing about this dish --- I cannot tell you how incredibly good it is, and how much it tastes like short grain brown rice! So if you're like me and looking for alternatives to eating cooked grains, I hope you'll give this recipe a try. I don't think you'll be disappointed.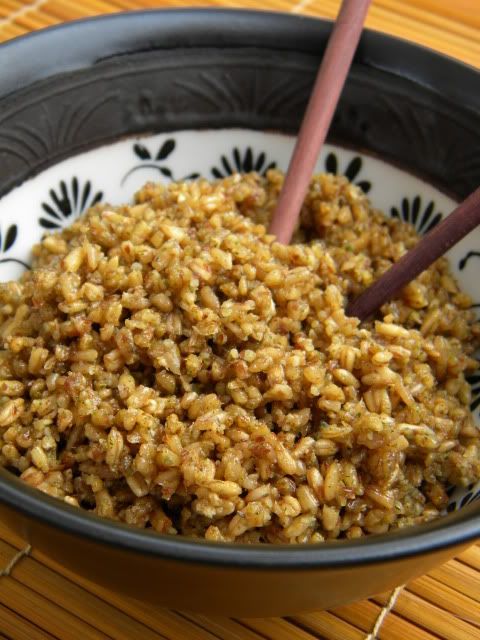 AtV Brown "Rice"
(Please don't be intimidated by this recipe due to it's multiple steps - they are so easy, and SO worth it!)
---
Step 1. Brown "Rice" prep
3 c Oat Groats - soaked 16 to 24 hours, then drained, rinsed and dried - removing as much of the soaking liquid as possible. I like to do this by wrapping my Oat Groats in cheese cloth and squeezing it a few times.
Place all of your Oat Groats into your Food Processor and pulse roughly 10 times, or until your Oat Groats have been evenly broken/chopped. ***You do not want to make Oat Groat meal, so be careful not to over process.
You can also opt to chop your Oat Groats by hand. This may take some time, but the end result is well worth it.
---
Step 2. Brown "Rice" Flavoring
Combine the following into a Nut Grinder (my nut grinder is just a fancy coffee grinder in disguise):
1/2 c Pumpkin Seeds
2 Tbsp c Brown Flaxseed meal
1 Tbsp Dillweed - dried
1 Tbsp Nutritional yeast
Sea Salt to taste
---Grind until the above ingredients become a fine powder---
---
Step 3. Making your Brown "Rice"
In a medium sized mixing bowl combine the following:
3 c Oat Groats - previously chopped
Entire batch of Brown "Rice" Flavoring (see above)
Warming Method:
Choose from one of the
Raw Food Warming Methods noted here
.
Evenly spread your brown rice mixture out onto a parchment lined baking sheet or dehydrator tray.
Warm your brown rice mixture for 1/2 hour to 1 hour total - or until your mixture dries slightly. (You're doing this only to remove some of the access moisture)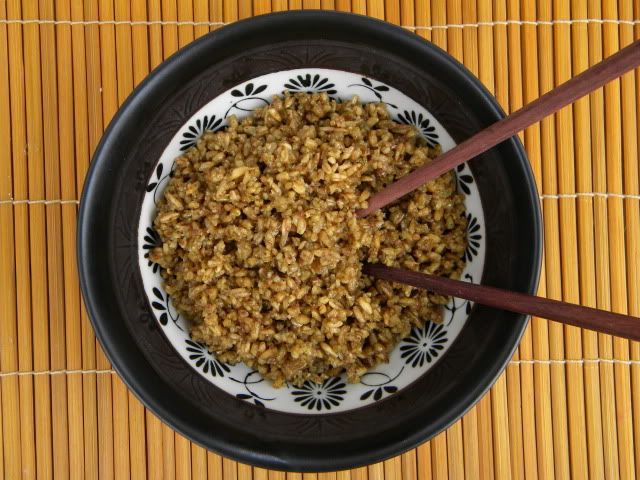 xoxo,
P.S. Be sure to check the
Staple Recipes
periodically as I'll be going through and marking some of my past recipes in the coming days so as to include them in that category.
Tasty Eating!