Here's a simple refreshing salad that was a perfect lunchtime meal this afternoon.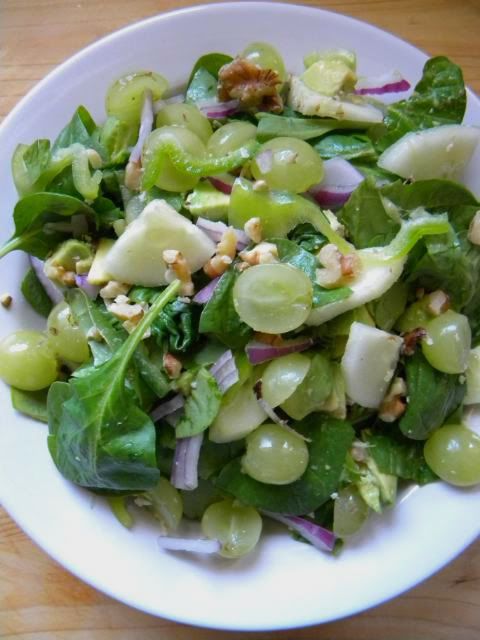 Spinach & Grape Salad
It goes something like this:
1 - 2 c Spinach leaves (or a big ol' handful)
1 c seedless Green Grapes - sliced in half
1/4 small Red Onion - sliced lengthwise/thin
1/2 c Cucumber - sliced in thin rounds and then quartered
1/2 c Walnuts - chopped
1 Avocado - cubed
Toss your salad ingredients with a dash of Salt & Pepper and enjoy as-is, or with a simple Sweet Mustard dressing (following the below photo)
Simple Sweet Mustard Dressing (for two)
2 heaping Tbsp Creamy Dijon Mustard
2 Tbsp Coconut Nectar //or// 2 Tbsp Medjool Date paste + tsp Lemon
4 Tbsp Water
Cracked Black Pepper to taste
Wisk the above ingredients together and mix into your Spinach & Grape Salad.
---
I hope everyone is enjoying their week so far!
I'll be fairly busy over the next few days with food prep for an upcoming event this Saturday (AtV's big local debut!!). I'll do my best to check in throughout the "Food Marathon Madness", and hopefully share a recipe or two. Wish me luck - I need it!
xoxo,