I'm so excited to share
two
new and yummy recipes with you guys --- so instead of wait around I thought I'd do an AtV first and post them both right now! But it gets even cooler; both recipes are
"Quick & Easy"
!
many different
forms.
I'm looking forward to using this broth as a "veggie stock" in quite a few upcoming AtV recipes. This isn't just your average Miso soup, oh no my friends, this is edible magic!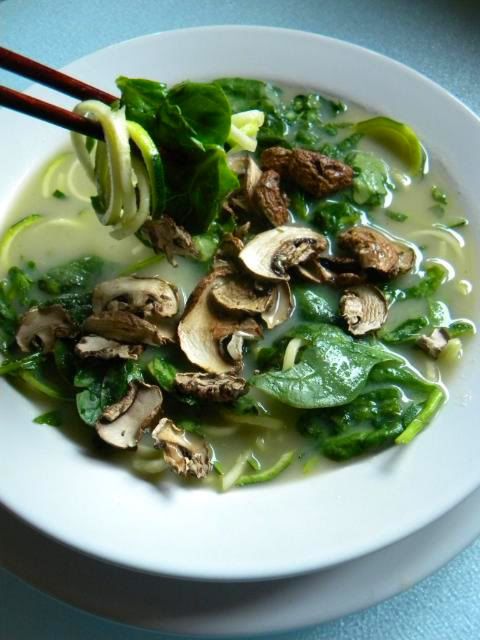 AtV Miso Soup
(this recipe yields enough for 1-2 servings, depending on how big you like your bowl of soup)
Broth:
1/2 tsp Onion powder
1/2 tsp Garlic granules
1/2 tsp dried Parsley
1/2 tsp ground Celery Seed
1/2 tsp pureed Medjool Date (or other liquid sweetener to taste)
1 Tbsp Nutritional yeast
1/4 tsp Lemon Pepper (or black pepper with a squeeze of lemon juice)
3 Tbsp Unpasteurized Mellow White Miso
3 C Warm/hot Water
Add the above ingredients to your blender and blend for about 20 seconds.
Side note: Store the broth in an air tight container in the fridge and it will keep for at least a week!
---
Soup Contents:
You can get really creative with the contents of this soup if you'd like, but in the above photo I kept it fairly simple -
Wilted/Massaged Spinach
*Spiral Cut Zucchini sprinkled with lemon pepper
Dehydrated Crimini Mushroom
*One of my favorite ways to eat Zucchini in raw soup is to toss it with a little bit of lemon pepper and dehydrate it for 1 hour. The zucchini stays crunchy but takes on a slightly different texture that (to me at least) resembles al dente "pasta". It's so good!
How about one more?
Southwestern Hummus
Okay this is just too easy and too good! (I'm getting hungry just writing about it)
Then you make up a batch of Pico De Gallo like this:
3 med. Tomatoes chopped
1/2 large red or white onion chopped fairly small
1 large green Bell Pepper
1 Tbsp Lemon juice
1 or 2 Tbsp Lime Juice
1 Tbsp Apple Cider Vinegar
Cayenne Pepper - to taste
1 Tbsp Nutritional yeast (optional, but so good)
1/2 tsp Garlic Granules
1 (heaping) tsp of Pureed Medjool Date (or liquid sweetener to taste)
Mix the above ingredients all together, if you have time (and can patiently wait) let the Pico marinate in the fridge for at least a half an hour.
Add equal parts Hummus to equal parts Pico de Gallo and *poof* You've got Southwestern Hummus! For an additional kick you can throw in some Fresh Corn and chopped Avocado to the Pico - but I didn't have any on hand, otherwise it would be in the photo.
Hope you enjoy it as much as I do!
xoxo,
Sarahfae - AtV