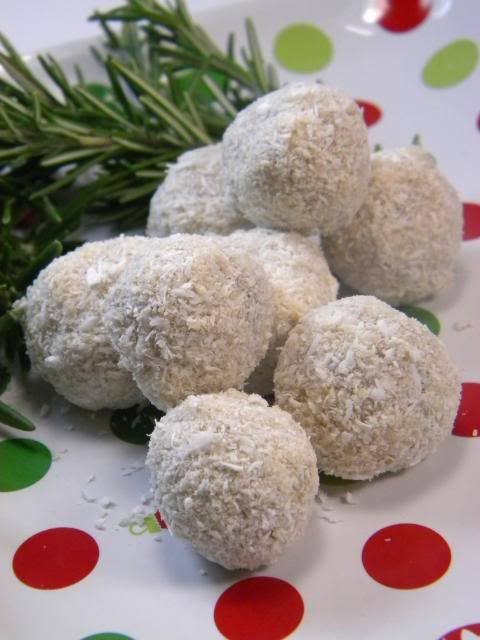 Holy cow you guys...I don't know how it's suddenly December 16th, and I'm finally back online after a very crazy last few weeks. My deepest apologies for disappearing for so long. One thing I've learned recently is how fragile life can be, and how wonderful it is to be surrounded by loving caring people this time of the year (and always!). There's no hiding how much I love Christmas - and anyone who steps inside my cozy little house this time of year will hear non-stop Holiday music, and see a plethora of fun vintage decor in just about every corner. I'm happy that things have finally simmered down, and I have the time to get back into the kitchen and share a new recipe with you all!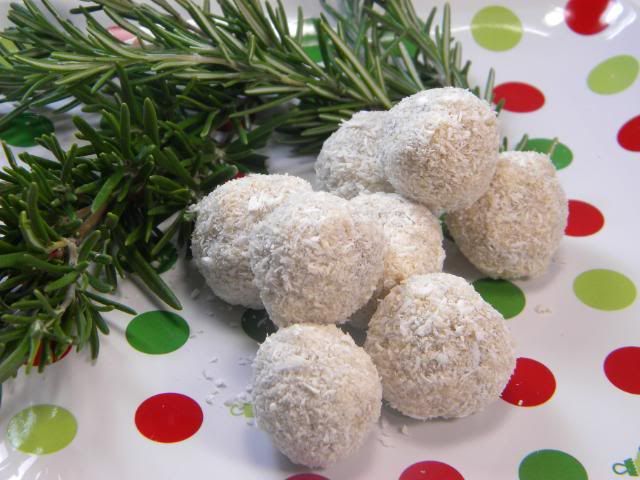 Coconut-Lime "Let it Snow" balls
Special Tools you will need for this recipe:
- Food Processor
- Melon Baller
These little buggers were a smash hit at our Annual Christmas Sweater Party this year, and I'll be making them a couple more times before the end of this year. The Coconut is so subtle that even non-lovers of Coconut were eating these little guys up!
Step 1. Making the Batter
1 c Macadamia nuts - ground
1 c Cashews - soaked 4 hours (or overnight)
1/4 c Lime juice
15 Medjool dates - soaked in warm water until softened, pits removed
2 tsp Vanilla
1/4 c Coconut Oil - softened
3 Tbsp Coconut Butter - softened
2 pinches of Sea Salt
*** Puree all the above ingredients in your food processor until smooth. You will have to stop at least a few times to scrape down the sides of your processor as the batter will tend to clump a bit. But don't be discouraged, this is totally a normal occurrence. I think I had to stop and scrape the mixture at least 6 times until it began to freely move around my food processor.
*** Once your batter has become a thick and creamy puree transfer this to a large shallow dish, spreading it about 2 inches thick. Place the dish with the mixture into your freezer and let it cool/harden for at least an hour. It's very important that your mixture has hardened in the freezer before you take your melon baller to it. This will make it easier for you to "scoop" them.
-
Step 2. Forming/Decorating your "Let it Snow" balls
Remove your Coconut-Lime mixture from the freezer and use your melon baller to scoop out uniform sized balls. Once all of the balls have been "scooped" ( you should have roughly 2 dozen) move on to the next step...
Lime-Date Coating
6 Tbsp Date Paste
1/4 c Lime Juice
1/4 c Water
Whisk the above ingredients to a smooth creamy liquid.
Proceed to transfer your balls into the Lime-Date Coating, rolling them around until they are evenly coated like so: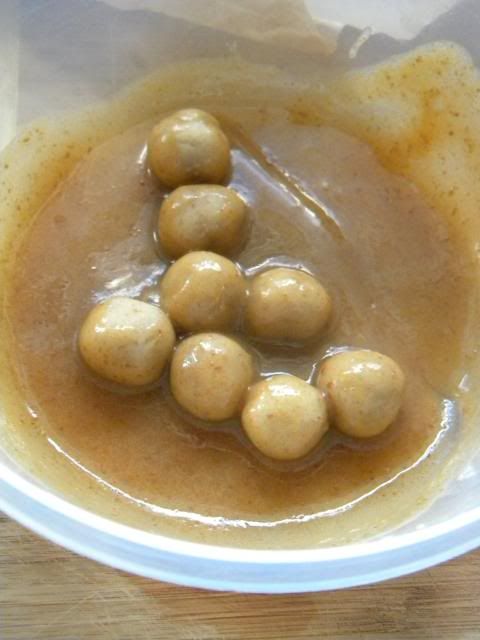 Remove your Lime-Date coated balls from the liquid coating ---
In a large shallow Tupperware container make the following:
Coconut Snow
1/2 c Coconut Flour
1/2 c shredded/dehydrated Coconut
Transfer your Lime-Date coated balls to the Coconut Snow (as many as will fit into the Tupperware container without being too crowded).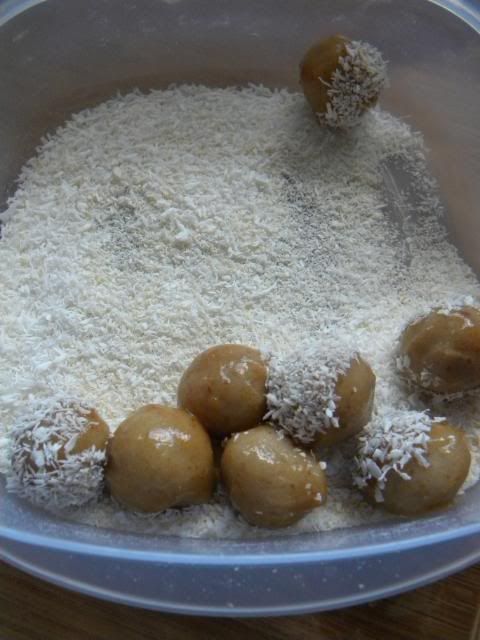 Roll the balls around until they are evenly coated with snow!
Place them back inside the freezer until your guests arrive and they're ready to be eaten (even frozen they won't be too hard to eat - just cold).
---
How about a sneak peek at our Holiday party last weekend?
A photo from the food table - before I loaded it packed full of yumminess!
A couple of my favorite decorations by our fireplace.
The table had four raw vegan dips --- three for veggies and "bread" and one dessert dip for fruit.
Old Saint Nic's French Onion Dip, Dancer & Prancer's Delicious Dill, All I want for Christmas is Artichoke Dip, and Blitzen's Blackberry Dip. I had WAY too much fun with the Holiday themed food names...I think I must have been channeling some inspiration from
Andrea over at Very Vegan Holiday.
Large view of the Table, packed full of amazing raw/vegan yumminess!
From left to right (minus the dips mentioned above):
Apple & Pear Slices
Merry Macadamia Cheeze
O Come all Ye Faithful Orange Sections
Festive Flax and/or Pumpernickel 'bread'
Santa's Resolution Plate (veggie tray in the center)
Cucumber Slices
Merry Blueberry Kabobs
Coconut-Lime "Let it Snow" balls
Up on the Roof-top Chocolate Shingles (not raw) and Raspberry Elf Hats
Our Christmas party was also in conjunction with the Annual Truckers Parade that conveniently passes right in front of our little house!
xoxo,