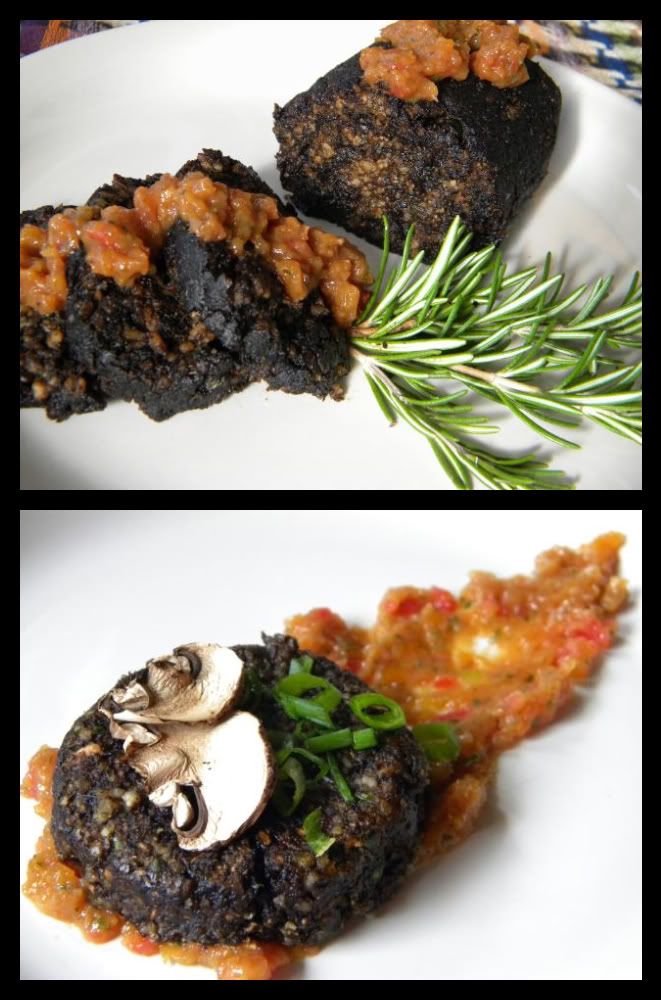 At first I wanted to call this recipe "Mushroom Timbales", because it was
inspired by Susan's own Timbales (at FFV)
. After I played around with the leftovers (YES, play with your food!) I decided that "loaf" would be a more fitting description, since this recipe is so meaty and I feel very strongly that it's going to be an amazing focal point for my Thanksgiving meal this year. It's SO good you guys! If you're looking for a non-tofu veggie substitute for your Holiday "meat" then I beg you to try this! The great thing about this recipe is that it can totally be done without any fancy kitchen tools - all you need is a little patience, a good sharp knife, and a hungry tummy (and maybe a couple more things noted in the recipe).
Please be sure to see the end of the recipe for notes on how to heat the Mushroom Loaf in your oven if you don't have a dehydrator.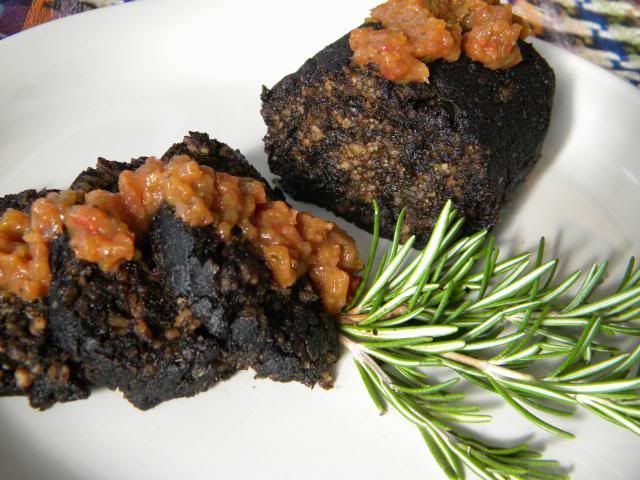 Raw Vegan Holiday Mushroom Loaf
Step 1. Prep before hand:
1 c ground/smashed Macadamia nuts
I chose to grind my nuts in a food processor --- To smash your Mac nuts: place nuts in zip-lock baggy and pound with a flat heavy object.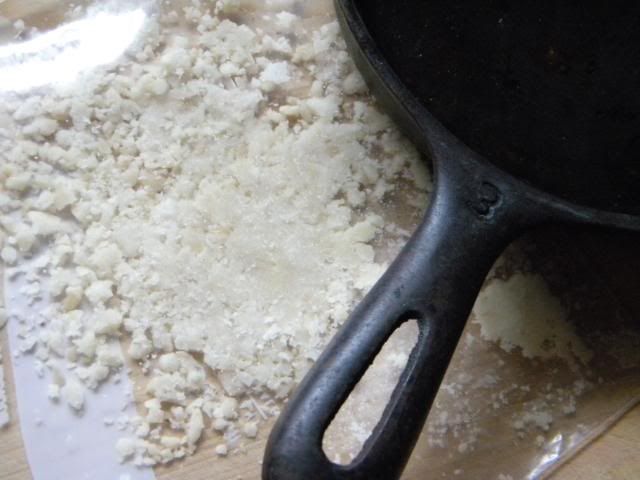 -
Step 2. Seasoning your Mac nuts:
1/2 tsp dried Thyme
1/4 tsp dried/ground Rosemary
1/2 tsp dried Dillweed
1 tsp Onion powder
1/2 tsp Lemon Pepper
1 tsp dried Parsley
Sea Salt to taste
Add the above ingredients to your ground/smashed Macadamia nuts - proceed to grind/smash again. Remove the contents of your Whitlock baggy, placing them in a mixing bowl and setting them aside.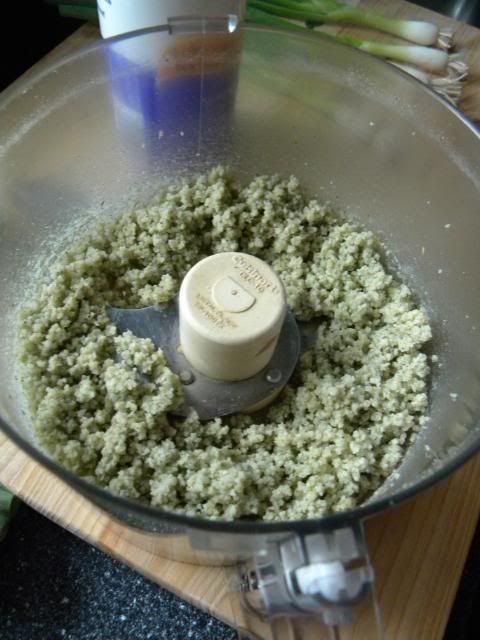 -
Step 3. Mushrooms!
2 dozen (24) Crimini Mushrooms - minced very very well (you can either do this by hand, or in a food processor). If you are doing this by hand then you can mince and mash with the flat side of your chopping knife to get a very thorough and fine mince.
2 or 3 Green Onions (scallions) minced very well
Add your Mushrooms and Onions to the bowl containing your seasoned Macadamia nuts. Mix/Mash well )to do this you can use a hand masher or you can pulse with your food processor).
To your mixing bowl add:
1 Tbsp White Mustard //or// 1 tsp Lemon Juice
1 tsp Minced Garlic //or// Garlic Granules (optional)
1 Tbsp Nutritional Yeast
-Mash/Pulse-
You should now have your Mushroom Loaf mixture, and it should look like this: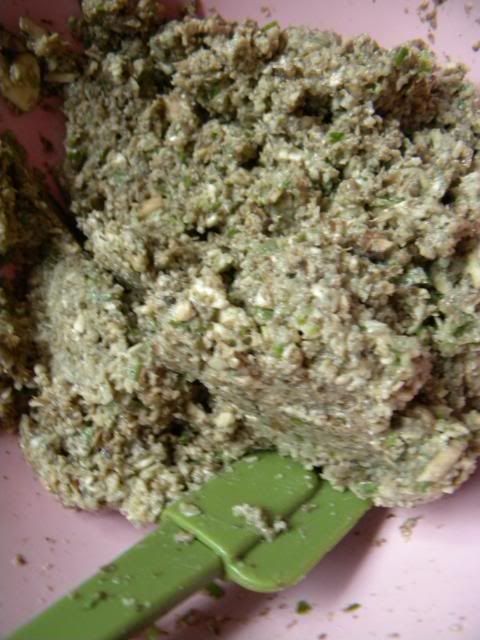 Okay - not that exciting...yet...
-
Step 4. Final Step! Making your Mushroom Loaf //or// Burgers!
I fist shaped these into little Burgers (using a Biscuit cutter), at about 1/2" thick.
Dehydrating Method: Dehydrate Burgers 5 to 6 hours, flipping half way though.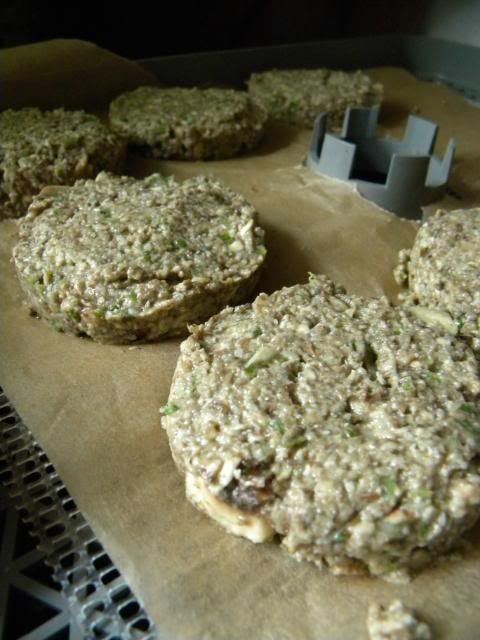 -
Oven Method: Set Oven at Lowest heat, leaving the Oven Door cracked open
Place the Burgers on Parchment paper, place Parchment paper onto a Cookie/Cooling rack, and place cooling rack on a pan. Heat Burgers in oven (keeping door cracked open) for 1 to 2 hours.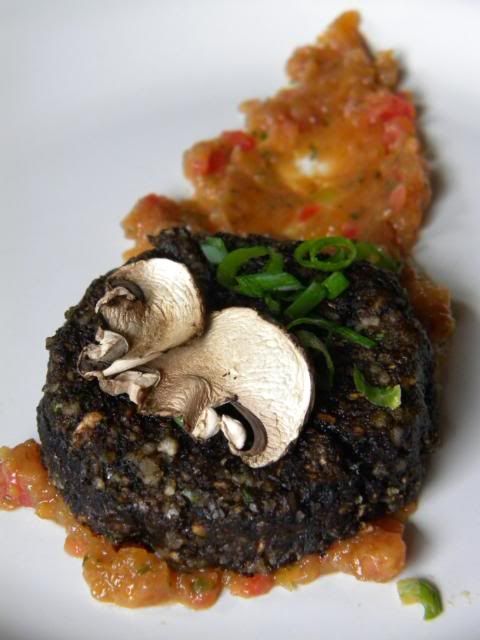 To make a Mushroom Loaf:
Form into Patties, and flatten them very thin (1/4" or thinner)
Proceed to Dehydrate or Heat in Oven as noted above.
When Patties are finished heating remove from Dehydrator/Oven and simply Form into a Loaf.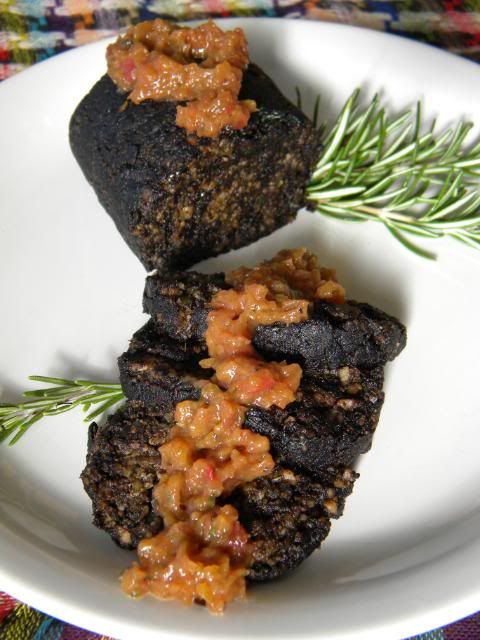 Mushroom Loaf and Burger both seen with Savory Apricot-Tomato Chutney
(Recipe will be up tomorrow for the Chutney)
I'm SO excited about this recipe, and even more excited to get back into the kitchen to finish my Holiday Menu for you guys!
-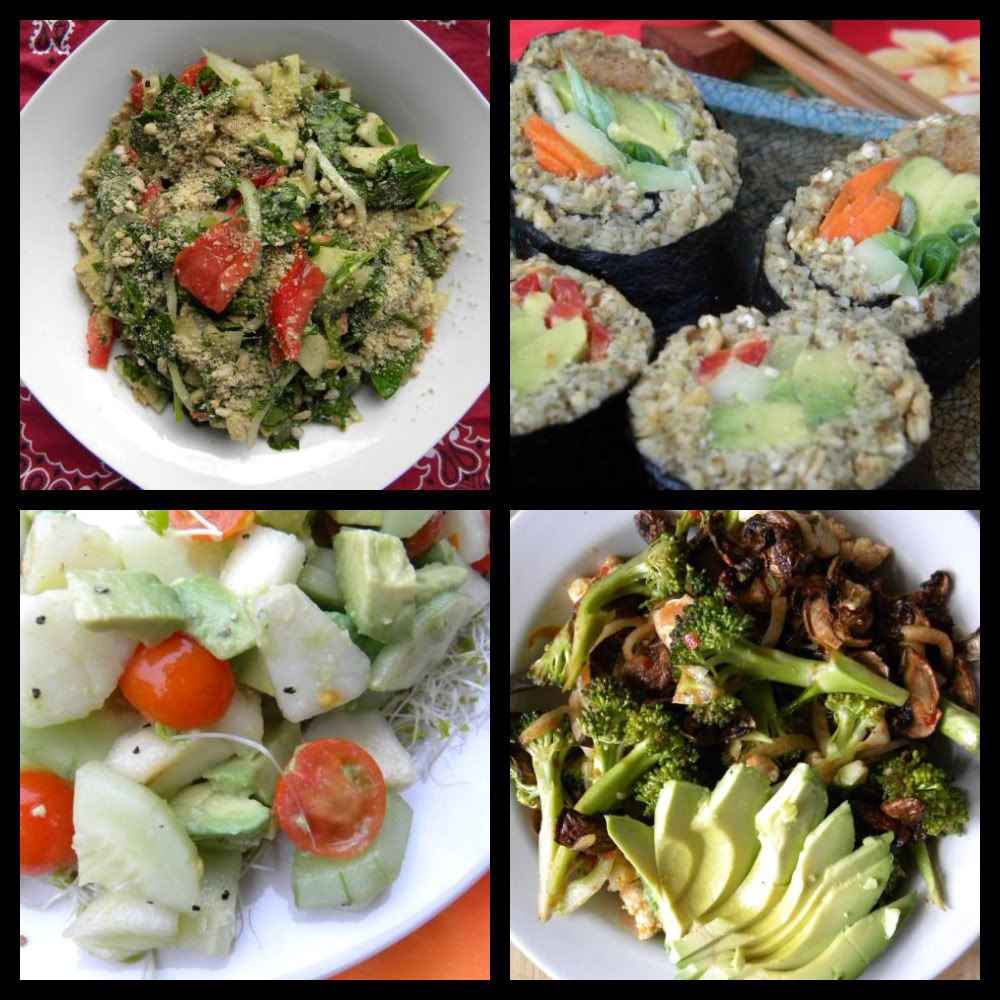 xoxo,