I was a little hesitant when I started out with this recipe because I've never made a Pumpkin soup before. Due to my limited experience with the intimidating orange gourd I really wanted to make sure that I didn't post a "so-so" recipe, but a flavorful, filling, and well rounded creamy soup. I'm happy to report that this recipe get's an A++ and I also plan on including it in my Thanksgiving meal plan.
Savory Cream of Pumpkin Soup
Makes roughly 2 dinner sized portions or 4 appetizer portions
1 & 1/2 c (packed) shredded Pumpkin flesh
1/2 c Red Bell Pepper - chopped
6 to 7 Sun-dried Tomato pieces - soaked in warm water to soften
4 tsp Date Paste //or// 3 Medjool Dates soaked until softened
1 (heaping) tsp dried Parsley
1/4 tsp ground Celery Seed
1/2 tsp Sea Salt (or to taste)
Place all of the above into your food processor and puree until it's smooth as you can possibly get it. This may take up to 5 minutes in the food processor. Don't worry though, you'll get there!
Step 2. Finishing your soup:
Transfer your pureed Soup Base into a blender
Blend Soup Base and Water together until smooth
Stove top Method
: Pour Soup into a sauce pan and gently heat on stove top - whisking continuously making sure not to overheat. When soup is warm to the touch then it's ready to eat!
Dehydrator Method:
Pour soup into a shallow dish and set inside of your dehydrator. Let it warm for thirty to sixty minutes, or until it's reached desired warmth.
Sunshine:
Place your soup in a glass container with a lid. Set your jarred soup in the direct sunshine (the back window of your car works wonderfully for this). Let your soup warm in the Sunshine for thirty to sixty minutes.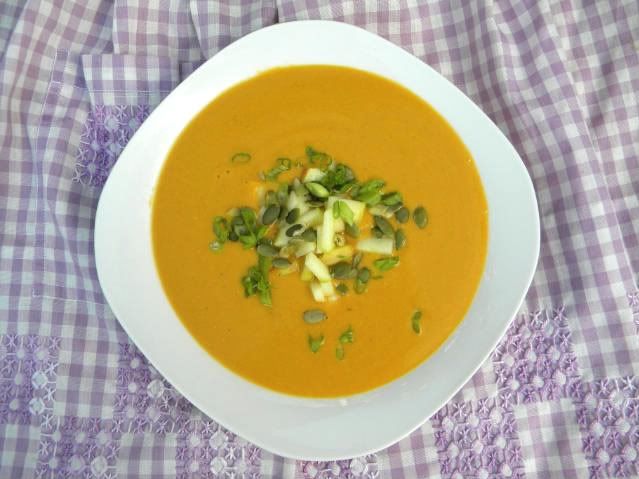 Garnish your soup with Green Onion, chopped crisp Apple, and Pumpkin seeds. Yum!
---
xoxo,