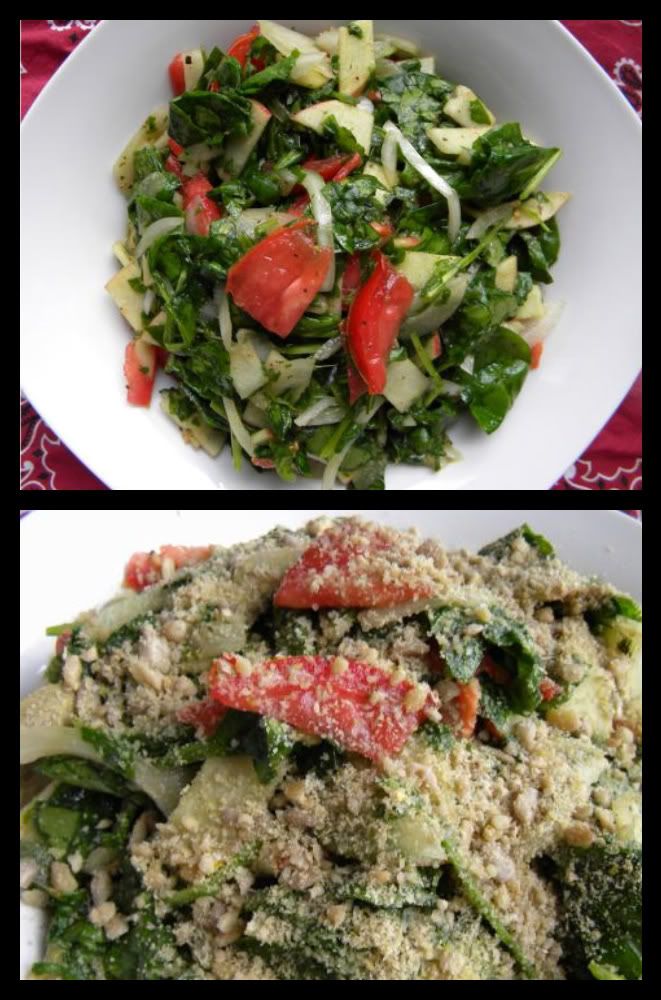 Spinach & Tomatoes (Apple too), with Garlic-Rosemary 'Breadcrumbs'
-
When I woke up this morning I was pleasantly surprised to see a message on my (personal) facebook wall from a friend and fellow Veggie Addict, asking for my opinion on how I would "raw-veganize"
this recipe
. At first glance the recipe didn't make much of an impact on me,
Spinach & Tomatoes with some herbs, butter and breadcrumbs
...nothing fancy or horribly exciting, right?
Ah, but I was wrong! Boy was I ever wrong.
By the time I finished writing a response to my sweet friends question my stomach was growling and I was craving Spinach & Tomatoes...like a fiend. After doing my traditional "Monday Refrigerator Inventory" I was off to the grocery store to pick up everything I needed (including a couple extras) for this amazingly tasty meal. I also wanted to note that I took the liberty of adding Apple to this recipe as well, and it was pretty brilliant of me.
I'd like to personally thank my awesome gal pal Heather for this recipe inspiration, and also for those of you who are still patiently waiting for me to respond to your request for easy dehydrator/food processor/blender-free recipes. This meal is SO simple, easy to make, and it's ready in a flash! I hope you try it, and heck, you might even decide to put it on your holiday meal plan like I have.
Also - don't forget to check out my warming method for this recipe if you don't have a dehydrator on hand.
Spinach & Tomatoes with Garlic-Rosemary 'Breadcrumbs'
This recipe makes enough for 1 large portion or 2 small side dishes
Step 1. Spinach & Tomatoes:
2 large handfuls of fresh Spinach - massaged until wilted
1 medium Tomato (with seeds) - sliced
1/2 c Apple - sliced
1/2 c Onion - sliced
1 Tbsp Parsley - minced
1 tsp dried Italian seasoning
1/2 tsp Garlic Granules
Lemon Pepper - to taste
Sea Salt - to taste
---Set Salad Aside---
-
Step 2. Dressing/"Butter"
1 Tbsp Coconut Oil - softened //or 1 Tbsp Canola Oil
1 Tbsp Canola Oil
1 tsp Lemon juice
1 tsp Nutritional yeast
dash of sea salt
Find a cute little tiny whisk and mix the above contents together until the Nutritional yeast has mostly dissolved.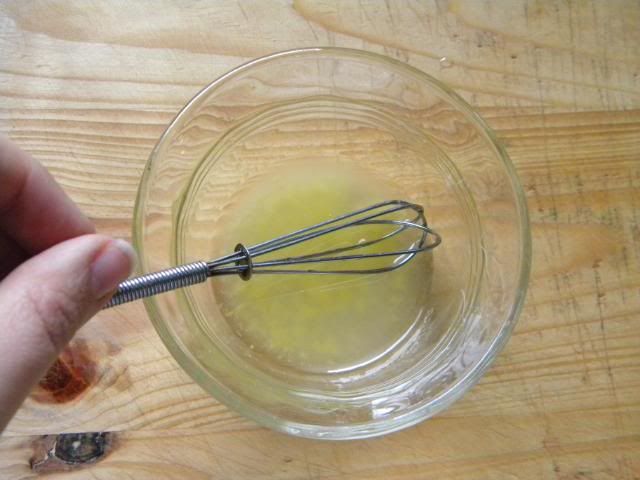 How adorable is that whisk?
-
Step 3. Rosemary-Garlic 'Breadcrumbs'
Into your nut/spice grinder (OR into a ziplock baggy) combine the following:
3 Tbsp Sunflower seeds
1 tsp Nutritional yeast
1/2 tsp dried Rosemary
1/2 tsp Garlic Granules
Grind (or smash with the flat side of a heavy skillet) until you've reached desired texture. I like to keep it fairly rustic.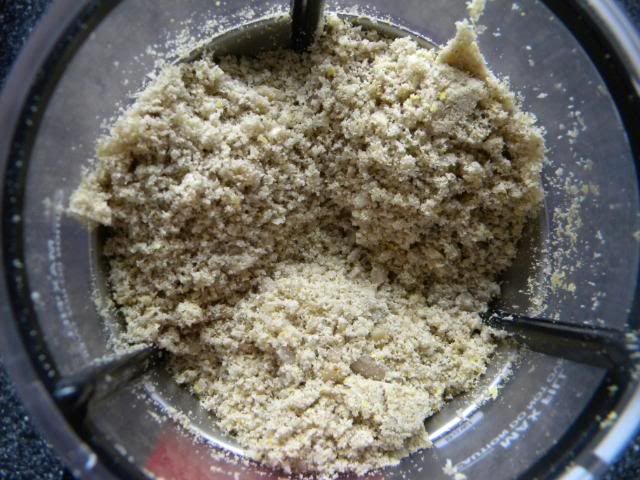 -
Step 3. Bringing it all together:
To your lovely Spinach & Tomatoes (and Apples) add the Dressing/Butter and mix together evenly.
-
Warming Your Meal:
From here you could eat this meal as is, or warm your Spinach & Tomatoes in a dehydrator...BUT since this is geared towards those of you who don't have a dehydrator here's another option:
Using a Large soup-style Pot fill it up with 2 inches of water, then bring the water to a boil on your stove top.
Place a wire cooling rack over your pot of boiling water.
Place your Spinach mixture onto a large piece of tinfoil (apologies to those of you who frown on using tin!) Once your mixture is on the tinfoil proceed to make a pocket around the contents, folding the corners and sealing it up!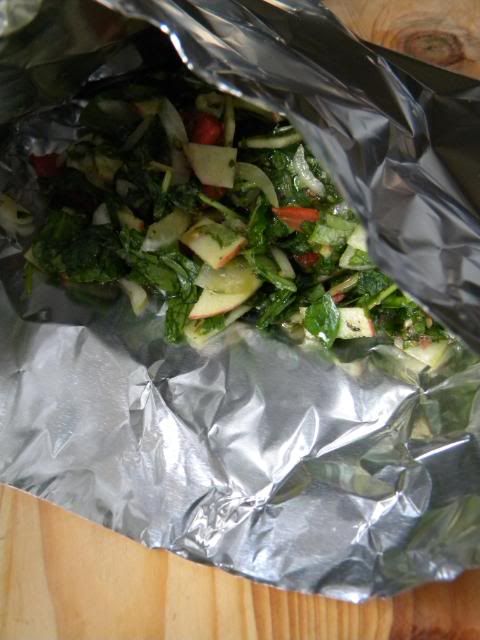 Place your tinfoil pocket of goodness onto the wire cooling rack that is placed above the boiling pot of water.
TURN OFF the heat on your stove.
From here you can monitor your Spinach mixture with a thermometer like I did to make sure that you're not over heating your food.
I let my pocket of Spinach & Tomatoes sit above the hot steam for roughly 4 minutes and promptly took it off the stove. I'd also like to note the the contents of the tinfoil never exceeded 118F.
At this point I was SO hungry for this food that I could barely contain myself!
...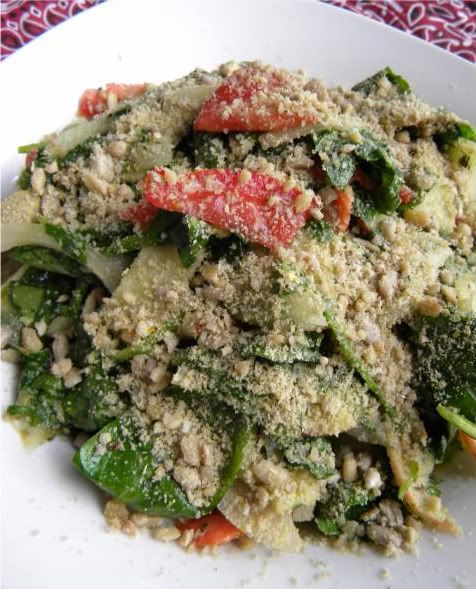 Garnish your Spinach & Tomatoes with the 'Breadcrumbs' and ENJOY!
---
xoxo,