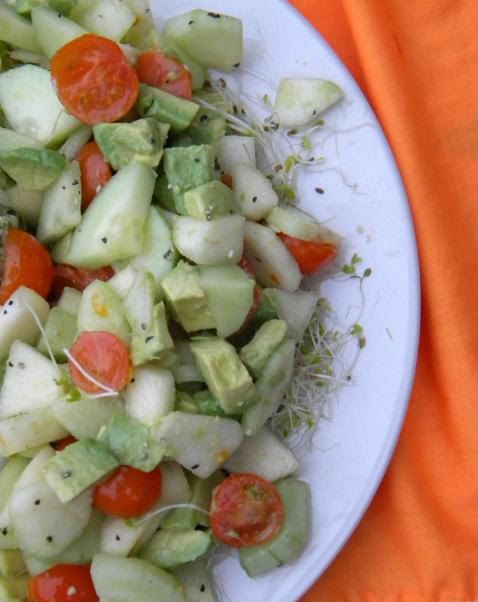 I honestly didn't plan on making something brand spanking new for dinner tonight, and I also didn't plan on it turning into such a simple and tasty success that I would want ever-so-badly to share it with you all. But I did, and it did!
The funny thing about this Salad is that I practically gave out the complete recipe in the Title of this post, so hows about I finish the details right now...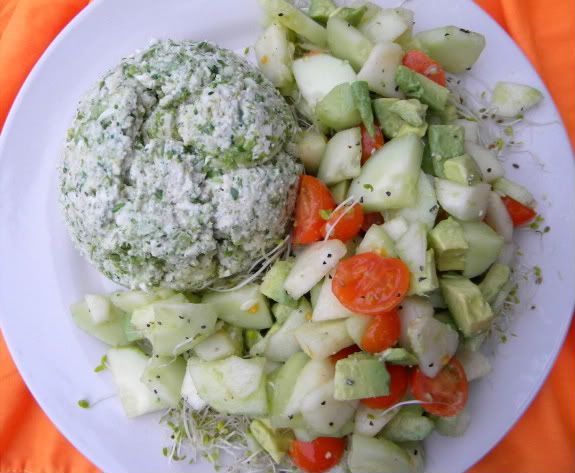 Pear-Cucumber-Tomato-Avocado Salad
Try to keep everything in this salad fairly uniform in size when chopping.
1 large Cucumber - peeled and chopped
2 ripe Pears (I used Bartlett) peeled and chopped
1 small basket of sweet Cherry Tomatoes - sliced in half (mine were from
the Farmers Market
)
2 Avocados - chopped
In a large mixing bowl combine the above ingredients, and proceed to add the following:
2 Tbsp Lemon Juice
Sea Salt & Cracked Pepper to taste
Toss evenly! The rest of the magic in this salad happens when you let it sit for about a half hour in the fridge to marinade. Amazingly simple and amazingly good!
Enjoy this salad on a bed of greens or as is.
---
For those of you wondering what else was on my Dinner plate, I also enjoyed
xoxo,