Apple Pie Cheezecake...oh man, where do I start with this one?
The only other thing I feel like I should mention about this recipe is the fact that it should come with a warning lable: Warning - Don't make this if you live alone. You will end up eating it all. I'm serious people.
I actually don't know if the above is a bad thing...but I do know that I'll be taking a large Apple Pie Cheezecake with me for my travels down to Southern California this Thursday, and I don't know if I have any plans on sharing it with my lovely family. I'll try, but no guarantees.
Okay, enough of this silliness - on to the important stuff...
Apple Pie Cheezecake
Step 1. Spiced Apples
4 Apples (I used Gala) peeled and chopped fairly uniform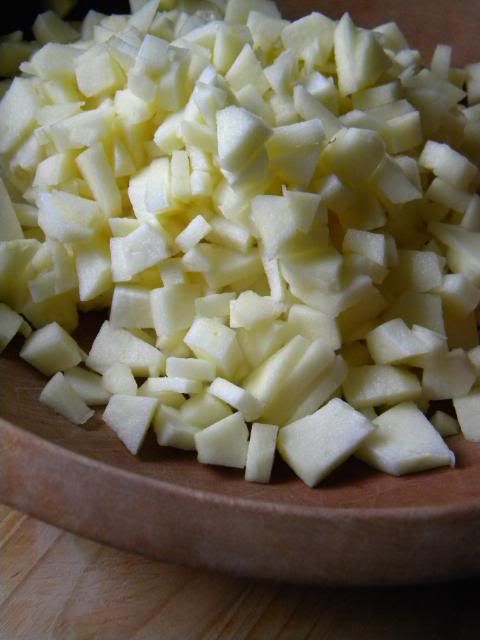 Add to your Apples:
1 Tbsp Lemon Juice
1 tsp Cinnamon
1/2 tsp Nutmeg
2 tsp Vanilla
1/4 tsp Sea Salt
Mix the above ingredients in with your chopped Apples, stirring until every piece of apple has been coated evenly. Transfer your Spiced Apples into the fridge and let marinade for at least 1 hour.
---
Step 2. Spiced Cheezecake Cream
The following recipe can make either two small upside-down Cheezecakes, or one medium sized upsidedown Cheezecake.
1 c Macadamia nuts
1 c Cashews - soaked for 2 to 4 hours
2 tsp Vanilla
2 tsp Apple Cider Vinegar
2 tsp Lemon Juice
12 Medjool Dates - soaked in warm water for 10 minutes, pits removed
1/2 c Coconut Oil - melted
1/2 to 1 tsp Cinnamon
1/2 tsp Allspice
1/2 tsp Sea Salt
Puree the above ingredients together for 5 minutes.
The mixture will most likely clump up in your food processor once or twice, so be prepared to stop and scrape down the sides of your processor, smooshing the mixture back down into the blades, and continue to puree. Set aside the cream. and move on to next step.
---
Step 3. Cheesecake Crust
1/2 c Walnuts
1/2 c Cashews
1/2 Tsp Cinnamon
1/4 tsp Sea Salt
Puree until an even crumble. Set aside.
---
Step 4. Assembling your upside-down Cheezecake
The following directions are for making one Large Upside-down Cheezecake, but you can also opt to make this in a normal Spring-form pan - right-side up.
-
Place one large sheet of Parchment paper over your large Tupperware container, proceed to line your large Tupperware container with your Parchment paper --- you can opt to do this by placing another Tupperware container of the same size inside of the first container, pushing the Parchment paper inside.
Proceed to fill your Parchment lined container with your Cheezecake filling like so:
Now grab your marinading Apples from the fridge...
Pile 3/4 of your Spiced Apples Onto your Cheezecake (make sure to set aside those remaining Apples for a topping...you won't be sorry you did!)
Mix your Spiced Apples into your Cheezecake Cream while it's in the Tupperware contianer, smooth over the top as much as you possibly can. Now quickly move your Cheezecake into the freezer for roughly a half hour so it can firm up. It's very important that your Cheezecake is firm before you apply the crust.
Once your upside-down Cheezecake has firmed you can go ahead and apply the crust! Pack it on evenly and throw it back in the freezer for another half hour. When you're ready to eat your Apple Pie Cheezecake flip it over onto a large plate, peel of the Parchment paper and have at it...
Don't forget to top your Cheezecake with the reserved Spiced Apples that you set aside previously. Proceed to eat with caution...or before you know it this Cheezecake will be gone and you'll be all alone with no one else to blame.
xoxo
Sarahfae - AtV
P.S. I wanted to thank my lovely friend Lacey at
Lacey Loves Food
for giving me a Versitile Blogger Award! I promise my next post will include a recipe and 7 things about me you don't know...so if there's anything special you want to know about me pleaseplease feel free to ask in the comments. If I don't get more than seven questions from you all then I'll be sure to answer
your
questions in the next post.
Thanks Lacey!!