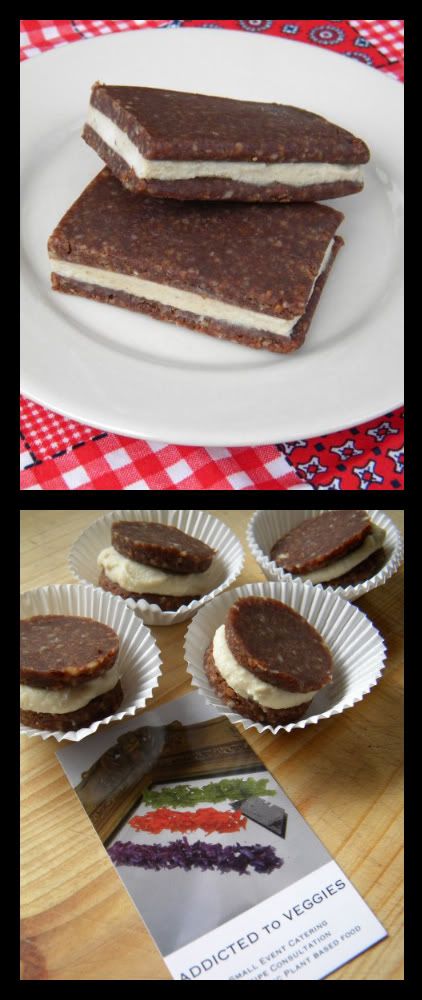 How could ANYone turn away an Ice-cream sandwich? This recipe is simple, guilt-free, it keeps ridiculously well in the freezer, and you can enjoy it at any time of your day. Make a whole bunch and share them at your backyard barbecue...or you can be like me and keep them a secret so you don't have to share! (Oops...did I just admit to that?)
They are seriously so good!
-
AtV Ice-cream Sandwiches
Step 1. The Brownie Sandwich
Set in fridge to chill for at least 1 hour while you move onto Step 2.
-
Step 2. The Vanilla Ice-cream Filling
1 c Macadamia nuts
1 c Cashews - soaked for 2 to 4 hours
2 tsp Vanilla
1 tsp Apple Cider Vinegar //or//White Balsamic Vinegar
8 Medjool Dates - soaked in warm water for 10 minutes, pits removed
1/2 c Coconut Oil
1 tsp Lemon juice
1/2 c Water
Puree until very smooth --- move on to assembling.
-
Step 3. Assembling your Sammy (rough instructions)
Taking 2 pieces of parchment paper, place 1/4 of the Brownie batter in between the two pieces of paper.
Use a rolling pin to roll and flatten the brownie into desired thickness and size.
Once your Brownie has been flattened, divide into two halves and lather one side up with your Vanilla Ice-Cream filling...
Place the un-lathered half of your Brownie on top of the Vanilla Ice-Cream half and immediately transfer to your freezer. Store for at least one hour until thoroughly chilled/froze. You can also make multiple batches of Sandwiches and store them in your freezer for an unlimited amount of time, remove them 10 minutes before eating and enjoy!
Don't be afraid to get creative like I did with your Ice-cream Sandwich's look! For mini round sammies I used the top of a salt shaker...but you could use practically anything. Just remember to use parchment paper when rolling out your brownie, this will ensure that it doesn't fall apart or stick to your counter/cutting board.
Next time I think I'll try using different shaped cookie cutters.
xoxo,