Even though a majority of my diet is due to choice I still find myself missing certain flavors and textures that can be so difficult to "fake" without cooking. That is why I've decided to start a new type of post called AtV Favorite(s). AtV Favorite(s) will be dedicated to those recipes that hit the spot when I'm craving good old fashioned comfort food. It just doesn't get any better than that.
I'm seriously in love with the following recipe on SO many different levels, I can barely contain myself! When I was a kid I used to look forward to Thanksgiving for one main reason: my Mom's Deviled Eggs. They were magical. Even though it's been years since I've had a real Deviled Egg I still think of them and heave a sigh. Until yesterday I resolved that I'd most likely never find a substitute equal to that favorite childhood food...
Until yesterday...
Deviled Eggless Salad
Makes 3 to 4 servings, depending on how much you want to share
-
Step 1. Deviled Eggless Salad
1 c Macadamia nuts
1/2 c packed Zucchini - peeled and chopped
2 Tbsp Mustard - Yellow or creamy Dijon
1 tsp Ape Date Paste //or// 1 Medjool Date - soaked in warm water for 10 minutes
2 tsp Onion powder
2 tsp Nutritional yeast
1/4 tsp Garlic Granules
1/4 tsp Kelp Granules
1 tsp Apple Cider Vinegar
Sea Salt to taste
1/2 c Water
Puree all of the above ingredients together until completely smooth --- Transfer to mixing bowl
-
Step 2. Salad components
1 c packed Zucchini - peeled and chopped well (this acts as your hard boiled "Egg White")
1/2 c Celery - chopped well
1/2 c Onion - chopped well
2 Tbsp Relish - optional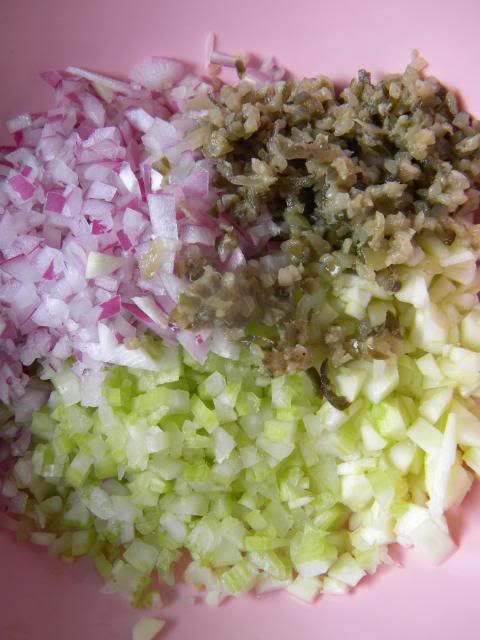 Add your Deviled Eggless Salad Mixture to your Salad components and mix together well.
Enjoy on it's own, as a dip, a sandwich...get creative!
Deviled Eggless Salad on top Yellow Squash and Sprouts
xoxo,