I've already eaten five rolls of this sushi so far over the course of this week, and that's not counting the rolls that are in my fridge (I'm taking them camping with me tomorrow). To be perfectly honest, one of the foods I've had a big problem with converting to an "uncooked" recipe has been sushi. I've done the cauliflower rice, the sprouts, the chopped zucchini, you name it and I've probably given it a try. In my opinion sushi is something that just doesn't taste right without rice...Nori isn't the same to me when paired with anything else. In fact I don't even really like the taste of Nori without real rice. The problem? I can't eat rice without suffering incredible stomach pains and...well...lets just say other "unlady-like" symptoms. This is why I love Oat groats, and why I now can enjoy sushi (and Nori!) once again, in a whole new "uncooked" way!
Ready? Let's go!
Brown 'Rice' Sushi
This recipe is very similar to my Brown 'Rice' - with a slight tweaking
(soaked Oat groats)
Step 1.
Brown 'Rice' Prep
3 c Oat groats - soaked 16 - 24 hours
After your Oat groats have finished soaking proceed to drain, rinse, and dry them - removing as much of the soaking liquid as possible. I like to do this by wrapping my Oat Groats in cheese cloth and squeezing it a few times.
Transfer your Oat Groats into your Food Processor and pulse roughly 10 times, or until your Oat Groats have been evenly broken/chopped. ***You do not want to make Oat Groat meal, so be careful not to over process.
You can also opt to chop your Oat Groats by hand. This may take some time, but the end result is well worth it.
(chopped Oat groats)
---
Step 2.
Brown "Rice" Flavoring
Combine the following into a Nut Grinder (my nut grinder is just a fancy coffee grinder in disguise):
1/4 c Pumpkin Seeds
2 Tbsp Brown Flaxseed meal
1 Tbsp Dillweed - dried
1 Tbsp Nutritional yeast
Sea Salt to taste
---Grind until the above ingredients become a fine powder---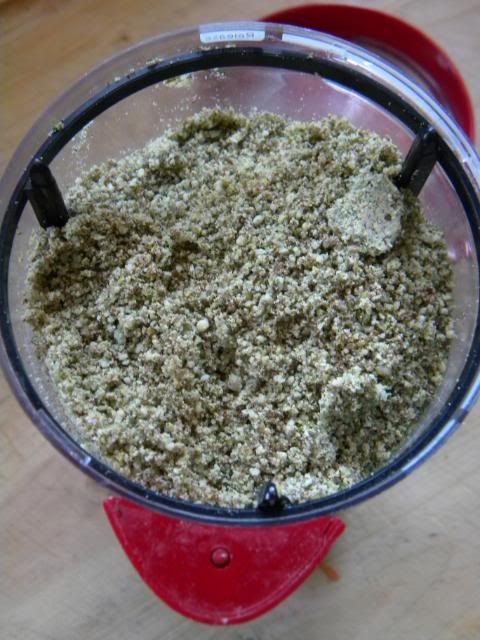 (Ground Brown Rice Flavoring)
---
Step 3.
Making your Sushi 'Rice'
In a mixing bowl combine the following:
3 c Oat Groats - previously chopped
Entire batch of Brown "Rice" Flavoring (from Step 2)
- Mix evenly -
2 Tbsp Apple Cider Vinegar
2 Tbsp Date Paste
- Mix Evenly - (at this point the mixture will begin to get sticky - this is a good thing!)
Your 'Rice' will look like this: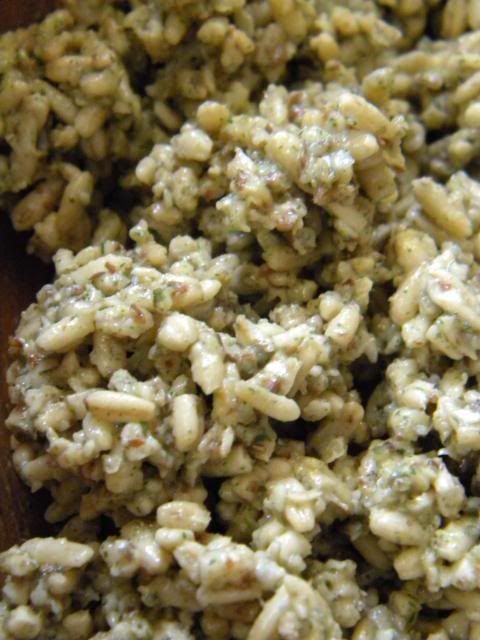 Store your Sushi 'Rice' in an air tight container - it will keep in your refrigerator for about 2 weeks, and up to 3 months in your freezer. If I'm worried that I won't be able to consume all of the rice before it spoils in the fridge then the freezer is a wonderful option.
Now lets assemble some Sushi!
The same technique as making normal Sushi rolls applies here. Using a metal spoon, smooth out your 'Rice' onto your dampened Nori sheet...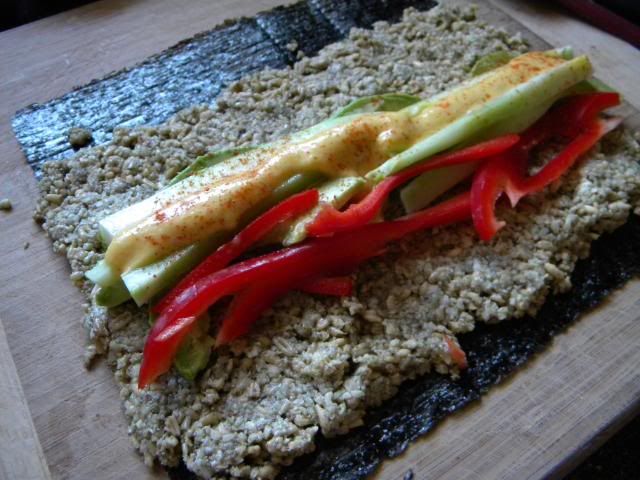 Add your favorite Sushi fillings --- the above roll had Broccoli stems, Red Bell Pepper, Green Onion, and my Favorite -
Sweet Garlic Aioli
with a few dashes of Cayenne for a kick.
Another favorite combination of mine is: Avocado, Carrot, Green Onion, and Spicy Almond Butter (basically Almond Butter and Cayenne).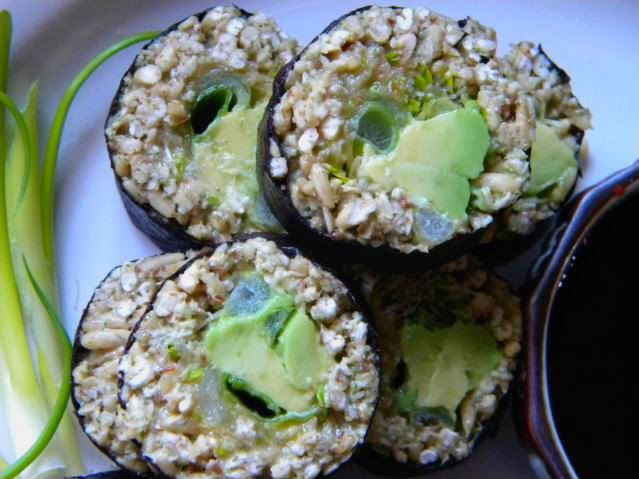 Reasons why AtV loves Oat Groats:
1/2 cup of Oat groats (you can make 1 to 2 Sushi rolls from that!) contains the following...
28% of your daily Protein
8 grams of your daily dietary Fiber
10% of your daily Iron
Annnnd...Oat Groats found in the bulk foods section of your local grocery store are half the cost of Brown Rice!
Now go make some Sushi!
xoxo,