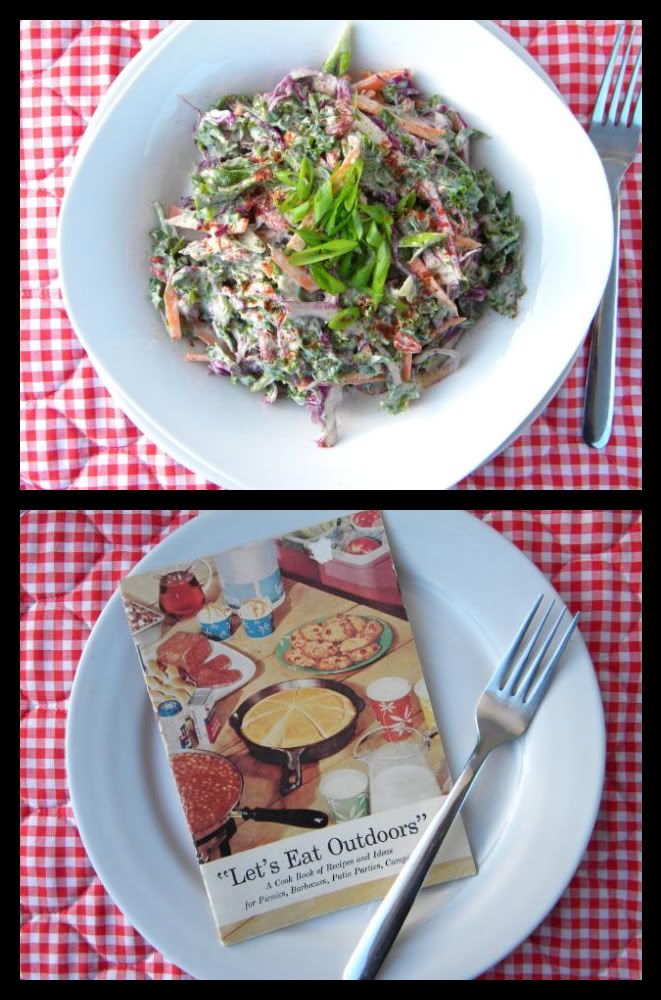 It's no secret that I'm in love with
Caraway
.
Thanks to "Lets Eat Outdoors" for this
Retro to Raw
inspiration - one of my many vintage recipe Pamphlets (this one from the 60's), which was sponsored by some pretty interesting food brands: Karo Syrup, Spam, McCormick(McCormick-Schilling at that time), VanCamp's to name a few. *Shivers*
Rest assured that my interpretation of this dish is packed full of nutrition. In addition to a dangerously delicious creamy dressing you'll find fresh Kale & Goji Berries thrown into the mix!
---
Also ---
a little note to those of you who might not be a big fan of Caraway
(love you
Marci!
):
While this recipe calls for Caraway as the main flavor for the dressing (yummm), I wholeheartedly respect those of you who don't crave it like I do. Please don't hesitate to omit the Caraway for a different herb/flavor component i.e.: Tarragon, Parsley, Dill weed, etc. There's no rules here - only super tasty suggestions!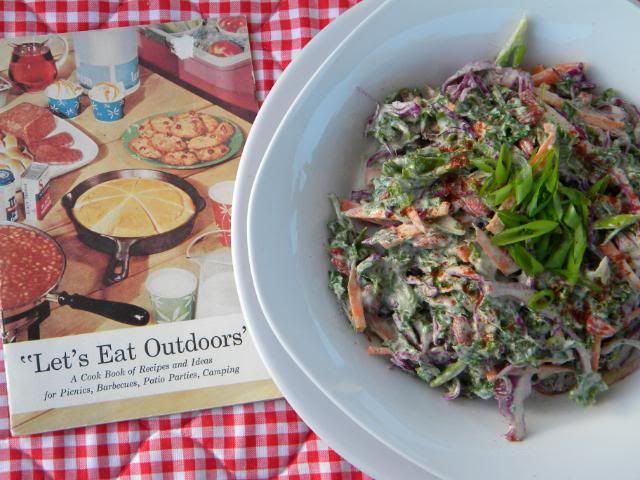 Caraway Cole Slaw
-Makes 2 to 3 main dish sized portions-
-
Step 1. Caraway Dressing:
1 c Zucchini - peeled and cubed
3/4 c Macadamia Nuts
3 tsp Apple Cider Vinegar
1 to 2 Tbsp Caraway Seed - ground
1/2 tsp Black Pepper
1/4 tsp Sea Salt
1/2 to 1 cup Water --- add 1/2 c Water first, and more as needed for desired consistency/thickness
Puree all of the ingredients until very smooth. Store in air tight container in fridge
---
Step 2. Cole Slaw
1 bunch of Kale de-veined and Massaged until evenly broken down
1/2 small head of Purple Cabbage
1 medium Carrot - julienned
5 to 6 fresh Green Onion shoots - sliced thin on the bias
1/2 c Raisins //or// Goji Berries -soaked in warm water for 10 minutes
In a large mixing bowl combine the above "Slaw" ingredients, and toss with (optional but good):
1 Tbsp Lemon Juice
1 Tbsp Coconut Nectar //or// Liquid sweetener of choice
-
Add entire batch of Caraway Dressing to your Slaw and toss/mix evenly.
Top your Cole Slaw with a pinch of Paprika and fresh Green Onion.
---
Confession: I enjoyed this recipe so much that I snuck back to the fridge later on that evening and finished the rest of the slaw all to myself! Shameless!
xoxo,