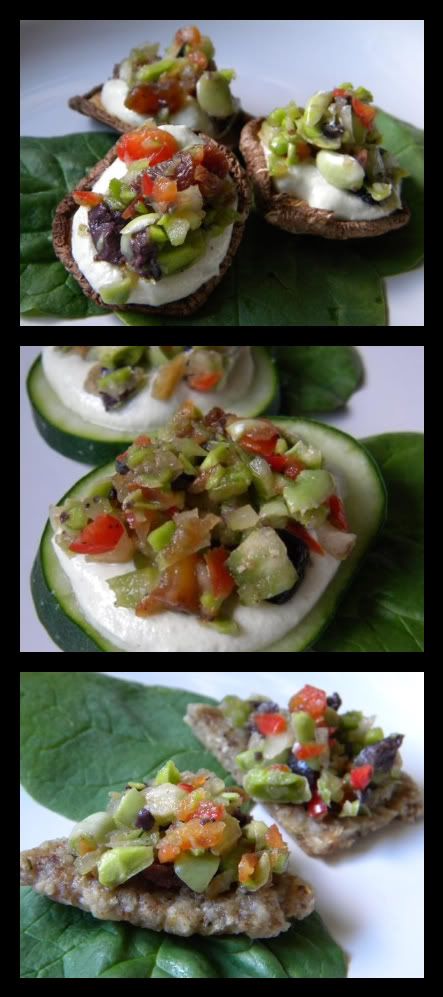 Savory Fava Bean 'Crostini' with Garlic Creme Fraiche - three ways


Here's my play on the very well known Crostini. Living with a gluten intolerance, I'm always thinking of food that can fool my palate and satisfy my cravings for bread at the same time. This is definitely one of those dishes, and I'm happy to report that my taste-testers agree. No matter how you serve this, and even if you opt to not use the Garlic Creme Fresh, the Savory Fava Bean Tapenade alone (or paired with sprouted Quinoa as a sort of 'Tabbouleh') is a yummy success.
-
Step 1. Savory Fava Bean Tapenade
1 c Fava beans raw
1 c Red Bell pepper - chopped
1 c White Onion - chopped
1/2 c Celery - chopped
Pulse/chop the above ingredients evenly and transfer to a mixing bowl
Add to the Tapenade:
1/4 c Olives //or// Capers - hand chopped
9 to 10 dried Apricots - chopped
Mix the Olives/Capers, and Apricot into the Fava mixture.
---
Step 2. Make 1 batch of Garlic 'Creme' Fraiche
---
Step 3. Assemble your 'Crostini', 1 or all 3 different ways:
Dehydrated Shiitake Mushroom top
Dollup of Garlic Creme Fraiche
Top it off with Savory Fava bean Tapenade
---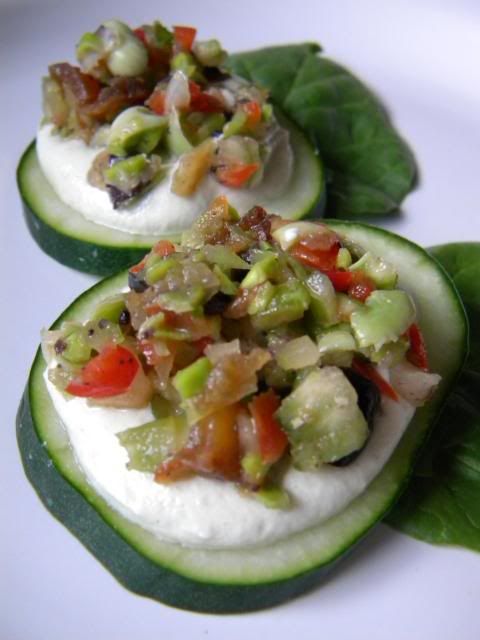 Thinly sliced Cucumber (sliced on the bias)
Dollup if Garlic Creme Fraiche
Savory Fava bean Tapenade
---
Savory Fava bean Tapenade
Sea Salt and Pepper to taste
---
Tasty Eating and Happy Saturday to you all!
xoxo,