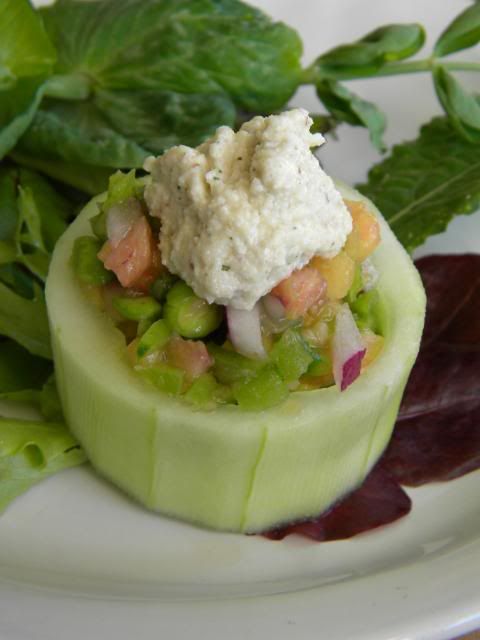 This one is so simple, so quick, and so fresh! Oh yes - this is also another perfect Summertime food too. If you make a double batch then you could also present it as an appetizer to any outdoor potluck/picnic, including your own! I think I'll be making this as a side dish for our Father's day bash this weekend...hopefully the omnivorous family will approve.
---
Peachy Pea Compote in Cucumber Boats
Step 1. Compote:
2 Peaches - peeled and chopped very well (this adds up to roughly 1/2 cup)
3/4 to 1 c Snap Peas - chopped very well (pod included)
2 to 3 Tbsp Onion - minced
1 tsp Medjool Date Paste
Mix the above ingredients very well - set aside.
Step 2. Cucumber Boat:
1 large Cucumber - peeled
Slice Cucumber into 1/2 inch rounds
Hollow out 3/4 of the Cucumber seeds/inside
Make sure to leave a bottom to your Cucumber round - otherwise your filling will fall out when you pick it up!
Stuff the Peachy Pea Compote into the Cucumber rounds and top with either:
or
A dash of Sea Salt & Lemon Pepper
---
On a silly side note:
Depending on the time of day that I make a recipe, I'll often scamper throughout my house (and backyard) trying to take a decent photo of my plate using natural lighting. This will all change eventually, when I trade my little point-and-shoot in for a more serious "big girl" camera.
In the back ground of this photo you can see one of my furry pals Elmer. He usually acts as my shadow while I'm "searching for good lighting"...hoping (I'm sure) that a veggie will fall off of my plate. Not this time buddy.
xoxo,