I've decided to try something new with the current
"Weekly Veggie"
: Posting recipes throughout the week rather than on Sunday. I'm hoping that this works out a little better for precious times sake...lets see how it works for you guys.
The following recipe is for a lovely person I've had the pleasure of chatting with over at livejournal's
Raw Veganism Community
. So thank you L, you helped with this recipe more than you know!
Cali Cauli 'Couscous' - loaded with Fava beans, Shitake & Crimini Mushrooms
This recipe makes enough for two or three people.
*Indicates substitutes or more information at end of recipe.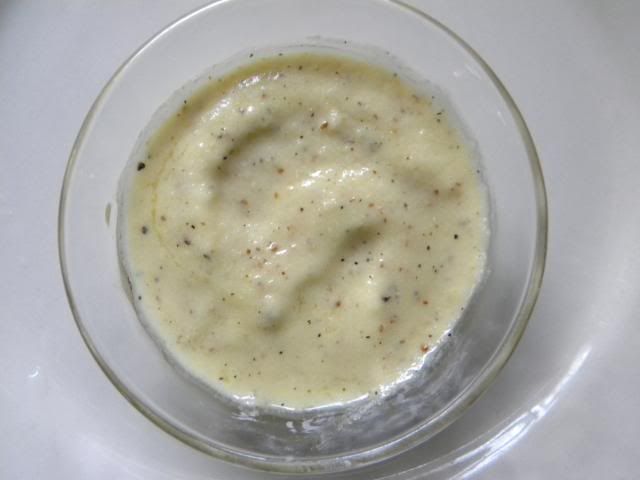 Step 1. Couscous Dressing
(this is what you will toss your 'Couscous' mixture in, not to be confused with the cream sauce displayed in above photo)
*1/2 c Zucchini - peeled and shredded
2 Tbsp Coconut Oil - melted //or//2 Tbsp Extra virgin olive oil
1 Tbsp Lemon juice
1/2 tsp Garlic Granules
1/2 tsp Black cracked Pepper
Pinch Cayenne - or to taste
Sea Salt to taste
1 tsp Date paste //or// liquid sweetener of choice
-
In food processor or high speed blender puree the above ingredients until smooth and creamy. Set aside.
*To remove some of the moisture in your Zucchini lightly salt it (this helps release the water) and store it in an air tight container in your fridge overnight. Squeeze your Zucchini before using it and you will find that this helps the "creaminess" of this dressing.
-
Step 2. Making your Cali Cauli Couscous
2 c Cauliflower chopped - (optional: dehydrate for 1-2 hrs)
1/4 c Rutabaga - peeled and shredded (optional: dehydrate for 1-2 hrs)
1 Tbsp Chives dried //or// fresh Chives - 2 or 3 shoots
1 Tbsp Nutritional yeast
In food processor pulse ingredients until evenly broken down to real Couscous size. Transfer 'Couscous' to a mixing bowl and add the following:
1/4 c Onion - finely chopped
*1/4 to 1/2 cup Fava beans - chopped
*1/4 to 1/2 cup Shiitake Mushroom - chopped
Fold the Onion, Fava beans and Mushroom into the 'Couscous'. Mix evenly.
Once you've tossed your 'Couscous', add the entire batch of Dressing that you had previously made. Mix evenly into 'Couscous'.
*If you don't have Fava beans on hand don't worry about it --- go ahead and use peas or green beans instead. You might even try Celery for more of a crunch!
*In this recipe I used fresh raw Shiitake, but I also love dehydrated my mushrooms too. Shiitake is a fairly pricey mushroom, so by all means, feel free to sub with Crimini or Button if you prefer.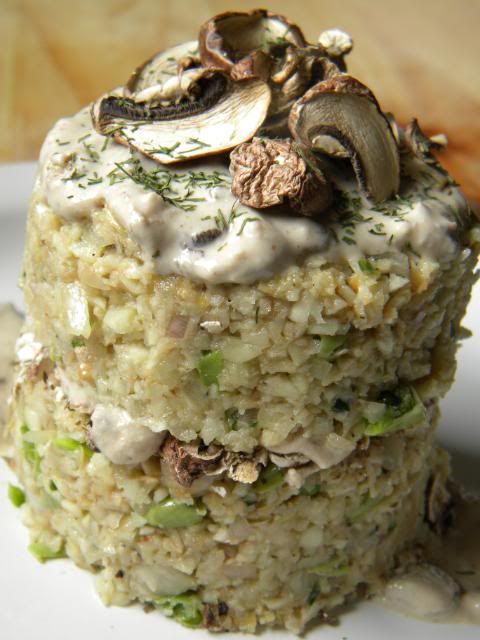 Serve with a Creamy Shiitake Sauce (recipe COMING SOON) and top with fresh or dehydrated Crimini mushrooms.
Please hang around! I will be posting a recipe tomorrow for that Creamy Shiitake Sauce featured in the above photos, including much more yummy stuff. Hope you all are enjoying your week so far.
xoxo,