Due to a current home wireless problem (or lack there of) this evening AtV is coming to you from a remote location;
A cozy local coffee shoppe, sipping on a mug of warm tea, live jazz quartet playing in the background, and Mr. AtV sitting across the table from me. This wasn't a planned event, but it's turning out to be really relaxing and fun! I may just have to make this a Thursday night tradition. Maybe I can even convince the hubby to do a little soft-shoe with me...right now the quartet is jamming OUT to "Love for Sale". I am a serious nerd for this kind of music.
Okay, back to the real point of this post...
Here's a little something I had for dinner tonight. While it is very similar to many things you've already seen here, the Apple in this recipe is such a rock star, making for a savory and filling dish that was gone within minutes.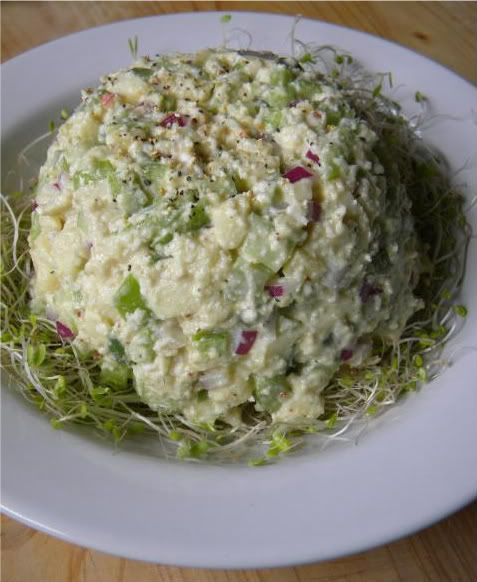 Cottage Apple Salad
-
Step 1. Assembling your salad:
1/2 Apple - chopped (I used
Braeburn
because their flavor is sweet with the perfect hint tart)
1/4 medium Red Onion - chopped
1 Celery stalk - chopped
1/2 small Green Bell Pepper - chopped
Place these ingredients into a mixing bowl and set aside
-
Step 2. Preparing your Cottage Cheeze mixture:
3 Tbsp Water
1 tsp Dijon Mustard
1 tsp Nutritional yeast
Black Pepper to taste
Mix these ingredients together in a small mixing bowl.
Add your Cottage Cheeze to the bowl containing your Apple/Veggie mixture. Toss evenly. Enjoy as is, or pile it on top of a bed of your favorite greens.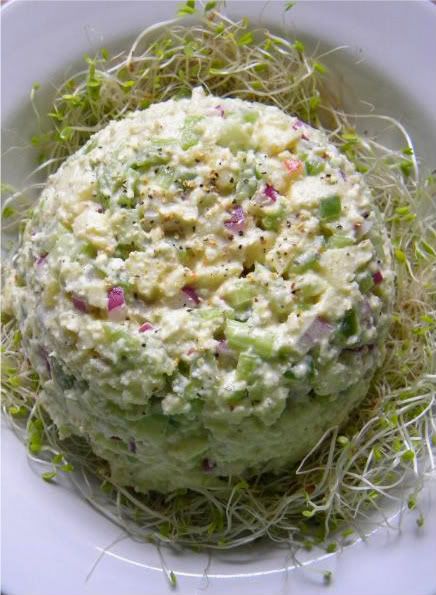 Happy Thursday night everyone!
xoxo,