Disclaimer:
This soup may require supervision while eating, due to it's dangerous levels of tastiness. Please eat at your own risk. Alright, with that out of the way...
I have to admit that I did not plan what happened in my high speed blender last night. I blame it completely on food fate, and I am so glad that I decided to write it down too! You might remember me mentioning in a
recent post
that one of my most favorite soups from my pre-AtV days is
Split Pea
. Well, my other favorite soup is Tomato Bisque. Back in the day I made a wicked Tomato Bisque with the perfect hint of spice, and of course (like my Split Pea soup) I'd almost always make an enormous batch so I could eat it for days on end. I got no shame people!! It was with no intention but to use up some leftover veggies that I happened to recreate this beloved soup, with an AtV twist. I was so surprised I could hardly stand it! So I sat down, and ate two bowls.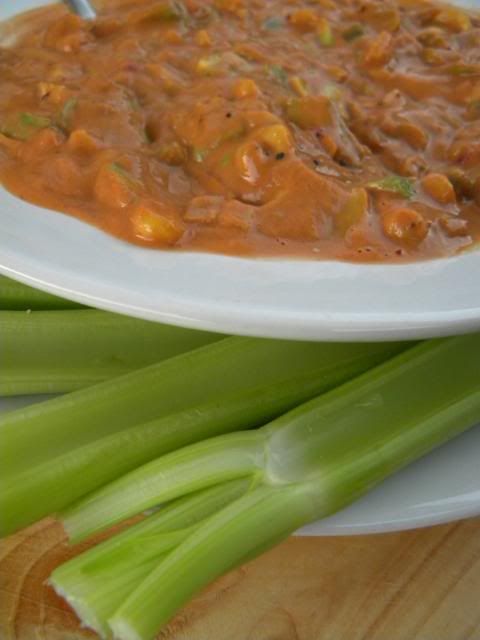 Creamy Tomato-Veggie Bisque
Makes 2-3 Servings. See below for specific Water measurements for Food Processor & Blender
1 c Cherry Tomatoes - sliced in half and packed
7 Sun-dried Tomatoes - soaked in warm water for 10 minutes or until soft
1/2 c Cashews - soaked 2 hours
1/2 c Celery - chopped
1/4 c Bell Pepper - chopped
1/4 c Zucchini - peeled & chopped
**2 Tbsp of your favorite Pesto
1 clove Garlic
4 Tbsp Apple Cider Vinegar
2 heaping Tbsp Medjool Date paste //or// 4 Medjool Dates soaked in warm water fro 10 minutes
Water: Food Processor --- 1/2 to 3/4 c
Water : High Speed Blender --- 1 c
-
Puree all of the ingredients for 10 minutes in Food Processor, until smooth and creamy
Puree all of the ingredients for 3 to 5 minutes on High Speed Blender on high, until creamy and warm
-
Add to your pureed soup:
1 tsp Onion powder
1 tsp Oregano dried
1/2 tsp Celery Seed ground
1/2 tsp Lemon Pepper
Cayenne to taste
Sea Salt to taste (you really don't need to add any!)
Look at that messy bowl!
Enjoy your soup plain, or add some fresh chopped veggies. In my bowl I added fresh Corn, Avocado, diced Red Onion and Bell Pepper.
xoxo,