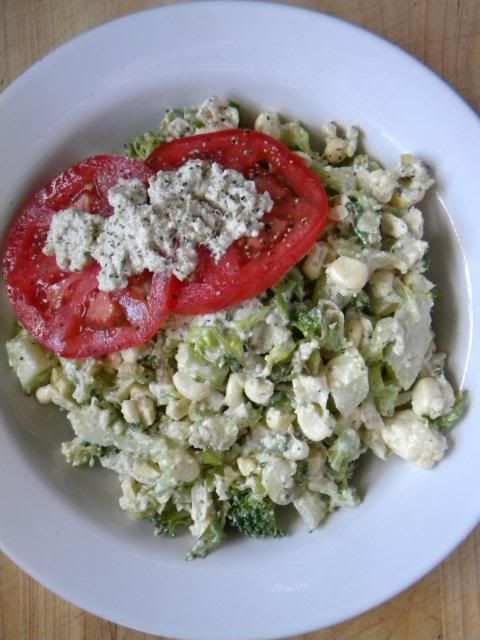 This is such a great simple dish, and one of my current most favorite "quick and easy" go-to meals.
If you have all of the ingredients it makes for a very satisfying meal all on its own, and it can also be a very surprisingly successful side dish to bring to a potluck. If you don't tell anyone that it's dairy, gluten, meat free and raw then you won't have to worry about any raised eyebrows, and you WILL have people asking for the recipe once it's all been scarfed down. I promise! I've already done this twice.
Cheezy Corny Chopped Salad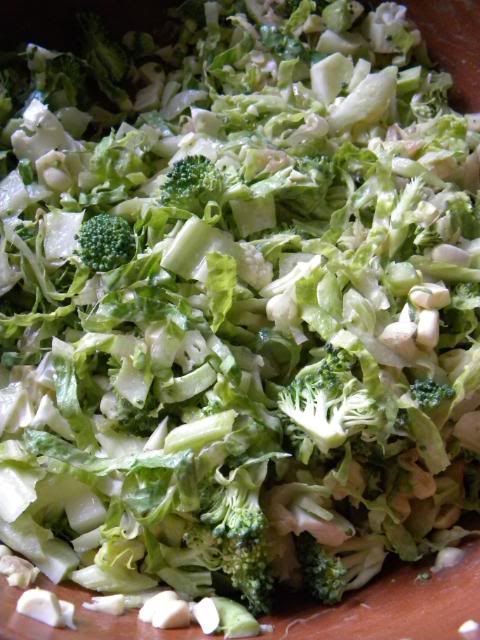 In your favorite Salad serving bowl combine the following:
1 c Cauliflower - chopped
4 to 5 Romaine leaves -
chiffonade
(my favorite way to cut just about any leafy green)
3 limbs of Celery - chopped
*2 ears of fresh Corn - removed from husk
*For a different twist you can opt to use fresh or frozen green Peas in place of the Corn - just remember that you won't be able to call it a Cheezy Corny Chopped Salad if you decide to do so. Instead you'll have to call it Easy Peasy Cheezy Salad! (Thanks for this RAD rename idea Heather!)
Step 2.
Toss the chopped Salad with one of the following:
4 to 5 Tbsp of the following salad dressing:
Spicy Orange Viniagrette
Into your Food Processor or High Speed blender:
1 Orange,
Sectioned
(squeeze the Orange remains into the processor/blender to be sure that you're not missing out on any juices!)
1/2 c Extra Virgin Olive Oil
1/3 c Apple Cider Vinegar
1/2 to 1 tsp Orange Zest
1 tsp Chives (dried)
Make 1 Batch of the following:
Caraway Cottage Cheeze
1/4 c (packed) Zucchini - peeled and shredded
1 c Raw Macadamia Nuts
1 pinch Lemon Pepper
1 (heaping) tsp Dijon Mustard
(this is my personal favorite brand)
1/2 tsp Garlic Granules
2 tsp Ground Caraway
1 tsp Dillweed dried
1/2 Tbsp Lemon Juice Sea
Salt to taste
1/4 c Water
Pulse/Puree the above ingredients very well, scraping down the walls of your food processor two or three times making sure to keep the 'Cheeze' slightly grainy in texture. Add all //or// half of the batch of Cheeze into your Corny Chopped Salad - and POOF: It's Cheezy!