This episode of "Weekly Veggie" has been canceled....
But wait! Don't be sad, there's still gonna be some fun and exciting food happening!
Due to an ABUNDANCE of leftovers in the Addicted to Veggies refrigerator, this week has been dubbed Leftover Week!
Below you will see proof that I have a lot of food to go through, and a LOT of fresh produce to incorporate into the mix. I really hope that you'll join me in this fun kitchen adventure!
Not to worry, even if you don't have the leftovers that I do you'll still be able to make the recipes you see in the coming weeks. I will make sure to give options and substitutes, because I can't imagine all of you will have a half cup of dehydrated Leeks, and one third cup of pickled Beets just lying around.
Leftover Week
In this photo (in addition to WAY too much rubbermaid) you see:
3 large Shredded Zucchini
Peels from 3 large Zucchini
Pineapple - chopped
Broccoli - chopped
Cauliflower - chopped
Celery - cut on the bias
White Onion - sliced
Caramelized Leeks
I also have a lot of fresh un-chopped produce like this: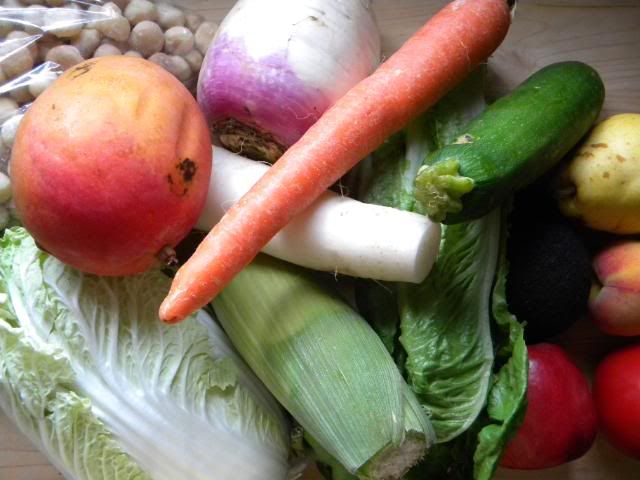 Not photographed, but still in my fridge:
Cashews
Pecans
Walnuts
Hemp Seeds
Sunflower Seeds
Pumpkin Seeds
Ground Flaxseed
Nori sheets - un-roasted
Wakami - shredded
Dried/shredded Coconut - unsweetened
Medjool Dates - (a LOT of 'em) this is my #1 sweetener or choice
Apple Cider Vinegar - unfiltered
Wow - This is fun!
I've also got an enormous collection of Spices! One of my favorite parts of my kitchen...and one of my favorite places to hang out in the grocery store too.
"Spice Corner" - in my Kitchen.
Notice the lovely gas stove that yours truly never uses, except for an occasional heating up of water for my tea-time. Behind me (not pictured) is the area of my kitchen where I spend the most time - featuring a big counter top, my kitchen sink, my cutting boards, and "Gadget Corner". I hope to post photos of that area sometime in the near future, as soon as I find the time put up some kitchen curtains.
For now I'll show you a photo of my view from my favorite Kitchen counter out to my backyard...
xoxo,