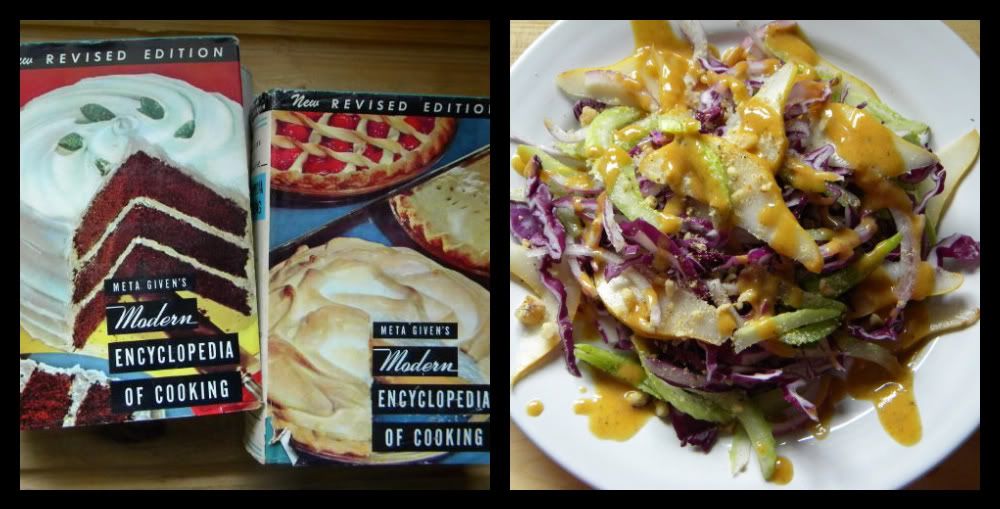 Part of this recipe is a tribute to
Nikki over at Yummy Raw Kitchen
. And Her
recent post
regarding Salad Dressing...oh how we love salad dressing! The following dressing in particular just so happends to be a new favorite, and has currently been dubbed AtV's "best salad dressing ever" (in our kitchen at least).
The other part of this recipe is the kick off to a specific type of post you'll be seeing more frequently on AtV:
"Retro to Raw", is when I (Sarahfaé) will take a recipe from one of my many beloved Vintage Cookbooks, and adapt/translate it to Vegan and Raw. Sometimes the recipe will only be slightly tweaked and other times the recipe might have you on the edge of your seat wondering "what the heck is going to happen?" (I hope at least).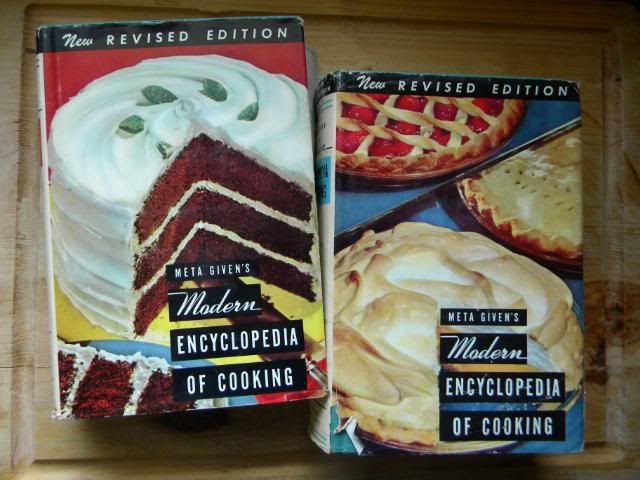 The Modern Encyclopedia of Cooking (vol. 1 & 2) New Revised Edition is chock full of so much wonderful and inspiring information, specifically it's thoughtful section devoted to Salads and Salad Dressings (found in volume 2).
In today's recipe I converted two things – the Salad which originally began as a simple Red Cabbage Salad with Walnuts and (gulp) Beef, and the French dressing that was originally very simple – so that was fixed too. Hope you enjoy! And Happy St. Patrick's Day!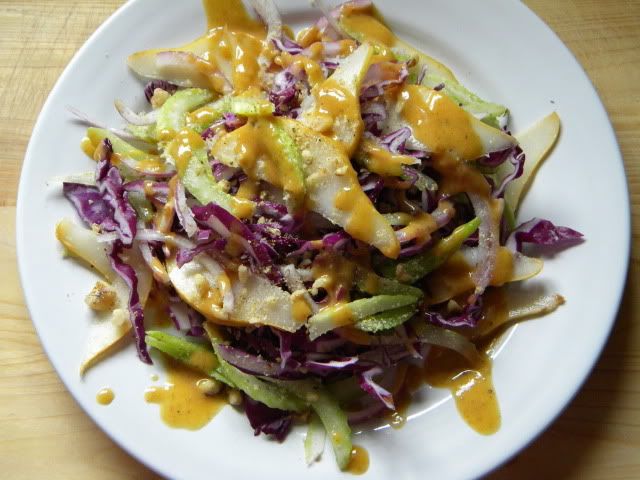 Cabbage n' Pear Salad with Walnut crumble and Creamy French dressing
For the Salad
–
in a large bowl combine the following:
1 medium sized Purple Cabbage - thinly sliced/shredded, not chopped
½ medium sized Onion – very thinly sliced, not chopped
4 or five stalks of Celery – cut very thin on the bias
1 or 2 ripe Pears – thinly sliced
In another small bowl combine the following:
½ c Walnuts chopped very well, into a crumble
1 tbsp nutritional yeast
1 tsp onion powder
Dash of S&P
Mix well and set aside in a small container. Add to each individual salad as they are prepared.
------
Creamy French dressing
–
combine the following in either a mixing bowl or glass jar with a lid:
½ c Extra Virgin Olive Oil
1/3 c apple Cider Vinegar
2 pinches dried Tarragon
2 pinches dry Mustard powder
2 tsp Onion powder
½ tsp Paprika
Sea salt to taste
2 pinches Lemon pepper
2 tsp Medjool date paste – or a dash of sweetener of your choice
1 tbsp Nutritional yeast
Mix-mix/Shake-shake the above ingredients very well and enjoy!
Makes roughly ¾ cup of dressing.
xoxo,
Sarahfae - AtV
Coming soon: Asparagus with Sweet Dill Mustard sauce: