Hi! I hope you're all having a lovely week so far. Things in AtV-land have been busy, as we're taking a look at revamping our Mission Statement (less is more), as well as restructuring the look of things around here.
One thing that's heavy on our mind as of late is how many awesome and inspiring plant based food blogs are out there, and how many really wonderful people are behind them. It's SO exciting!! So without further ado, the following recipe is the first of many Tributes that we hope you'll look forward to seeing on AtV…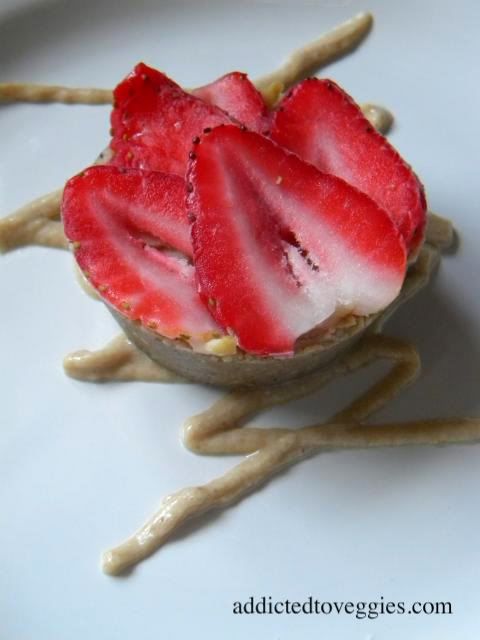 Mini Tart Apple Tarts
Their love of good food, green living, and ever growing awareness of the vegan and not-so-vegan world around them is nothing shy of inspiring, as well as educational. We dedicate this recipe to you and your beautiful soon to be born baby.
Step 1 – The Crust:
1 c Walnuts
¾ c Cashews
½ c Ground Flax
½ c Shredded unsweetened Coconut (or can sub with Ground Flax)
3 Medjool Dates (soaked in warm water for 5-10 minutes)
2-3 pinches Sea Salt
Combine the above ingredients in Food processor and puree until mixture is evenly broken down, stopping to scrape down the side of food processor two or three times. The Crust will be slightly crumbly and oily – this is perfectly normal.
Scoop roughly 2 tbsp (maybe a little bit more) of the crust mixture into each Muffin Tin compartment. Using your fingers press the crust into the tin leaving about a half of an inch space from the top of the crust to the top of the muffin compartment (see above picture for example). Place the Muffin Tin into the freezer to chill. Now onto step Two: The Filling!
--
Step 2 – The Tart Filling:
3 Tart Apples shredded or finely sliced and chopped. I usually go for
Braeburn Apples
because they're such a lovely balance between sweet and tart, and they're almost always on sale at my local Natural Foods store. In a mixing bowl place the shredded Apples and add to it:
2 Tbsp Lemon Juice
1 tsp Vanilla
Pinch of Cinnamon
4 (heaping) Tbsp Medjool Date paste
3 tbsp Softened Coconut Butter (soften by placing in an air tight plastic baggy and submerging in very warm water for about 10 minutes)
*The Coconut Butter is optional, but really helps in firming up the tart filling. If youopt to not use it but would still like a firm tart then simply chill the tarts longer in the freezer.
Mix the above very well and go get your tart crust from the freezer! Go!
Now unless you have 10-12 hungry people ready to eat these wonderful treats then you're not going to want to fill each tart crust right away. In my case when I first made these they were a breakfast treat/surprise for three teenage ladies. Later on they were also apart of a "drive-by-fooding" for two good friends of mine.
Back to my original point…oh yes, so the trick is to fill the crusts as you want to eat them, and store the remaining empty crusts in the freezer. After you've filled your tart crust with the yummy Apple filling place the tarts back in the freezer for roughly 20 minutes so the tarts can firm a bit.
Top them with fresh Strawberries and a simple sweet icing:
¼ c Cashews
5 Medjool dates
1 tbsp Lemon juice (or any liquid sweetener to taste)
1 tsp Vanilla
¾ c Water
Process for roughly 3-5 minutes, and drizzle over your Tart Apple Tarts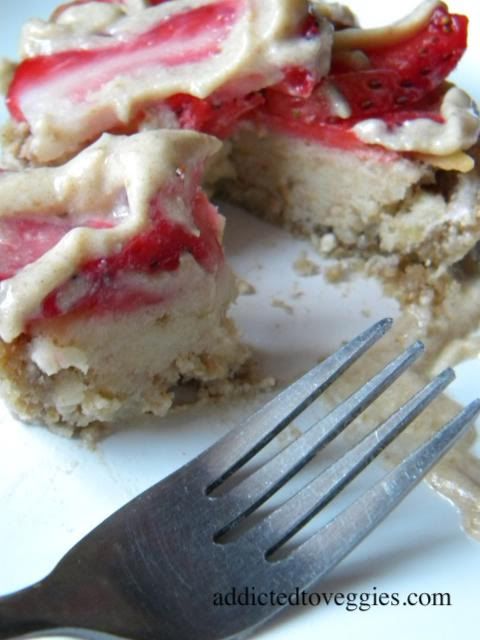 Hope you enjoy!!
xoxo,
Sarahfae - AtV
P.S. Stay tuned for a yummy St. Patricks Day Salad recipe...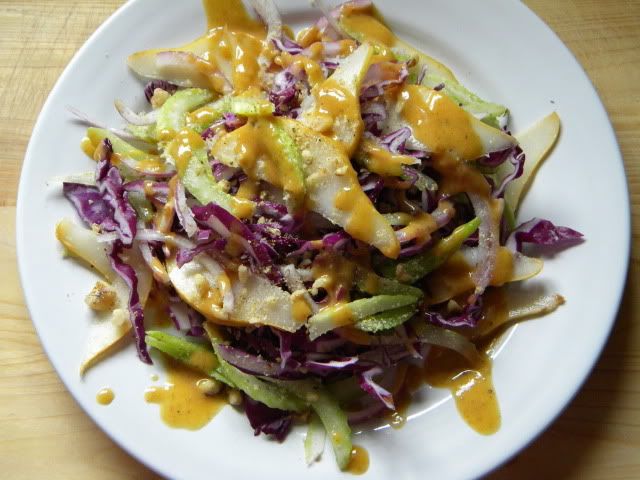 ...and much much more! This week is gonna be a busy one.