First off I'd like to acknowledge all of the yummy and amazing raw Broccoli Soup recipes that are floating around the interwebs. One of my fav' is
Shannon Marie's version over at Rawdorable
. If you haven't seen her blog then go say hi - she's quite lovely!
So, without further ado I'm excited to offer my contribution to the list of yumminess! Yay Broccoli!
This soup is not only really easy, it's SO taste satisfying, so filling, and approved by a non-vegan rawfoodie (we love getting taste approvals). I hope you'll have the time to make and enjoy this recipe just as much as I did, and plan on doing for a very long time.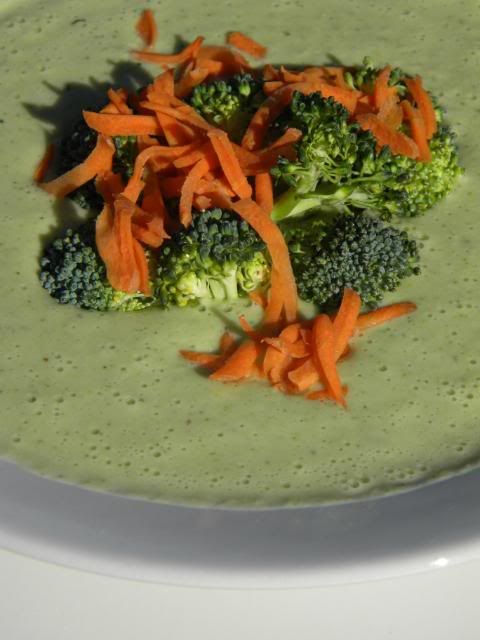 Creamy Broccoli Soup

Step 1. Making the "Soup mix"

Into food processor combine all of the following ingredients:

2 c Broccoli

1 c Cashews

1 Tbsp dried Chives (can use fresh if you'd like)

1 Tbsp dried Parsley

1 tsp ground Celery seed (if you don't have it buy it! It's one of my favorite spices)

3 Tbsp Nutritional yeast

1/2 tsp Garlic Granules

Cracked Pepper - to taste

*Sea Salt - to taste (or other - see below)

*Current favorite salt substitute: Unpasturized Mellow White Miso.

For this recipe you can omit the Sea Salt and sub it with Unpasteurized Mellow White Miso for more depth of flavor. For this recipe I used roughly 3 Tbsp of Unpsteurized Mellow White Miso.

In food processor finely chop all of the above ingredients. Once finely chopped place the "Soup Mix" aside in a bowl --- the "Soup Mix" should roughly add up to 1&1/2 to 2 cups.

------

Step 2. Making the SOUP

This part is really simple - back to your food processor you go...
(each Version should yield enough for 1 good sized bowl of soup)

Version 1 (w/ Avocado)

1/2 c "Soup Mix"

1 c Warm Water

1/4 of a medium sized Avocado

Process for 3-5 minutes, until creamy

Version 2 (w/ no Avocado)

1/2 c "Soup Mix"

3/4 c Warm Water

Process 3-5 minutes, until creamy

You can store the remaining "Soup Mix" in an air tight container in your fridge and it should keep for roughly 5-7 days. I plan on making this in a larger batch and enjoying it as a quick lunch on the go.
----
One more note: If you're not a fan of "Warm Soup" please don't shy away from heating this recipe up on the stove. My only word of caution is to avoid a simmer or boil. The flavors are very full and present, and there is no need to bring them out by "cooking" the soup. A good quick and thorough heating (while stirring) would be perfectly fine!

Thanks so much!

xoxo,

Sarahfae - AtV