Now mind you I've only eaten beets on a few different occasions, and could never seem to get past their sweet dirt-like taste...but yesterday I finally decided to purchase a bunch from my local natural foods store. Determined to see for myself what a raw/vegan Beet Burger would taste like, and whether or not I could mask the earthy beet flavor and actually change my opinion of the root veggie.The results? Well, they were pretty startling. In fact, my sister and fellow veggie addict had the same adversity to beets - but with a little persuasion she tried the Beet Burger and happily gave it her seal of approval!
So here you have it...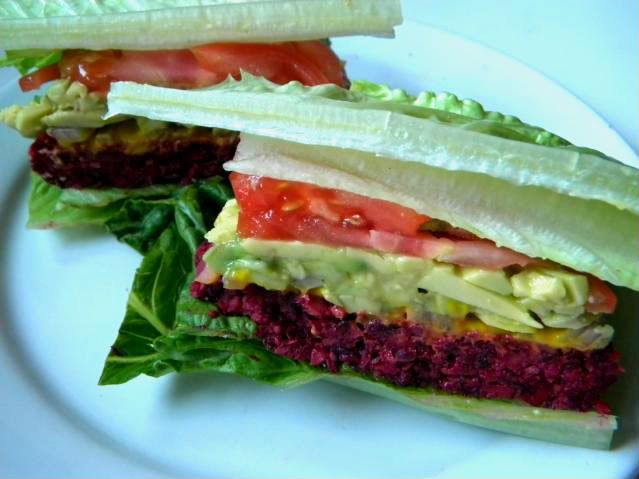 Beet Burgers with mustard, red onion, avo, tomato, sandwiched in between romaine leaves
Beet Burgers
1 c (packed) Shredded Red Beet
1 c Cashews (soaked 2 hours)
5 Tbsp Ground Sunflower Seeds (OR Ground Flax seed)
4 Tbsp Unpasteurized Mellow White Miso
2 tsp Onion powder
1 tsp dried Oregano
1/4 tsp ground Celery Seed
1 tsp dried Chive
1/2 tsp Cumin
2 pinches Garlic Granules
2 pinches Ground Black Pepper
---
Place all of the above ingredients into food processor. Process until mixed and ground evenly, do not over process! You don't want a paste, just a nice evenly ground texture.
Optional: form into 4 patties and dehydrate for 3-4 hours. This will firm up the Burgers slightly, which I prefer.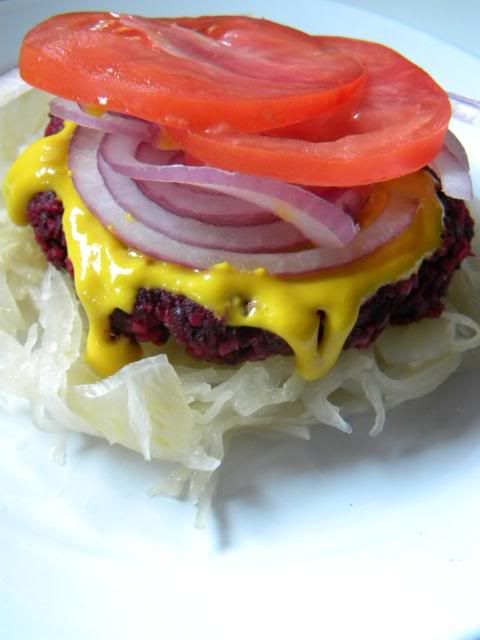 Nested on top a bed of raw Sauerkraut, drizzle of yellow mustard, sliced red onion and tomato. A winning combination of flavors if you're like me and LOVE acidity.
xoxo,
Sarahfae - AtV