I won't lie, Dolmas have been a source of weakness for me where my eating habits are concerned. There's a neat little Greek fusion cafe in my town that I stop by every once in a while, and when I do the result is always yummy...because it includes an order of Dolmas.
Naturally my love for dolmas, and my obsession with food got me to thinking about creating a raw variation that is both satisfying in taste and texture. I knew if I was going to translate this food into a raw dish that it had the potential to be really good, or really bad.
So I threw myself into the challenge, and I am SO happy to report that the results did not disappoint...
(Apologies in advance for the wordiness in this post, but I promise that it's all very pertinent!)
Raw Dolmas
This recipe truly revolves around the dressing - I feel that it is one of the most important components of this dish. The "rice" stuffing can be tweaked and altered, but I've marked (*) the necessary components for the stuffing so you don't loose the important rice-like texture.
Step 1. Dolma Dressing
1/2 C Lemon Juice
1/4 C Extra Virgin Olive Oil
4 or 5 Tbsp Apple Cider Vinegar
1 to 2 tsp minced Garlic (raw: less/pre-minced in a jar: more)
3 to 4 pinches Sea Salt
1 tsp dried Parsley
1 tsp dried Dill weed
1/2 tsp dried Oregano
1/2 tsp dried Margoram
1 tsp dried Chives (or 2 tbsp fresh)
2 (heaping) tsp Onion powder
1 Tbsp Nutritional yeast
2 or 3 Medjool dates, soaked 5 minutes, drained and pits removed
1/2 C Cashews, soaked 4 hours then drained/dried
1/2 C Water
Place all of the above ingredients in food processor and process for about 2 minutes, until mixture becomes creamy. Refrigerate the dressing for up to an hour, until it sets/thickens. You want it to be a thick creamy "dip like" dressing - this will help in binding the stuffing together, and make for a less messy eating experience.
---
Step 2. Dolma "Rice" Stuffing
I've marked with an asterisk (*) the ingredients that I feel are important and must be included in order to create the proper Dolma stuffing taste and texture. Those that are not marked can be excluded if you wish.
Also, this recipe is enough for roughly two people, or five to six small Dolmas - you won't use an entire batch of the Dolma dressing in Step 1. for this mixture, only about half of it.This is a good thing because you will want to make this again!
*3/4 C Zucchini - shredded, then chopped into rice-sized pieces
(Do this by hand if you have the time, if you use your food processor to chop the Zucchini I've found that it breaks it apart too much therefore releasing a lot of the water from the Zucchini - and you don't want that to happen!)
*1 heaping Tbsp Minced Onion
*1 heaping Tbsp minced Celery
(mince the celery leaves too - they lend a wonderful deeper flavor!)
*5 heaping tbsp Cashews that have been soaked for 2 hrs and finely chopped
1 handful Dried Crimini Mushrooms - chopped well
1 to 2 Tbsp raw Kalamata Olives (chopped), or Capers
Mix the above ingredients together in a bowl
Toss in 4 heaping tbsp of the very important Dolma Dressing from Step 1.
Mix well and eat as either a salad, or wrap in Swiss chard leaves for the perfect raw Dolma experience!
-
Important Note:
Wait to add the Dolma dressing until right before you plan on eating this recipe, this will ensure a good stable texture. The longer that a dressing sits in a salad the more watery it becomes...and that's not a good thing in my opinion.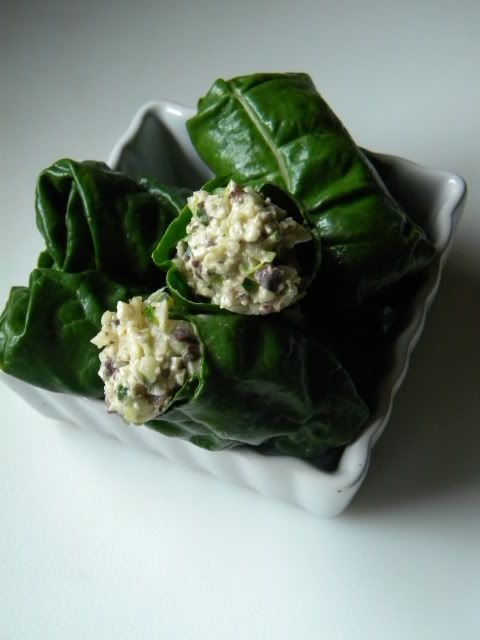 xoxo,
Sarahfae - AtV